Music shares the spotlight with moms and dads in Part Four of Macworld 's Gear Guide, as we sing the praises of six cool Mac-compatible gadgets for music lovers and new parents.
Music Lovers
How to Spot Them: They're amassing what you can only assume to be the definitive collection of every song ever recorded, one 99-cent download at a time. They never leave the house without their iPod. And ever since GarageBand arrived on the scene, whatever time not devoted to listening to music is spent creating it. Fortunately, there are more than a few gift ideas out there that will help the music-lover in your life make—or just enjoy—beautiful music.
Why We Picked These Gifts: Because every digital hub needs a few cool-looking spokes.
What You'll Spend: $50 to $149.
Other Ideas: Hardware options abound, from networked audio players like the Sonos Digital Music System to iPod accessories like the PodFreq FM transmitter from Sonnet Technologies. Or, you prefer how-tos during the holidays, you could always use iTunes to create stylish CD inserts for your music lover's burned CDs.
Digital Boom Box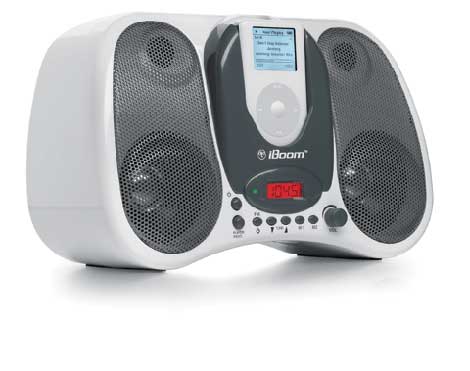 Remember the 1980s, the glory days of the boom box? Digital Life-style Outfitters' new iBoom is a boom box for the iPod generation. Plop any dockable iPod in the iBoom's dock slot, and you've got a 20-watt sound system that can hold 10,000 songs and still fit on your shoulder. (There's also a small slot on top that serves as a handle.) The iBoom includes an FM radio and an auxiliary input, so you're not limited to your iPod's music selection. The iBoom runs off AC power or six D batteries.—DAN FRAKES
$149; Digital Lifestyle Outfitters
Bend It, Shape It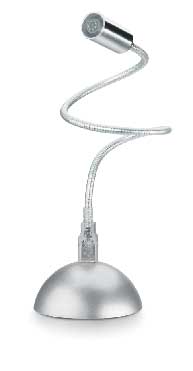 Thanks to Apple's GarageBand, closet rock stars can now afford to make music at home. Recording vocals for your creations is easy and affordable with the MacMice MicFlex. It's a unique USB microphone that you can use for everything from voice-overs to lead vocals to acoustic-guitar ballads. The flexible steel tube bends into many configurations, and you can remove the mike from the base and plug it directly into your Mac.—JEFF TOLBERT
$50; MacMice
Share the Love
True music fans aren't happy just enjoying their tunes alone; they want to recruit new disciples of their latest melodic discoveries. Two portable speaker systems from Harman Multimedia let the audiophiles in your life share their tunes wherever they go. The JBL OnTour (pictured above) is a slick little package that hooks up to computers, MP3 players, CD players, and more through a stereo minijack. For better sound, try the JBL OnStage, a donut-shaped docking station; its included adapters can accommodate all iPods. (A stereo minijack lets you connect almost anything else.) Then add a copy of Playlist , Mac Publishing's new cross-platform magazine devoted to digital music.—FRITH GOWAN
JBL OnTour, $100; JBL OnStage, $200; Harman Multimedia; Playlist, $6 on newsstands
New Parents
How to Spot Them: They have that unmistakably look of happy exhaustion caused by a mixture of sleepless nights and sustained giddiness, thanks to their new arrival. And if that's not a tip-off, the pile of baby toys, metric ton of diaper-related paraphernalia, and stack after stack of baby photos will soon clue you in that you're shopping for new parents.
Why We Picked These Gifts: Because as cute as they may be, Apple's new iPod Socks will not double as an alternative to baby booties.
What You'll Spend: $149 to $400.
Other Ideas: You can also secure the new arrival's place in history by ordering postage adorned with pictures of their smiling faces through Stamps.com's PhotoStamps service. Or, if you're joining the new parents for a holiday feast, take some of the cooking burden off of them by preparing Alton Brown's Apple Mac and Cheese recipe, as featured in the pages of Macworld .
Instant Pictures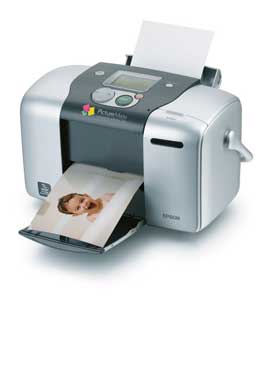 With constant feedings, burping, and diaper changes, it's a small miracle if parents can manage to take a shower, let alone get pictures made from digital images of their little bundle of joy. Help out with a printer that makes creating 4-by-6 prints of their baby as easy as can be. Harried parents can pop most digital cameras' memory cards into the Epson PictureMate and have pictures in minutes.—FRITH GOWAN
$199; Epson
Moving Pictures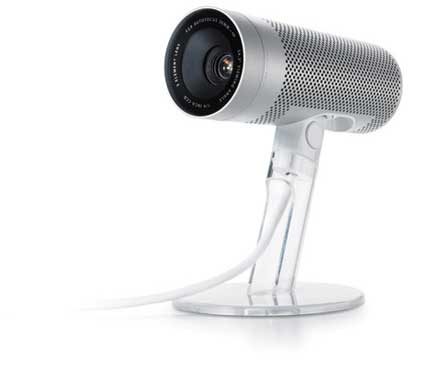 Your newest grandchild, niece, or nephew may live halfway across the country, but that doesn't mean you can't see the baby just about anytime, through the miracle of video chat. Give the parents a tiny, easy-to-use Apple iSight video camera, and you'll be able to see and hear the little one—spit-up and all—through a broadband connection. The new family will think the gift is for them, but you'll know better.—FRITH GOWAN
$149; Apple Computer
All-Around Camera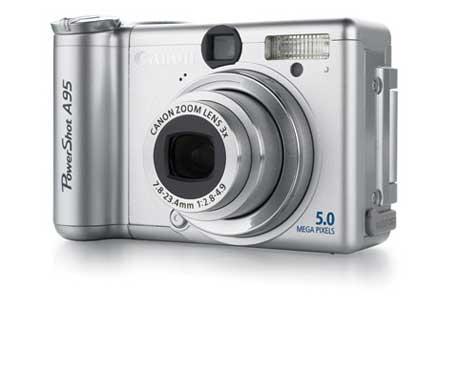 For parents with a new baby, every coo, giggle, and step is priceless documentary material. They can build a digital archive with Canon's 5-megapixel digital camera, the PowerShot A95. It boasts 14 shooting modes (including a video mode that can capture a full three-minute giggle fest, walking attempt, or crying jag) and enough pixel power to print images larger than 8.5 by 11 inches. Nice touches like a rotating LCD monitor, variable autofocus frame selection, and manual shutter and aperture options ensure they don't miss a moment.—FRITH GOWAN
$400; Canon