Our look at cool Mac-friendly gadgets that make great gifts for loved ones (including yourself) wraps up with gear designed for teen-agers and geeks.
Teens
How to Spot Them: They're always on the computer—in fact, even as you sit here reading this article, they're probably standing behind you, giving you the stink-eye and wondering if you'll be done any time soon. They seemingly communicate entirely through instant messaging, and they never leave the house without an iPod at their side. You may not always understand what's going through a teen-ager's mind, but some cool Mac-compatible gear will make it look as if you do.
Why We Picked These Gifts: Because you still haven't lived down last year's unfortunate socks-as-gifts incident.
What You'll Spend: $79 to $350.
Other Ideas: If it's time to surprise your teen with a new computer, you can find all the tech specs you'll need in our Apple Hardware Guide. Macworld also has reviews on all the latest student-friendly Macs, including the revised iMac line, the 1.25GHz eMac, Apple's new iBooks. And if the iPod case suggestion below strikes a chord with you, there's more than one way to encase an iPod, as you'll see in our iPod case round-up.
Not Just a Pretty Face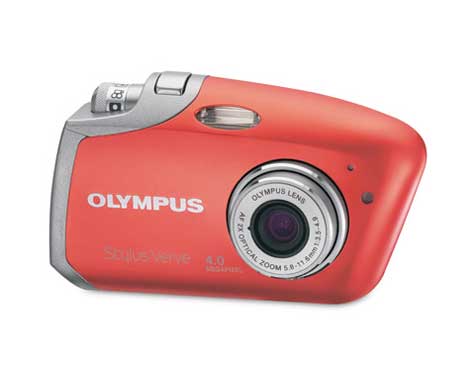 Kids today! They like bling, but they aren't careful with it. Happily, the Olympus Verve Stylus digital camera is here to save you from another repetition of the "When I was your age" lecture. Its shiny, funky body (which comes in six colors) will please the most trend-conscious teen, and it's rugged enough to withstand splashes of water and life in the bottom of a backpack.—TERRI STONE
$350; Olympus
The Coolest Cases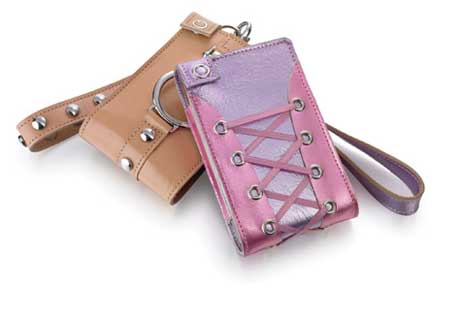 Don't leave the iPod-loving teen princess in your life stuck with nothing but a boring black case to tote her tunes. An Aneta Genova case may be pricey, but to the lucky young fashionista who receives it, it's worth every one of your hard-earned pennies. With everything from corseted, metallic pink cases to ones Sid Vicious would be proud to carry, you'll find a model to suit any sartorial style. A metal hook and a detachable wrist strap even make them a tad—dare we say—practical.—FRITH GOWAN
cases range from $79 to $129; Aneta Genova
Geeks
How to Spot Them: They speak in an indecipherable language that, as far as you can tell, is little more than an odd combination of Unix commands, syllables, and PHP scripts. Whenever you've asked them for some troubleshooting, they've neither complained nor raised any eyebrow, not even after pointing out that your printing difficulties stem from the fact that you forgot to turn the printer on.
Why We Picked These Gifts: Because no matter what obscure piece of software you've managed to find, they've probably had it installed on their Power Mac months ago.
What You'll Spend: $10 to $35.
Other Ideas: If the gifts profiled below don't strike your fancy, the May 2004 edition of Geek Factor looked at more than half-a-dozen programs and gadgets that will make other geeks green with envy. And if the geek in your life harbors secret dreams of marshaling an army of Mac-controlled robots, the November 2004 Geek Factor details the parts and skills they'll need.
I'm Too Sexy for My Shirt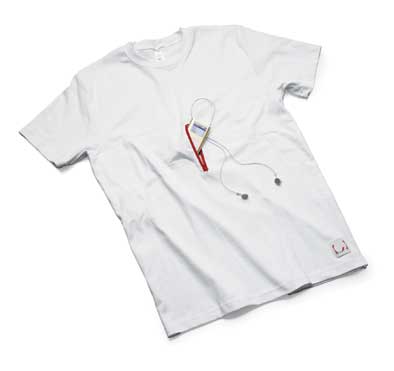 What do you get the geek who has every gadget ever made? A T-shirt in which he or she can transport the gizmos, of course. Available in black or white, Koyono's BlackCoat-T sports a red center zipper that speaks tantalizingly of the mysteries within—namely, two compartments that can safely stash PDAs, cell phones, MP3 players, or whatever else your geeky sweetie can stuff inside. The shirt works under clothing, but we can't imagine why you'd want to hide style like this.—FRITH GOWAN
$35; Koyono
Card Carrier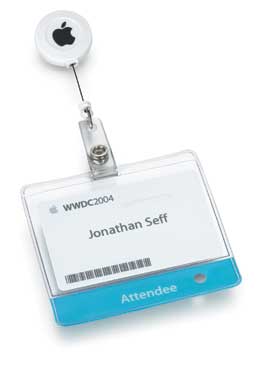 Mac geeks are proud to display their allegiance at every opportunity. Give The Missing Bite's Retractable Badge Holder to an office-dwelling geek you love, and every working moment will be an excuse to evangelize. The clip features the beloved Apple logo, and a retractable cord connects to a loop that snaps to an accommodating badge.—FRITH GOWAN
$10; The Missing Bite