On the one hand you have a music player capable of playing music continuously through the entire month of February. On the other, you have a rich untapped repository of free music — Internet streaming audio. Would it or would it not be a very cool thing to effortlessly capture that music and place it on your player?
I can see by the show of hands and grunts of approval that it would.
With that in mind, allow me to provide a tour of the tools capable of making this happen on a Windows PC or Macintosh.
Windows to the World
Windows users can take advantage of two applications for recording streaming audio. The first, Applian Technologies' $30 Replay Radio, is adept at recording commercial radio broadcasts — programming from ABC, CBS, NBC, and NPR affiliates, for example — whereas the other, Fogware Publishing's $40 Internet Radio Recorder, records the kind of MP3 streaming radio broadcasts found in Apple's iTunes.
Both applications allow you to listen to programming in real time, create schedules for recording your favorite programs at times of your choosing, automatically segment broadcasts, and burn the results to CD. Here's what they offer:
Replay Radio
Replay Radio has a very simple interface. To locate a station, simply click the Add Show button. In the resulting Add Show window choose Pick a Show, Pick a Station, or Enter Show Manually. The name of each button pretty clearly tells you what they do.
To Pick a Show — Music From the Hearts of Space, for example — type that name in the Find field, click the Find button, and the show, if present, appears in the list below. Click OK and the show is added to your preferred list of shows.
To locate a specific station, click the Pick a Station button and enter any call letters you recall. (You can also enter a network such as NPR or ABC.)
Clicking Enter Show Manually is a good option to use when a show isn't listed in Replay Radio's programming database but you know it's URL. To add a station, click this button, name the show in the Summary tab, click the Tuning tab, and enter the station's streaming URL. (You can find this information on sites such as RadioLocator ).
Note that some stations are broadcast in a couple of formats — Real and Windows Media formats, for example. Some stations perform better with one than the other. In cases where you can listen in more than one format, it's worth your while to test each format to see how each performs.
Before you begin recording you'll want to configure each station so it records from the proper source. To do so, select a program from the program list and click the Edit Show button. In the resulting window, click the Recording tab. Choosing the correct source is crucial because without the proper source, you'll record nothing. This can be confusing as your PC likely has a number of audio sources including CD Player, Aux, Line In, and Wave Out Mix. Click the Test Recording Sources button in the Recording tab and the program runs a test to discover the best audio source. On my Dell I found Wave Out Mix worked best but I had to adjust that sources volume so that the resulting files weren't distorted.
Now click the Output tab. In this tab you decide what kind of recording quality you want. These settings — MP3 – CD Quality, MP3 – FM Radio Quality, MP3 – AM Stereo Quality, and MP3 – AM Radio Quality — determine not only the fidelity of the resulting file, but it's size. For example, a MP3 – CD Quality recording sounds better than the other options but it consumes 56MB of hard drive space for per hour. This tab also contains the Add to iTunes Library option that will, as you might expect, drop recordings into iTunes — making it very easy to sync radio broadcasts to your iPod.
Return to the Recording tab. Here you can have the program automatically eliminate dead air after a user-configurable interval — five seconds of silence, for example. You can also ask Replay Radio to create a new track when it detects a certain amount of silence or create new files every few minutes — a good idea as playing long files causes hard drive-based music players to access the drive more often and burn through a battery charge more quickly.
To record a program immediately, highlight a song in the program list and click the Record Now button. The program will stream to your PC and be recorded. To end the recording, click the Stop Record button. Your recording will be saved to the location designated in the Folder tab of the Settings window (accessible by clicking the Settings button at the bottom of the Replay Radio window).
To create a schedule — a vital feature for grabbing broadcasts when you're away from the computer — you select an entry in the program list, choose Edit Show, and click the Schedule tab in the resulting window. Here you can ask Replay Radio to start and stop recordings at specific times on a particular day or on a repeating schedule.
To view your saved recordings, click the View Recordings button, click the station you recorded from in the left pane, choose the specific recording you want in the right pane, and click Play. The file will launch in your default music player and play. In this same window you can select tracks and burn them either as an audio CD or MP3 CD.
Internet Radio Recorder
Fogware Publishing's Internet Radio Recorder can capture audio playing through your PC via its audio editor (more on this later), but its primary talent is recording those "pirate" stations set up by individuals across the Internet. There are a load of these stations — some great, some not-so, and others that are simply bizarre.
Recording these "stations" can be a little more difficult than recording commercial radio streams because these streams routinely go "off the air" (the person hosting them takes the station off-line or shuts down their computer). Also, the "broadcaster's" connection may be anything but reliable so a steady stream is less likely that what you'd get from a commercial station.
Internet Radio Recorder is more of a one-window affair than is Replay Radio. In its large window you'll see a long list of available stations that can be sorted by Name, URL, Genre, Bit Rate, and Type. Clicking the Search for a Station button lets you search by station name, genre, bitrate, and stream type.
You also have the option to add stations by URL or .pls file that points to these internet radio stations. Shoutcast.com is a good place to start looking for these kinds of streams.
From within the window you can play or record a stream. To schedule a recording, click the Change link across from the Scheduler entry at the bottom of the window. Here you have the opportunity to schedule a quick recording — from now up to 24 hours from now. You can also select a station from the Station pop-up menu and set start and stop points for your recording.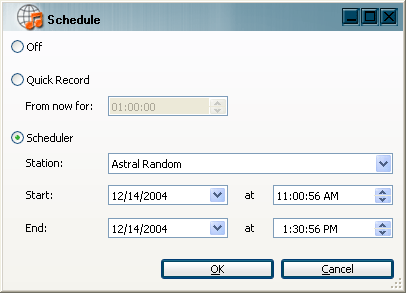 Unlike commercial broadcasts, this variety of stream can contain title and artist information, which is a great boon for programs such as Internet Radio Recorder that need to differentiate one track from another. When you right-click on a station and choose Properties from the contextual menu, you can instruct the program to split files by track information. When the program receives new title information, it saves the previous track in a folder labeled with the artist's name. This creates far better splits than the kind of "wait for silence" technique that Replay Radio has to employ.
Internet Radio Recorder goes a couple of steps beyond simply recording music from the Internet. Once you've recorded that music you can edit it — highlight and delete portions of the audio as well as add fades to the beginning and end, for instance. You can also convert any audio on your PC to MP2, MP3, Ogg Vorbis, WAV, or WMA formats. The program also supports channel-, bit-rate-, and sample-rate conversion (changing stereo to mono, 192 kbps to 128 kbps, and 44.1kHz to 22.05kHz, for example). In addition, you can create playlists within the program and burn those playlists to CD or DVD as audio or data files from within Internet Radio Recorder. The program even includes a CD label maker.
As for capturing commercial streams, you perform this in the program's audio editor. For example, news stations like ABC using RealAudio or Windows Media Audio can be recorded by opening the stream in a player such as RealPlayer or Windows Media Player, launching Internet Radio Recorder, choosing Edit Audio Files, clicking on New, and then clicking the red Record button. Internet Radio Recorder captures the audio and, while doing so, visualizes the audio data so you can see that the recording works. You can save the recorded audio files in any of the formats supported by Internet Radio Recorder.
Mac-ing it With Music
Although Apple's iTunes include an Internet radio broadcasting component (simply called "Radio" in the program), it's limited in that you can't capture its streams. To capture radio on the Mac you must look outside iTunes.
RadioLover
One way to do so is Bit Cartel's $15 RadioLover. RadioLover works in tandem with iTunes. It does this by showing a list of all the streams currently available to iTunes. From there, you pick a stream that's broadcasting (not all the streams listed will be "on the air") and click RadioLover's Record button. RadioLover then captures the station to your user's Music folder (though you can change the location in the program's Preferences window).
Like Internet Radio Recorder, RadioLover automatically creates new files whenever a track with a new name begins playing. If track information doesn't exist, the program can split files based on duration (split after 30 minutes, for example) or by size (split when the file reaches 10MB). The program also automatically places tracks in iTunes.
You can monitor what RadioLover's up to. Simply begin recording a station and click RadioLover's Listen button. When you do, a new entry called RadioLover Relay Radio will appear in iTunes main window when iTunes Library is selected. iTunes' playback display will read http://localhost:50505, reflecting the port used to relay the audio to iTunes.
Like the two Windows applications I mentioned earlier, RadioLover also has a scheduling function that allows you to create one-time schedules (a program played next Wednesday at noon, for example) or recurring schedules for when you want to record the same program on multiple days.
Audio Capture Utilities
The other way to skin this musical cat is to use an audio capture utility that records any sound playing on your Mac. This includes not only iTunes' Radio stations but audio that streams over the Web to your browser or application players such as QuickTime Player, Real Player, and Windows Media Player for Macintosh. (Note that these utilities record audio only if it's playing through your Mac, not if it's being broadcast wirelessly over Apple's AirPort Express.)
WireTap
The least expensive utility for doing this is Ambrosia Software's WireTap. This is a free utility and as such it doesn't offer such luxuries as scheduling (though WireTap supports AppleScript so you can write scripts that interact with iCal to create schedules). Without the benefit of scripts you fire up any application that makes noise — iTunes or DVD Player, for example — and click Wiretap's Record button to record the audio coming from your Mac.
Audio Hijack Pro
A more flexible application is Rogue Amoeba's $32 Audio Hijack Pro. Like Wiretap, it allows you to record anything playing on your Mac. Unlike with Wiretap, you can schedule recordings with Audio Hijack. You can also choose the format you want the files recorded to — MP3, AAC, AIFF, or Apple Lossless — and customize the recording's bitrate.
Audio Hijack Pro also lets you apply audio effects to your files through audio plug-ins. Mac OS X 10.3 ships with built-in AudioUnits plug-ins that offer filtering, EQ, compression, and reverb. If you have any VST plug-ins installed on your Mac, Audio Hijack Pro can use them too. Just select a plug-in from the contextual menu that appears when you click in the Effects grid and the effect will be applied to the file.
As with RadioLover, Audio Hijack Pro can create schedules that fire once or repeat daily and you can create multiple schedules —- one to record Fresh Air at 1 PM, for example, and another to record the local college basketball game at 7 PM. When you create a scheduled recording you can add ID 3 tags to the recordings — tag the files as coming from a particular artist or fitting within a specific genre, for instance. And once files have been recorded, Audio Hijack Pro can initiate an AppleScript that loads the tune into iTunes or onto an attached iPod. You can apply effects to scheduled recordings just as you can to recordings you create by clicking the Record button.
Although Audio Hijack Pro can record the kind of audio streams that appear in iTunes, it's primary purpose is to record streaming audio that hasn't been tagged with titles. Much like with Replay Radio, Audio Hijack Pro distinguishes one track from another by periods of silence. When it detects that silence, it can be configured to create a new file.
Rogue Amoeba makes a scaled down version of the program — the $16 Audio Hijack — that doesn't support audio plug-ins, has less flexible scheduling functions, and records in fewer formats.
Hunting and Gathering
Don't wait for Podcasts to finally come up to the level of professional radio. Go out and grab some streams of your own. With the vast amount of streamed music available on the Web and these tools in hand, you have no excuse for possessing a half-full iPod.