It's that time of year: the holidays. A time when many people find themselves scrambling to find gifts for their loved ones—hopefully, gifts those loved ones will actually use. If the object of your yuletide affection is an iPod owner, we're here to help with a week full of suggestions for some of our favorite iPod presents—presents guaranteed to elicit a reaction far more positive than "Oh, gee, another sweater. And so garishly colored too! Thanks awfully…."
We've divided our gift nominations into five categories, one per day, so be sure to check back each day for the best in iPod gear. (You can also browse our Product Guide and Featured Reviews sections for much more product info.)
Here's the line-up:
Tuesday: Headphones & Speakers
Friday: Stocking Stuffer Grab Bag
CASES AND BAGS
The iPod's attractive design presents a dilemma: It looks so good you want to show it off, but it scratches so easily you want to keep it protected. (The iPod mini is a bit more rugged, but it's still vulnerable to abuse.) Plus, should tragedy strike, no one wants to accidentally drop an unprotected iPod. So the first accessory most iPod owners need is a good case. Here are some of the best, any of which will satisfy an iPod owner's desire for protection. (Except where noted, every case here provides access to the iPod's screen, controls, headphone/remote jack, hold switch, and dock connector port without having to remove the case.)
Skins
One of the more popular types of cases, "skins" enclose your iPod in a thin, well, skin made of rubber or silicon. These cases leave the iPod's front controls exposed for easy access. If you think your gift recipient will prefer a translucent case, our favorite skin is Tunewear's Icewear line ($25). Available for both 4G iPods and the iPod mini, the Icewear uses the same silicon found in diving masks, making it soft but sturdy and giving it the best grip of any case we've seen. It leaves the top edge completely exposed so you can use add-ons—such as Griffin's iTalk—that require access to the entire top of the iPod. (Don't fret, the edges of the Icewear protrude a bit to help ensure that the exposed areas are still protected.) It also has a belt loop integrated into the case, which means you don't have a bulky clip protruding from the back.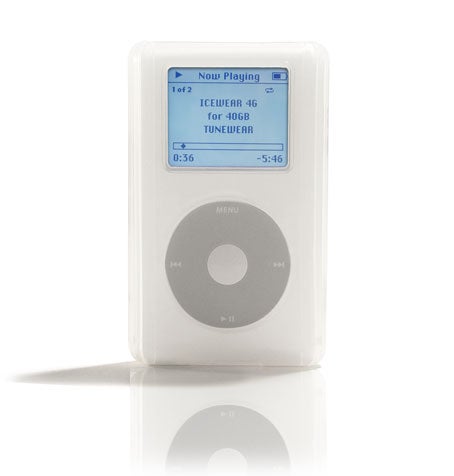 Tunewear's Icewear
Seeking a splash of color? A number of companies offer colored skin cases, including XtremeMac and iSkin. Xtreme Mac's Hot Color Sleeves ($20 each, $30 for a package of three) fit 4G iPods and are available in blue, pink, orange, yellow, clear, and two different shades of green. iSkin's eVo (for 3G iPods), eVo2 (for 4G models) and mini lines (all $30) are available in white, black, gray, blue, and pink, as well as "Ultra-GLO" (glow in the dark) versions of orange, green, purple, and white.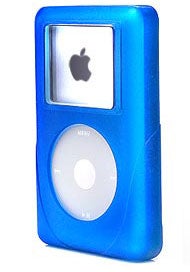 iSkin's eVo2
Flip Cases
If you've ever owned a PDA, you've probably had a flip case—a lightweight unit that flips open to provide access to the front of the device. Many companies offer similar cases for the iPod in order to provide "all over" protection while still allowing access to the screen and controls; these cases range from the fashionable to the rugged. If your iPod user is chic and stylish, Covertec's simply named iPod case ($40) fits 3G iPods and is available in supple black, red, or tan leather with detailed stitching and a removable belt clip. (Although not officially made for 4G iPods, we use ours with an iPod photo and it fits great.)
Covertec's iPod case
iPod mini users will love Pacific Design's not-leather-but-you-could-have-fooled-us iPod mini Flip Case ($25), a retro, two-tone case available in orange, blue, green, and pink, all with a white "racing stripe." Its magnetic cover latch means you don't have a bulky velcro tab like many other cases, and a headphone jack slit—rather than a hole—means you can open and close the flip cover without unplugging your headphones.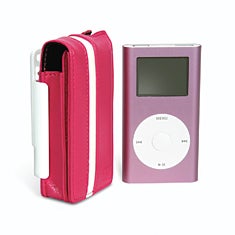 Pacific Design's iPod mini Flip Case
For those who want a bit more flash (or more space), Acme Made's iPod Wallet (standard iPod $60; iPod mini $50) features green, pink, or blue patent leather in an attractive wallet design that holds an iPod or iPod mini, earbuds, and an ID, credit card, or cash.
For a more rugged flipcase, check out Waterfield Designs' iPod Case for standard iPods ($40) or Marware's TrailVue for the iPod mini ($30), both constructed of ballistic nylon to keep the iPod safe. Available in black with blue, red, white, or gray trim, the Waterfield case includes a removable belt clip and features a padded flip cover with a pocket that can accomodate a pair of earbuds or an ID and some cash. A nice touch is the slip-off bottom edge, which allows you to actually use Apple's iPod dock base without removing the entire case. The TrailVue includes rigid inserts for added bump protection and is available in seven sporty color combinations—black/gray, black/olive, blue/gray, gray/light blue, light gray/red, olive/orange, purple/light blue—and includes Marware's handy MultiDapt clip system (see Active Cases , below).
Active Cases
If your gift recipient is the active type, there's no better case than Marware's SportSuit Convertible (iPod mini $35; all standard iPods $40). Without its protective cover, it's a neoprene case with rigid walls, rubber grips, and a clear, plastic front. Add the removable lid and you get a hard shell that can store your earbuds and remote while providing quick access to the iPod's buttons. The Convertible also includes a strap for attaching the SportSuit to your upper arm when working out, and Marware's unique MultiDapt clip offers compatibility with available accessories such as a car mount, bike mounts, lanyard, and sport belt. (The company also offers a clever case just for the iPod mini, the SportSuit Runabout ($30), that lets you wear the mini on your wrist when exercising.)
The only drawback to the SportSuit Convertible is that it's not waterproof. For using the iPod in wet environments—kayaking, water and snow skiing, hurricanes, water balloon fights—you'll want to get Eroch Studio's LiliPod for standard iPods ($40). A rigid, waterproof case that can be worn on the belt or around the neck, the LiliPod lets water lovers play without fear of moisture touching their 'Pods. (A foam lining keeps the iPod from bouncing around inside.) Because it's completely sealed, you can't access the iPod's controls, but if you want to be sure your gift keeps your recipient's precious iPod safe from a soaking, the LiliPod is the best thing going.
Eroch Studio's LiliPod
Speaking of rigid cases, for those who need the ultimate in crush-proof protection, Matias' iPod Armor ($50) is the way to go. The standard iPod model is a foam-lined, all-aluminum case that exposes only the dock connector and top controls and is by far the sturdiest case we've seen. The version for the iPod mini is a bit less rugged—it's made of a combination of aluminum and ABS plastic—but it's still the best case we've seen for protecting your iPod from the less attractive kinds of crushes.
Matias' iPod Armor
Finally, if your active holiday pal still prefers the old fanny pack standby, there's really only one pack worth considering: Incase's descriptively named Nylon Belt ($25), formerly called the Belt for iPod. (Note to marketing: better product name needed.) Although it's svelte and light, it protects your iPod in a padded neoprene compartment that includes a hidden pocket for cards and cash. A small hole in the belt lets your headphone/remote cable out (so you don't have to dangle it out the case opening), and a separate, zippered compartment holds your keys and coins. A mesh backing helps keep the pack from getting clammy by wicking away your hard earned sweat.
Bags
Although some iPod users prefer to travel light, others like to bring along a more complete iPod system, and we've found some great iPod bags for just that purpose. Waterfield Designs' iPod Gear Pouch ($35) is made of black ballistic nylon (with a splash of gray, blue, white, or red trim) and holds an iPod, dock base, AC adapter, and earbuds with room left over for a few other small gadgets. Plush lining prevents scratches and an external pocket provides space for cables and other small accessories.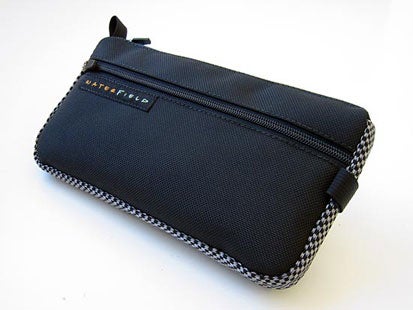 Waterfield Designs' iPod Gear Pouch
For those who've traded in their white earbuds for full-size headphones, Timbuk2's Digital DJ ($50) holds an iPod (or other MP3 or even CD player), large headphones, and any other gadgets you might need in a fully padded case with pockets galore. Three external pockets—one zippered—give you places to store things accessibly, and an adjustable strap lets you carry the bag on your shoulder or around your waist. The Digital DJ is available in black with either black, gray, pink, or lime green trim.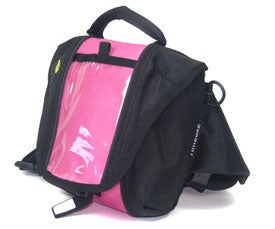 Timbuk2's Digital DJ
If you're buying for an audiophile who always brings a portable headphone amplifier with their player, HeadRoom's GigaBag ($59) provides a way to carry—via shoulder strap or belt clip—an iPod, a headphone amp, connecting cables, and earbuds in a handy, compact case that provides full access to the iPod's controls. (Versions of the GigaBag are available for a number of different portable audio players.)
Novelty/Stocking Stuffers
We've also found a few cases that don't offer much in the way of features and functionality, but are fun (or funky) enough that they're worth a look. The first, and most talked about, are Apple's own iPod Socks ($29 per box). Sold in a pack of six—one each of green, purple, grey, blue, orange, and pink—iPod Socks are just what they sound like: knit socks that stretch to fit any size iPod. They don't do much besides protect your iPod from scratches, but that's all some people want. And anyone but a grinch would have to admit that they're darned cute. (Insert mandatory joke about losing a sock in the dryer.)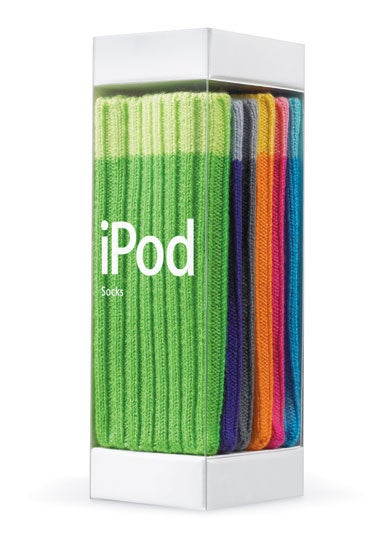 Apple's iPod Socks
If you want to take the "sock" concept to the next level, look no further than foof's foofpods ($12). Available in 16 different patterns, from spotted fur to paisley to corduroy, foofpods are handmade fabric sleeves that offer a bit more padding and a sturdier build than Apple's Socks. And the unique designs are sure to stand out from the crowd.
Finally, our favorite holiday case for the iPod isn't so much a stocking stuffer as it is the stocking itself. Marware's SportSuit Santa ($20) is simply a red neoprene "stocking" sleeve with a soft lining that holds your iPod; furry white trim around the top completes the holiday appearance. (Versions are available for both standard and mini iPods.) The Santa includes a belt loop and lanyard for carrying, but we suspect it will find its home on the mantle. If you're planning on giving a (very) lucky person an iPod this holiday season, there's no better way to present your present than in this delightfully seasonal case.
Marware's SportSuit Santa