It's that time of year: the holidays. A time when many people find themselves scrambling to find gifts for their loved ones—hopefully, gifts those loved ones will actually use. If the object of your yuletide affection is an iPod owner, we're here to help with a week full of suggestions for some of our favorite iPod presents—presents guaranteed to elicit a reaction far more positive than "Oh, gee, another sweater. And so garishly colored too! Thanks awfully…."
We've divided our gift nominations into five categories, one per day, so be sure to check back each day for the best in iPod gear. (You can also browse our Product Guide and Featured Reviews sections for much more product info.)
Here's the line-up:
Tuesday: Headphones & Speakers
Friday: Stocking Stuffer Grab Bag
Accessories
If the recipient of your generosity has an iPod photo or their old iPod shipped with a dock, case, and remote control, you may think that they're up to their eyeballs in appropriate gear. Hardly. They've made a good start but there's oh-so-much-more you can do to outfit their music player. Earlier this week we covered cases as well as headphones and speakers. Today we direct your attention to some of our favorite automotive, power, and input/output add-ons for the iPod.
Auto Accessories
If you'd like to take the "personal" out of "personal music player" and blast an iPod from one end of the car to the other (and beyond), you need a way to get the iPod's audio into the car's stereo. Jacking directly into that car stereo is the best solution as it provides the cleanest signal. If the car the iPod will eventually go into has a stereo with an auxiliary input jack, simply purchase a stereo mini cable and string it between that jack and the iPod's headphone port. Lacking such a jack, you have other options.
If your gift recipient has a recent Alpine car stereo featuring the company's Ai-NET technology, consider making that system iPod-compatible with the KCA-420i iPod Interface connection kit ($100 plus installation). (See our full review.) With the KCA-420i installed, your favorite nephew can play—and more importantly, control —his iPod through his car stereo, using the head unit's CD changer buttons and knobs to choose his favorite playlists and songs. (Artist and track titles are even shown on the head unit's display.) If the object of your generous affection doesn't already have a compatible Alpine head unit, throw one in; prices range from $200 to $2300.
For the already automobilically blessed, BMW also offers its own iPod adapter ($149 plus installation), compatible with the BMW 3 Series, X3, X5, and Z4 Roadster. This system lets the driver use their car's steering-wheel controls to choose between five special playlists, switch tracks, and adjust volume. It doesn't offer as much control as Alpine's system, but the recipient shouldn't complain—they get to drive a BMW every day.
If your intended's car lacks a BMW hood-ornament or your affection doesn't extend to the point of buying an expensive car stereo, you have two other options — an FM transmitter or a cassette adapter.
In essence, an FM transmitter creates an short-range radio station that broadcasts to specific FM frequencies (frequencies either preconfigured on the device or, on transmitters that allow, frequencies of your choosing). Of these transmitters, we're particularly keen on Sonnet's PodFreq ($100). The PodFreq is basically an oversized iPod case with a built-in FM transmitter. The bottom of the case provides a dock connector that passes audio and power to the transmitter when you slide in your iPod, and an LCD display lets you choose any broadcast frequency — from 88.3 to 107.7 — quickly and easily. (Some other FM transmitters have interfaces so complicated that switching channels can't be done safely while driving.)
The PodFreq uses the line-level audio signal from the iPod's dock connector, so the sound quality is noticeably better than transmitters that use the headphone jack. Plus you don't have to worry about finding the "right" iPod volume setting. (The iPod's volume level doesn't affect the line-level signal from the dock connector, although you should disable the iPod's EQ setting to avoid distortion.) The telescoping antenna also provides a wider broadcast range than other transmitters we've tested. And Sonnet now bundles an iPod car charger with the PodFreq.
Note that while the PodFreq can accommodate third- and fourth-generation iPods, it's not designed for the iPod mini or iPod photo — each being too small or large, respectively.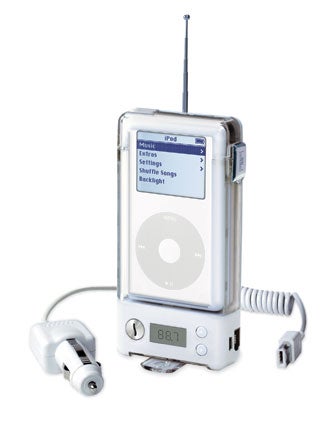 Sonnett PodFreq
Those with iPod minis aren't completely out of luck. They have their own cool option in the form of the Belkin TuneBase FM ($80). The TuneBase FM plugs directly into your car accessory jack (previously known as the "cigarette lighter"), and provides a sturdy, articulating neck that puts your mini closer to eye level. A digital FM frequency selector, complete with four presets and a large, backlit screen, lets you choose any broadcast frequency between 88.1MHz and 107.9MHz (.1 at a time), and a line-out jack is also included so you can connect your mini directly to a car stereo with an audio input jack or cassette slot for better sound. (If this is your preferred connection method, a version without the FM transmitter, the TuneBase, is also available for $50.)
Belkin TuneBase FM
Speaking of cassette slots, if your friend or family member's car has a cassette player they may be well served by a cassette adapter. These things look almost exactly like a standard audio cassette tape except for their lack of audio tape and the addition of an audio cable that extends from one corner of the adapter. To use one, just attach the adapter's miniplug jack to your iPod's headphone port and insert the adapter into your cassette player just as you would a standard audio cassette. Your player thinks it's a real cassette and will switch to tape mode and play. Press the iPod's Play button and you're good to go.
Of these adapters we prefer Coby's CA-747 (around $9). It's inexpensive and features a unique modular audio adapter that lets you change the angle of its cable — making it possible to use the 747 in both side- and front-loading players.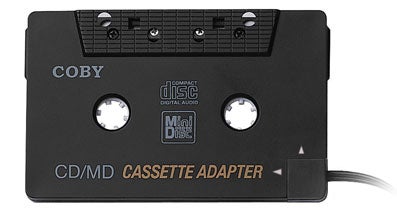 Coby CA-747 cassette adapter
Power Accessories
Until Apple implants tiny fusion reactors in the iPod we must concern ourselves with giving the things a jolt of juice every so often. The following accessories can help your old iPod maintain a longer-lasting charge, power your little digital buddy while on the ground, in the air, or at sea; enhance the iPod's charge with an additional battery pack; and charge your iPod in locations across the globe.
For 40 bucks you can buy some fairly sexy items for your iPod — a cool case, hip headphones, or a sleek stand — but we've yet to find a $40 accessory that adds as much value to a first- or second generation iPod as Newer Technology's high-capacity iPod Replacement Battery . Sexy it isn't, but there's nothing unattractive about the battery's ability to play an iPod uninterrupted for over 21 hours. The battery ships with a complete instructions for opening your iPod and two nylon tools to help perform the job.
Although the iPod is automatically charged when connected to a computer, there are times when you need some juice and don't have your laptop or desktop handy. You could use the iPod's included AC adapter or any one of a number of available "car adapters" (which let you charge your iPod via your automobile's accessory outlets), but if you're like us, going on longer trips has often meant packing both. The new Incase Charger ($50) provides an all-in-one solution: One end of the Charger forms a familiar car adapter plug; the side of the unit contains a flip-out AC wall plug; and the other end features a 5-foot dock cable to connect the unit to your dockable iPod. The Charger automatically adapts to the power source to safely charge your iPod.
The Charger also includes an audio output jack for connecting the unit to your home or car stereo. Some other car chargers include an audio-out jack, but the Charger provides a line-level signal, which should result in better sound quality.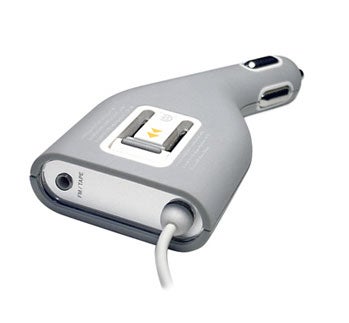 Incase Charger
If you want to get a serious charge out of a dock connector iPod, look no further than Battery Technology's iPod Battery ii ($80). We reviewed the original iPod Battery i lithium-ion battery pack and found that it significantly lengthens your iPod's play time. For that battery the company claims you'll get up to an additional 40 hours of playback, but we connected the fully charged iPod Battery to a fully-discharged iPod mini, enabled repeat mode, pressed play and an astonishing ninety hours later—yes, 90—the iPod mini was still playing. Granted, we weren't skipping tracks frequently or using the backlight — both of which use battery power more quickly — but we suspect that even with such actions, you'll get much more than the advertised 40-hour battery life. Quite simply, we haven't seen another accessory that lets you stray farther, or stay away longer, from your AC outlet or FireWire port. The iPod Battery ii is slimmer than the original version and offers a charge closer to the 40 hours promised with the BTI battery we reviewed.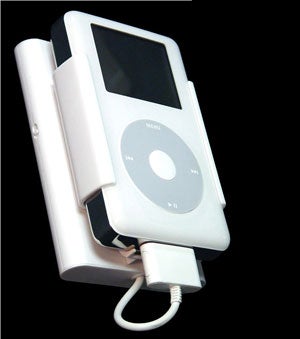 Battery Technologys iPod Battery
Your iPod should be as adaptable to foreign environments as your holiday honey-bun. And that means being able to pull a charge from a socket that looks like something straight out of Dr. Frankenstein's laboratory. To make this possible, stuff a stocking with Apple's World Travel Adapter Kit ($39). The kit contains six adapters that snap onto the iPod's power adapter. Compatible with power receptacles found in North America, Japan, China, United Kingdom, Continental Europe, Korea, Australia, and Hong Kong, the adapters also work perfectly well with the power adapter that ships with Apple's current laptops, the iBook and PowerBook G4.
Input/Output Accessories
If the target of your holiday generosity possesses a late-model full-sized iPod, you could do a lot worse than shop for accessories that exploit the iPod's ability to record audio and store pictures from a digital camera. And if audio and digital pictures don't jingle the bells of your intended, perhaps he or she would care for a device capable of capturing radio, a remote control for the iPod, the dock that didn't come in the box, or the end-all-and-be-all of connection kits.
Although nothing about the case or connectors hint at the fact, the full-sized dock-connector iPods are also voice recorders. Just add a compatible recording device and record thousands of hours of 8Khz mono audio. Our favorite such recording device is Griffin Technology's iTalk ($40). In addition to delivering on the iPod's promised voice recording capabilities, the iTalk contains a built-in speaker that outshines the speaker in the competition's iPod mic. Plus, the iTalk sports a pass-through mini-jack so you can listen to your iPod without removing the iTalk.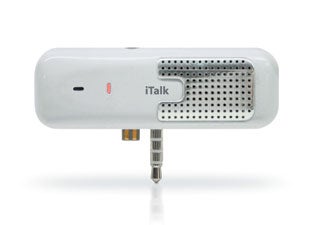 Griffin Technology iTalk
And while you're browsing Griffin's website, you might take a gander at the company's radioSHARK ($70). Though technically not an iPod accessory, friends and family who are radio enthusiasts will be delighted with the device's ability to record radio broadcasts on schedule. That's right, no longer must you miss a single installment of Car Talk . Just schedule the recording via the radioSHARK software (versions are available for both Windows and the Mac OS) and when the shark finishes recording, it automatically places the captured file in the iTunes Music Library, ready for transfer to an iPod when its next synced.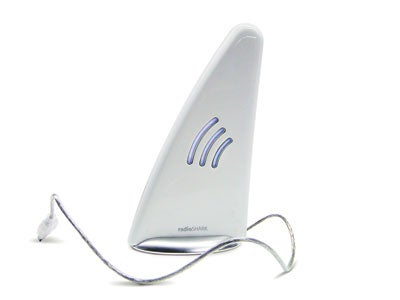 Griffin Technology radioSHARK
If you know an iPod-lover who also happens to be a digital photography nut, Belkin's Media Reader for iPod w/Dock Connector ($100) is a gift worth giving. The device, about the size of a pack of European cigarettes, is powered by 4 AAA batteries and hides a dock connector within the case. Plug that dock connector into the iPod, insert a chunk of CompactFlash (Type 1 and 2), SmartMedia, Secure Digital (SD), Memory Stick, or MultiMediaCard (MMC) media and the iPod pops up a screen asking if you'd like to download the media's pictures.
Handy as the Media Reader is, transfers slow dramatically when you insert media of a capacity greater than 128MB. While it's a great tool for the field, those with honking-great media cards will have to be patient while their pictures crawl from media card to iPod.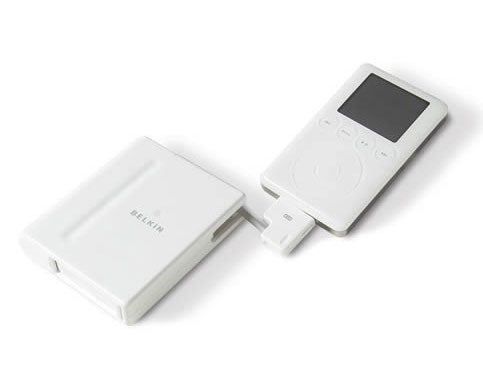 Belkin Media Reader for iPod w/Dock Connector
iPod mavens understand that the device can be used not only with a pair of headphones, but with a home stereo as well. Those who use their iPod this way will welcome Ten Technologies' NaviPod ($50), a wireless remote control system. Available in two versions — one for first- and second-generation iPods and another for dock-connector models — the NaviPod includes a receiver unit that plugs into the top of the iPod and a small, disk-shaped remote that lets you adjust the iPod's volume, play and pause tracks, and skip forward or backward through a playlist.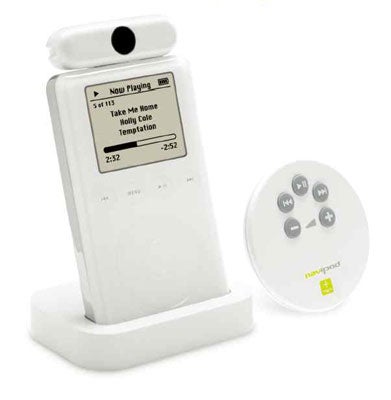 Ten Technologies NaviPod
To make that connection between the iPod and home stereo, your favorite couch potato will appreciate having a dock (the dock's audio output provides a cleaner signal than a connection from the headphone port). If a dock wasn't bundled with his or her iPod, Apple is more than happy to sell you one for $39. Alternatively, take a look at one of SendStation's PocketDocks . These diminutive devices attach to the iPod's dock connector port and include a standard 6-pin female FireWire port — allowing you to use a more-easily-obtained-than-Apple's-proprietary-dock-connector-cable 6-pin FireWire cable with the iPod. The original PocketDock costs $19 and carries only this 6-pin FireWire connector. The $23 PocketDock Combo sports both this FireWire connector and a USB port. And the $30 PocketDock With Line Out includes the FireWire port along with an audio output port. Every iPod owner needs a PocketDock.

SendStation PocketDock With Line Out
And finally, if you suspect that your holiday snookums has little more than the iPod and the accessories found in its box, consider Dr. Bott's iPod Universal Connection Kit with Tape Adapter ($48). This grab-box includes an auto charger, cassette tape adapter, standard PocketDock, mini stereo extension cable (male/female), mini stereo to RCA cable, mini stereo connection cable (male/male), and an iPod carry pouch.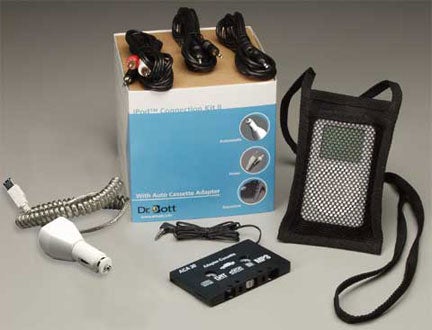 Dr. Bott iPod Universal Connection Kit with Tape Adapter