It's that time of year: the holidays. A time when many people find themselves scrambling to find gifts for their loved ones—hopefully, gifts those loved ones will actually use. If the object of your yuletide affection is an iPod owner, we're here to help with a week full of suggestions for some of our favorite iPod presents—presents guaranteed to elicit a reaction far more positive than "Oh, gee, another sweater. And so garishly colored too! Thanks awfully…."
We've divided our gift nominations into five categories, one per day, so be sure to check back each day for the best in iPod gear. (You can also browse our Product Guide and Featured Reviews sections for much more product info.)
Here's the line-up:
Tuesday: Headphones & Speakers
Friday: Stocking Stuffer Grab Bag
Software
iTunes is an amazing piece of software — capable of playing music, creating playlists, converting files from one audio format to another, streaming Internet radio, burning audio CDs, and synchronizing music and pictures between your computer and iPod — but it's not the beginning and end of iPod software. Search your favorite shareware site and you'll discover that there are seemingly countless third-party utilities for performing such minor miracles as moving music from your iPod to your computer, synchronizing contacts, calendars, to-do items, and notes between Apple's music player and your Mac or PC; creating linked notes; using a Mac-formatted iPod with a Windows PC; and managing your iPod without iTunes.
Rather than burden you with umpteen offerings of utilities that perform nearly identical jobs, we've chosen what we consider the cream of the crop of iPod software for the Mac and Windows PC. Here you'll find utilities that matter — tools that will enhance your favorite iPod owner's experience in significant ways.
Copy Cats
To prevent music piracy, Apple designed iTunes and the iPod so that music would move in one direction only — from iTunes to iPod. However, when your computer takes a dump or your iTunes music library has disappeared and you know perfectly well that your iPod carries an exact copy of that library, you'll regret that Apple didn't provide some way to move your music and playlists back into iTunes. Third-parties to the rescue!
Macintosh
Cheap is good, free is better, but nothing can match both free and good. Whitney Young's free Senuti is both. It allows you to view the playlists on your iPod and copy them to any folder on your Mac or directly into a specific playlist in iTunes. Unlike some lesser utilities of this ilk, Senuti keeps your files organized by artist and album, offers a solid search feature, and lets you play songs on the iPod from within the application — helping to ensure you'll copy only the files you want.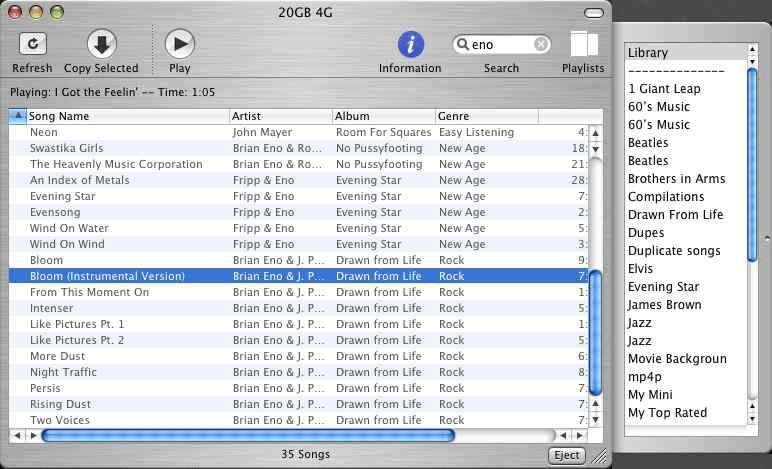 Senuti
We're also keen on The Little App Factory's iPodRip ($10). While iPodRip allows you to be very selective about what you recover, it's also a great tool when you need to recreate a lost iTunes library. It copies not only songs from the iPod but also playlists, ratings, play count, and last-played data. Its SmartSync feature lets you filter exactly what gets copied from the iPod to iTunes — songs in a particular playlist encoded as AAC files with a rating of 3 stars or greater, for example. A version of iPodRip is also available for Windows but its implementation isn't as complete as the Mac version.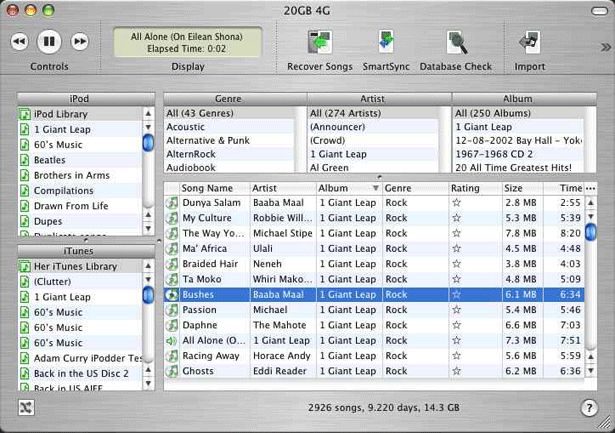 iPodRip
Windows
Speaking of Windows, a good free utility for copying files is Jeff Harris' SharePod . Unlike other copy utilities, it resides and runs on the iPod's hard drive. Just plug the iPod into any PC running Windows XP or 2000, mount the iPod as a removable drive, and run SharePod. And yes, if you mount the iPod as a network drive, you can run SharePod from another computer and copy tunes from the iPod to your computer. There are precious few legitimate reasons for this feature (if, like us, you consider stealing music illegitimate) but perhaps someone will find a kosher use for it.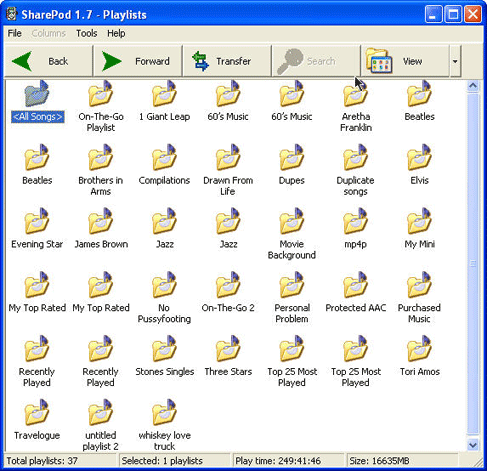 SharePod
Another terrific free tool for copying files to a PC from an iPod is iPodSoft's iPodAgent . Like many Windows iPod utilities, iPodAgent possesses a number of talents — synchronizing Outlook's contacts, calendars, notes, and email, as well as RSS feeds, weather reports, movie show times, and horoscopes to the iPod. These are wonderful features but for our current purposes you need concern yourself only with the fact that iPodAgent can copy specific playlists on the iPod or the iPod's entire music library to your PC.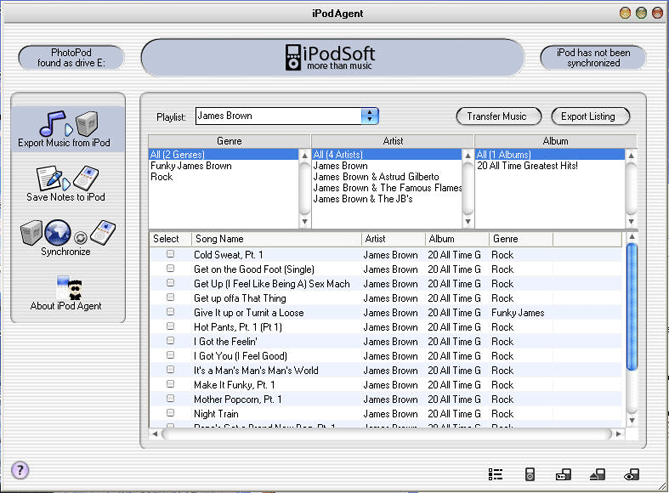 iPodAgent
Synchronization Tools
In addition to music and pictures, Apple intended the iPod to store contacts, calendars, and notes. With the help of third-party utilities, it can hold even greater varieties of information.
Macintosh
Apple takes care of its own by providing a nice tool for synchronizing contacts and calendars to every iPod (and notes and to-do items to iPods with a dock connector) — iSync . If you've updated the Mac OS in the past couple of years you already have a copy of iSync on your computer.
If you'd like to synchronize a greater variety of items, look to Michael Zapp's iPod It ($15). iPod It can move a wealth of information to the Contacts and Calendars portion of your iPod — including your Microsoft Entourage mail, calendars, notes, and to-do tasks; Apple's iCal calendars, Address Book contacts, Mail message, and Stickies notes; and Google news (including full articles, if desired) and weather forecasts. iPod It supercedes Zapp's previous iPod applications EntourageEvents, EntourageMail, and EntourageNotes.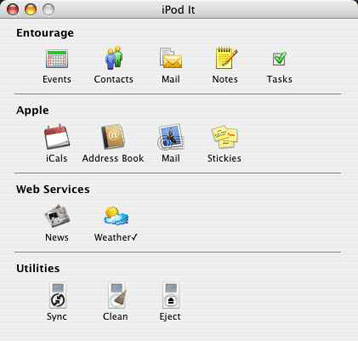 iPod It
Kevin Wojniak's Pod2Go ($12) downloads headlines, weather, stock quotes, movie listings, driving directions, and text files to your iPod. Additionally, it includes several syncing options, including the option to auto-sync when you plug in your iPod. On first- and second-generation iPods, Pod2Go stores its data in the Contacts area. You'll find this data in the Notes section on third- and fourth-generation iPods, iPod Photo, and the iPod mini.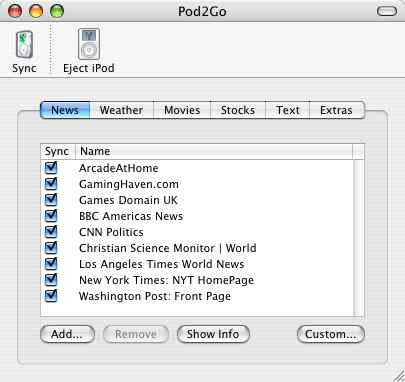 Pod2Go
Windows
Because Apple hasn't made a version of iSync for Windows, those with PCs have had to fend for themselves — copying contacts, calendars, and notes manually to their respective folders on the iPod. No longer. We've already mentioned iPodAgent as a good tool for moving data from Microsoft's Outlook to your iPod. One more solid application is Mike Matheson's iPodSync ($14). Within the iPodSync window, you can choose to synchronize your Outlook contacts, calendars, to-do items, and notes to your iPod along with RSS feeds and weather reports. iPodSync can also be configured to synchronize any file on your PC to the iPod and copy pictures stored on the iPod to the PC much like iPhoto synchronizes pictures on the Mac.
iPodSync
Notes Tools
Canny developers have found interesting ways to exploit the Notes feature found on dock-connector iPods. Here are a few of our favorites tools.
Macintosh
Those who'd like to carry the Good Book on the world's best music player can do so with Kainjow Software's free BiblePod . This utility for Mac OS X 10.2 and later and Windows 2000 and XP lets you place books and chapters from the King James Bible on your dock-connector iPod.
If you're a Mac user who loves nothing better than scrolling through e-books, check out Tom Sutcliffe's free Book2Pod . It converts long plain-text files — books from Project Gutenberg, for example — into small linked-text files. Unlike some other text-to-iPod utilities, Book2Pod can create files that exceed the iPod's limit of 4Kbbits -per -note and 1,000 -notes -per iPod.
Flying Meat's VoodooPad 2 ($25) is an application that allows you to create notepads with linked pages and then export these notepads to your iPod. Once on your iPod you can move from page to page by selecting links (the closest link to the top of the screen is active) and pushing the iPod's Select button. While this may sound complicated, VoodooPad is wonderfully intuitive.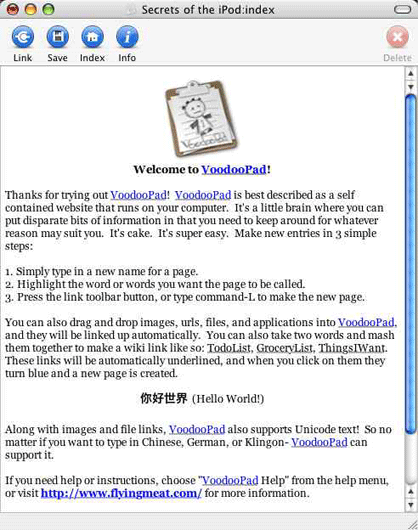 VoodooPad 2
Windows
The all-in-one utilities we mentioned — iPodAgent and iSync — handle notes with aplomb.
Alternate iPod Browsers (Windows only)
When the iPod was first released it was a Macintosh-only product — Windows users who desired an iPod either had to find a Mac to use it with or pray that some enterprising developer would find a way to make the iPod work with a Windows PC. A couple of them did.
The first on the scene was Mediafour with its XPlay — an application/driver package that allows Mac-formatted iPods to work with Windows. XPlay's interface is Mac-like in its use of individual folders for sorting songs, albums, and artists. From within these folders you can play tunes on the iPod with the media player of your choice.
XPlay 2 ($30), the latest version of the program, remains most useful to those who want their iPods to "swing both ways" (though it can also be used with iPod's formatted for Windows). With XPlay 2 installed, Mac-formatted iPods will be recognized by all the Windows tools we've mentioned, including iTunes. Also, unlike iTunes, XPlay 2 allows you to copy songs from the iPod to your computer. Plus, having a copy of XPlay 2 on your PC allows you to use Mediafour's free XPlay add-on, XPlay Photo Browser , a utility for viewing images on an iPod photo and copying those images to your computer.
XPlay 2
There may be no more complete iPod manager — no, not even iTunes — than Red Chair Software's Anapod Explorer ($25 for the iPod Edition or iPod mini Edition [good for one iPod], $30 for the Universal Edition [good for multiple iPods within the same household]). Using the familiar Explorer folder system, Anapod Explorer loads in an instant, transfers songs from the iPod to the PC and creates an M3U playlist in the process, allows you to create contacts within the program and synchronizes those contacts with Outlook, and converts audio files to such formats as WMA, Ogg Vorbis, or FLAC with the help of compatible third-party plug-ins. It even includes Xtreamer, a features that allows you to provide web-based access to your iPod's music library (in other words, grant permission to people on the Web to stream music from your iPod to their computer).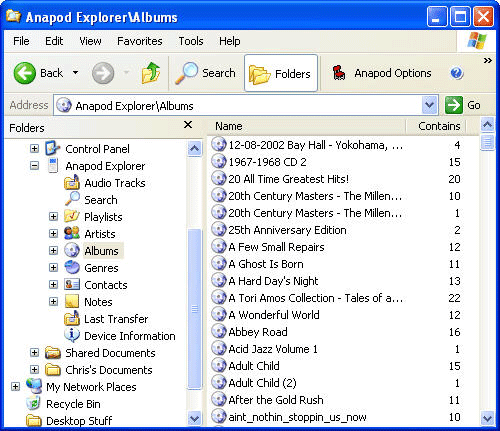 Anapod Explorer
Podcasting
Podcasting, the art of attaching MP3 audio files to RSS streams, is big, big, big. If your nearest and dearest would like to populate their iPod with content both engaging and enervating, try these tools.
If one utility can be considered "the granddaddy of them all" in such a young movement, Adam Curry's free iPodder would be it. Available in versions for both Windows and the Mac, iPodder lets you download feeds from the main podcast directory as well as add your own feeds and, once downloaded, moves the attached audio files into iTunes where they can be synced with an iPod.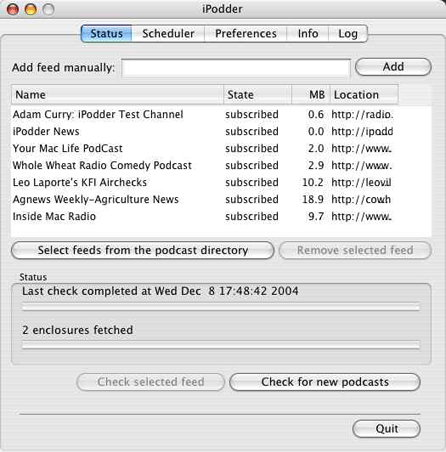 iPodder
Mac users who prefer a more pleasing interface will want to look at both If Then Software's PoddumFeeder ($5) and Thunderstone Media's iPodderX ($20). PoddumFeeder is inexpensive and more intuitive than iPodder and iPodderX downloads not only audio attachments but pictures and video embedded in RSS feeds as well.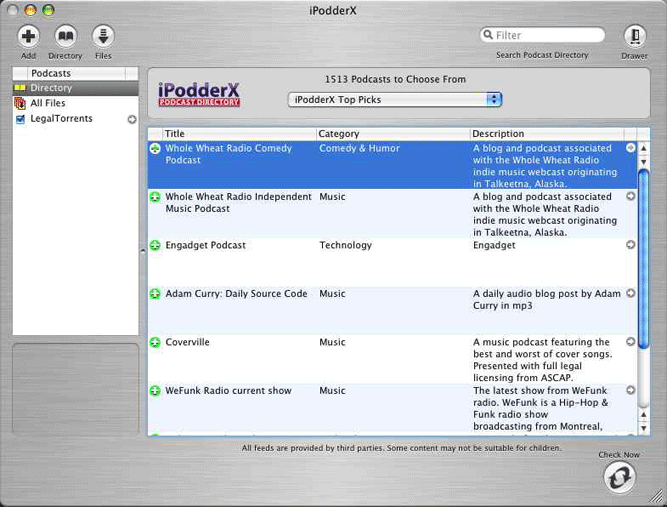 iPodderX
And Others
Some iPod software defies categorization. Despite our inability to jam these round pegs into square holes, they may be a hit with your seasonal sweetheart.
We've mentioned Michael Zapp's work twice already. Let's make it a hat-trick by directing your attention to his iPresent It ($18). This is a Macintosh utility designed to seamlessly import PowerPoint, Keynote, and PDF presentations to an iPod photo. Version 1.0.1 of the tool improves image quality for both PowerPoint and Keynote presentations, adds support for PowerPoint X in addition to PowerPoint 2004, and scales images to 800 x 600 to prevent cropping by iTunes during the conversion process.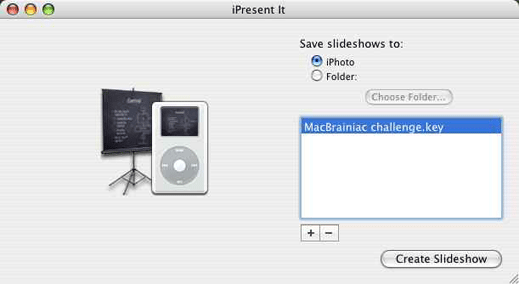 iPresent It
Due to a law intended to protect the hearing of French citizens, European iPods are quieter than those iPods available elsewhere. If you live in the EU and would like to accelerate the onset of tinnitus just like your friends across the Atlantic, download one of these utilities. Mac users can try Hans-Peter Dusel's iPod VolumeBooster and Windows users who'd like to experience similar ear-ringing goodness should grab iMod or give Espen Ringom's euPOD VolumeBoost a shot.
iPod VolumeBooster