It's that time of year: the holidays. A time when many people find themselves scrambling to find gifts for their loved ones—hopefully, gifts those loved ones will actually use. If the object of your yuletide affection is an iPod owner, we're here to help with a week full of suggestions for some of our favorite iPod presents—presents guaranteed to elicit a reaction far more positive than "Oh, gee, another sweater. And so garishly colored too! Thanks awfully…."
We've divided our gift nominations into five categories, one per day, so be sure to check back each day for the best in iPod gear. (You can also browse our Product Guide and Featured Reviews sections for much more product info.)
Here's the line-up:
Tuesday: Headphones & Speakers
Friday: Stocking Stuffer Grab Bag
Stocking Stuffer Grab Bag
Whether you celebrate the holidays with candles, harvest symbols, trees, or large quantities of brandy-spiked, egg-based punch, you understand that two varieties of gifts are given at this time of year — The Big Stuff, which is traditionally boxed, papered, and ribboned; and, the difficult-to-classify Other Stuff, which Santa-fanciers often jam into festive holiday hosiery.
It's this latter class of gifts that we recommend in this, our last installment of Playlist's iPod Gift Guide. If you're looking for the perfect item to top off your sweetie's stocking, read on.
Wireless Wonders
In the last decade our lives have become increasingly unwired — mobile phones and wireless handsets are rapidly becoming the norm rather than the exception and laptops without wireless networking are going the way of the dodo. In this day and age why should the relationship between your computer's music library and home stereo be restricted by wires?
With the addition of Apple's AirPort Express ($129), it needn't. The AirPort Express is essentially an 802.11g wireless base station — similar to Apple's AirPort Extreme Base Station and any number of third-party wireless hubs. What makes the AirPort Express so notable (and desirable) is the part it plays in streaming music between a wireless-equipped computer and a home stereo. Just plug that home stereo into the device's audio port, configure the AirPort Express from a computer that has a compatible 802.11 wireless card, select the AirPort Express from within iTunes 4.6 or later, and music stored on your Mac or Windows PC streams across the ether, into the AirPort Express, and out the speakers of the stereo connected to it. It's nothing short of a miracle and any digital music enthusiast would be very enthusiastic about receiving one.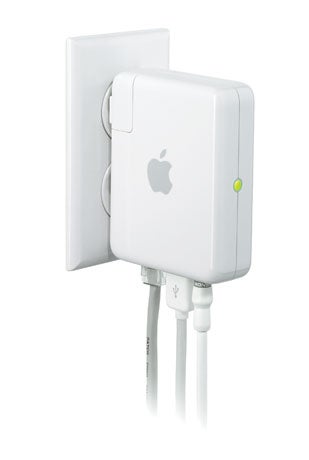 Apple AirPort Express
To make that special present even more special, add Keyspan's Express Remote ($60). And what makes it so special? The AirPort Express is incredibly cool but it has one major drawback — Navigating the iTunes library requires traipsing to the host computer and mucking with iTunes' controls. The Express Remote offers a partial solution to the problem by letting you control such functions as Play, Pause, Forward, Back, and Volume with its small wireless remote control. Just plug the Express Remote's small receiver into the AirPort Express' USB port and you're ready to control the music streaming from computer to stereo.
And why is this a partial solution? There's no readout on the remote, so you can't tell what songs are in your playlists, and there's no way to change playlists. with the remote. However, if you've carefully configured your playlists so you don't need to routinely switch from one to another and those playlists you've created don't harbor any lousy tunes, you'll find the Express Remote to be a great help.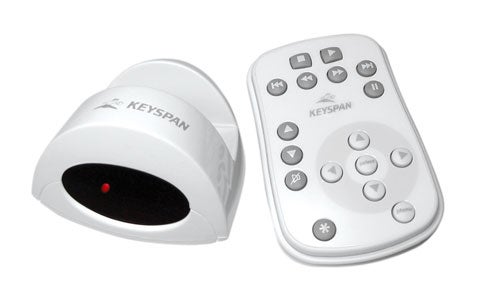 Keyspan Express Remote
If you're tasked with the job of shopping for someone who has everything (and that everything includes a built-in multi-room audio system), you could do worse than to slip Sonance's iPort ($598) into that person's well-heeled stocking. The iPort is an in-wall dock for dock-connector iPods that allows you to play the iPod through the kind of high-end multi-room audio system made by Sonance and other companies. Just plug your iPod into the iPort, grab the optional remote control, and control the iPod's Play, Pause, Previous, and Next functions while the iPod charges.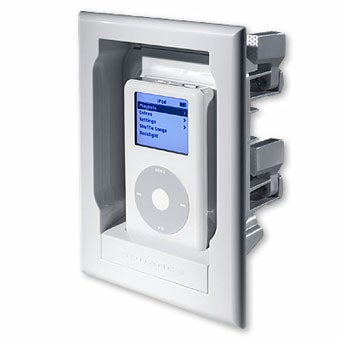 Sonance iPort
Cool Cover-ups
For the iPod user who's nearly drowning in iPod gear, spruce up their "ugly" dock base with Westshore Craftworks' iDockCovers ($25-$70). Each iDockCover is, well, a cover for the dock, but one made of hand-finished wood for that sophisticated, "I don't like plastic" look. Natural wood finishes include maple, walnut, zebrawood, teak, purpleheart, cherry, and African Padauk, and you can also choose from a number of high-gloss lacquer finishes, including black, plum, "sunburst," and transparent red, green, blue, and amber.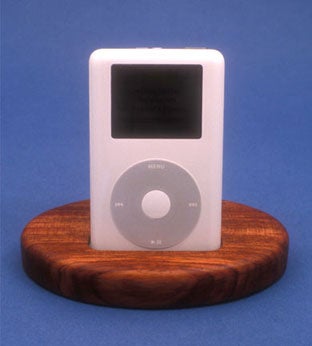 Westshore Craftworks iDockCover
Ever hear your holiday pal say, "Boy, I sure wish I had a [black/orange/yellow/blue/gold/whatever] iPod"? You can make their holiday wish come true by giving them a ColorWare iPod colorization ($49 for 1G, 2G, and 3G iPods; $64 for 4G iPods and iPod photo models). Your pal simply ships the iPod to ColorWare, chooses one of 20 colors (or, for $99 more, submits a custom color), and a few weeks later gets back an iPod, sans white face. The shiny chrome back remains, but the front is now encased in glossy, scratch resistant finish. To really splurge, have ColorWare color the iPod's earbuds ($10) and dock base ($19). (The company also sells pre-colored iPods for $65 more than standard retail prices and will even colorize laptops, iMacs, and game consoles.)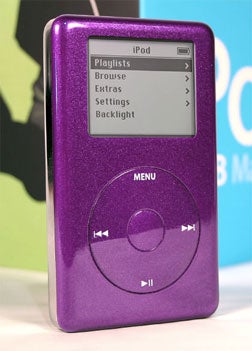 ColorWare iPod
Attractive Intangibles
For a guaranteed crowd-pleaser, give the gift of music, conveniently dispensed via a gift certificate or Music Card for the iTunes Music Store. (Go to the Apple Store Online and click the "iTunes Music Cards" link on the left; or visit your local Apple Retail Store.) Music Cards — which look like iPod-mini-green credit cards — are available in increments of $15 and $25, or you can give a paper or electronic gift certificate in any amount you prefer. The recipient can then buy their favorite music from the iTunes Music Store and have it transferred to their iPod in minutes. Talk about instant gratification!
Or perhaps you want to remind your favorite music lover of your generosity on a regular basis? The iTunes Music Store provides the gift that keeps on giving: iTunes Allowances. When you give an iTunes Allowance, you authorize the Music Store to credit your recipient's iTunes account with a monthly stipend of your choosing (from $10 to $200), to be used at their leisure. Simply go to your own account in iTunes and then click the "Setup Allowance" button. Your niece or nephew is guaranteed to remember you at least once a month when your music moolah is dispensed.
Every Apple iPod comes with one year of hardware warranty and 90 days of free phone support (the latter covering only a single incident). Not bad, but not great, either. Give an iPod owner some peace of mind with an AppleCare Protection Plan for iPod ($59), which extends both phone support and the hardware warranty to a full three years. The plan covers the iPod and any accessories included in the box, such as the earbuds and dock base, and even covers the iPod's internal battery: If the battery capacity drops below 50 percent of the original spec, Apple will replace the iPod (with a comparable new or refurbished unit).
Reading Material
At the risk of being rightfully accused of shameless self-promotion, a high-ranking member of our staff suggests that you purchase as many copies of Christopher Breen's Secrets of the iPod and iTunes, Fifth Edition ($15.39 at Amazon.com) as your budget and intended stockings allow. To further satisfy your friends' and family's hunger for knowledge and entertainment, pick up just as many copies of the latest edition of our very own Playlist magazine ($5.99).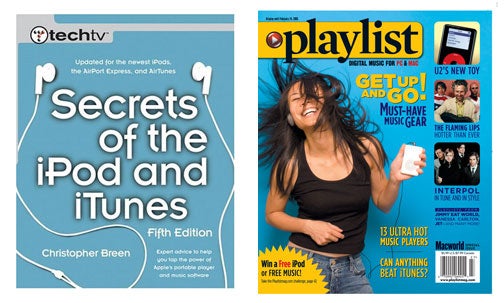 Secrets of the iPod and iTunes and Playlist magazine Issue 2
The Final Object of Our Affection
We've very nearly reached the end of our weeklong look at iPod gifts worth giving. With our help you've chosen the perfect case, headphones, speakers, accessories, and software. Before we leave we thought we'd mention one last gift — the gift that makes this all so necessary.
Wildly popular as the iPod may be, it's possible that the person you care most for lacks this divine music player. If so, there are few other gifts that will be as enthusiastically received. Apple offers iPods ranging in price from $249 to $599, in capacities from 4GB to 60GB. One is sure to be the perfect fit for that special someone on your holiday shopping list (even if that special someone is you).
Happy holidays!
Reviews Editor, Dan Frakes, made substantial contributions to today's report.