Is there any doubt that the Mac has become an important part of the digital music scene? Apple operates the most successful online music store. It sells the most popular hard drive-based music player. And when Bono and The Edge decide to appear on stage with a tech executive to announce a U2-themed music device and the release of a digital boxed set of their albums, it's Steve Jobs and not Michael Dell or Steve Ballmer that gets the nod.
So it's no surprise that five of the products deserving of a 2004 Editors' Choice Award had a distinctly musical bent. Music is important to Mac users—whether it's listening to songs or creating them. And music has proven to be a source of inspiration for Mac developers as well, driving them to create some truly inventive and useful hardware and software. (You can comment on our choices—or offer up some of your own—in the Macworld forums .)
Our list of Eddy-winning digital music products includes a pair of offerings from the biggest player on the Mac music scene (hint: its name rhymes with "Apple"), as well as cool hardware and software from developers ranging from the mid-size to the obscure. It just goes to show that music really does bring the world closer together—especially when it's music from the Mac.
Most Stylish Music Player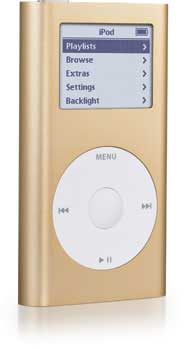 Sure, from the moment Apple's iPod mini arrived, everyone complained that its 4GB capacity—enough for roughly 1,000 songs at 128 Kbps—lagged behind those of the 20GB, 40GB, and 60GB iPods. But it's design that makes the mini Eddy-worthy. Those five metallic hues make a serious fashion statement (and make the white iPod seem sterile by contrast), and the slim size and feathery weight make it ridiculously easy to forget you're carrying the thing. The iPod mini was also the proving ground for the new Click Wheel interface—which proved to be so popular that Apple has now deployed it across the fourth-generation iPod line.—JONATHAN SEFF
iPod mini: ; May 2004; $249 (see Best Current Price ); Apple
Best iPod Accessory

Plenty of iPod add-ons will let you play tunes from your iPod over the nearest FM radio—great if you want to play said tunes in the car or on your home hi-fi. But Sonnet Technologies' PodFreq is the first iPod transmitter that really gets it right. Its interface is digital (instead of switch- or iPod-based), and it acts as a dock—with USB and FireWire ports—when the iPod is attached. A friendly interface makes it easy to pick the frequency you want, and the signal is consistently crisp, clear, and strong. The PodFreq isn't inexpensive—it costs at least $30 more than other transmitters. But it'll keep you rocking no matter where your journey takes you.—PHILIP MICHAELS
PodFreq: August 2004; $100 (see Best Current Price ); Sonnet Technologies
Best Way to Listen to Non-iTunes Audio
Rogue Amoeba's Nicecast is the easiest, most flexible way to broadcast your Mac's audio over a local network or the Internet. It's an audio fan's must-have. And with the release of Apple's AirPort Express Base Station, Nicecast became even better: it extends AirTunes' functionality to any audio on your Mac.—DAN FRAKES
Nicecast: ; March 2004; $40; Rogue Amoeba
Best Way to Stream iTunes
AirPort Express can stream music from your office Mac to your stereo. Shirt Pocket's netTunes lets you control those tunes—and more. This AirTunes companion streams your music, acts as a remote control for AirTunes, and keeps your play counts and ratings up-to-date.—JIM DALRYMPLE
netTunes: $20; Shirt Pocket
Best Part of iLife
Just as it did with movies and DVDs, Apple brought music-making to the masses with the inexpensive and easy-to-use GarageBand 1.1. Whether your thing is layering built-in loops, playing a MIDI keyboard, or recording live instruments and vocals with nondestructive effects—or a combination of all three—GarageBand is your first step to actually creating music instead of just listening to it. And when you're done, you can save your masterpiece to iTunes and share it with the world.—JONATHAN SEFF
GarageBand 1.1: ; May 2004; $49 as part of iLife '04 suite, free with new systems; Apple