Back when MacUser started handing out Editors' Choice Awards 20 years ago, desktop publishing and graphics software seemingly had a Microsoft-sized monopoly on the trophies. And why not? In those early days, desktop publishing was what put the Mac platform on the map.
Other creative disciplines—digital imaging, music, and video to name a few—have flourished on the Mac in the ensuing two decades. But publishing and graphics remain an important part of this platform. Maybe it's because Mac hardware and software developers continue to look for new and innovative ways to help you get your ideas from your computer screen to the printed page. Look no further than this year's Eddy-winning design products, which include a venerable page-layout application that added welcome enhancements, a popular line of tablets that introduced terrific new features of its own, and a pair of programs making their Mac OS X debut.
Along with the winning design products, we're including two Eddy recipients in another crucial segment of the Mac market—video production. Like the desktop publishing and graphics programs of 20 years ago, these two video applications take advantage of new technologies to make the process of using your Mac to create something go more smoothly than ever.
Here are our favorite design and video products for 2004. Let us know your choices in our forums.
Most Improved Page-Layout Program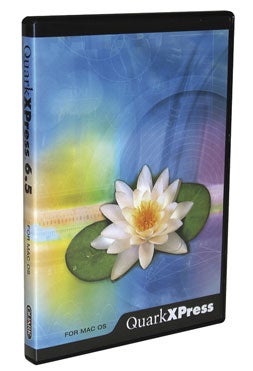 "Quark doesn't care" has been a complaint of Quark customers for years. But QuarkXPress 6.5 may help quiet those complaints. This upgrade is free to registered users of version 6, and it's no minor bug fix: version 6.5 builds new image-editing tools into the app (or, to be precise, into the QuarkVista XTension). You can tweak images in all sorts of ways, applying nondestructive Gaussian blur, unsharp mask, and despeckle filters. You can also import a layered Photoshop file and then turn those layers on and off, select clipping paths, and change opacities and blends. You can save finished images as new image files, again from within XPress. XPress 6.5 won't replace Adobe Photoshop—but it will save you time. Maybe Quark cares after all.—TERRI STONE
QuarkXPress 6.5: free for owners of QuarkXPress 6.0 (see Best Current Price ); Quark
Best Keyboard Alternative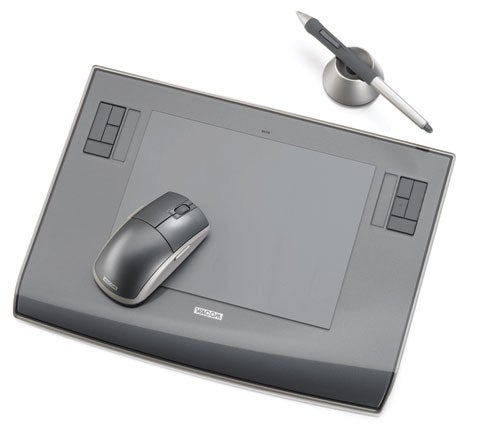 Thanks to the Intuos3, if you use your Mac primarily as a drawing tool, you may never have to touch a keyboard again. The latest in Wacom's line of drawing tablets features two great innovations: ExpressKeys (eight programmable buttons that can trigger recurring commands) and TouchStrips (configurable trackpadlike strips for scrolling and zooming). Those, plus the easy-grip pen, are all you need to run all sorts of graphics apps while your keyboard gathers dust.—PHILIP MICHAELS
Intuos3: ; January 2005; 4-by-5-inch model, $220 (see Best Current Price ); 6-by-8, $330 (see Best Current Price ); 9-by-12, $450 (see Best Current Price ); Wacom
Best Painting App for Nonartists
Alias's SketchBook Pro 1.1 puts the fun back into painting on your Mac. Though it doesn't offer the range of artist tools and natural-media effects found in Corel's Painter IX (which costs $429), its simplified interface makes it perfect for sketching ideas, projects, and artwork.—KELLY LUNSFORD
SketchBook Pro 1.1: ; December 2004; $179; Alias
Best Family Graphics App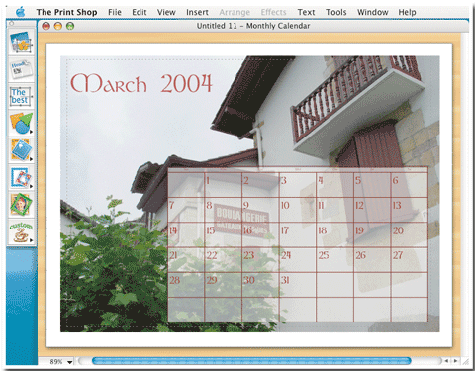 The Print Shop Mac OS X Edition 1.0, by Software MacKiev, is perfect for creating calendars, cards, mailing labels, CD and DVD labels, newsletters, business cards, and more, without having to learn a complex desktop-publishing app. Totally rewritten to take advantage of OS X, it also works seamlessly with iTunes, iPhoto, iCal, and Address Book.—KELLY LUNSFORD
The Print Shop Mac OS X Edition 1.0: ; June 2004; $50; Software MacKiev
Best Motion Graphics App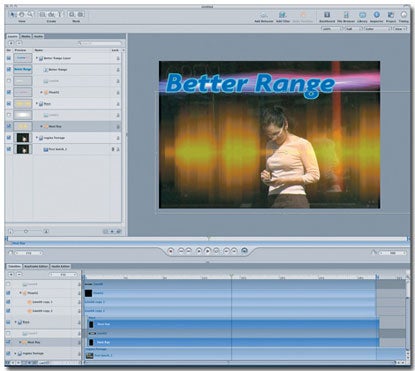 Apple's Motion does a lot of the same stuff that Adobe's After Effects or Discreet's Combustion does—but at about a third of the price. It's easy to learn and work with; has cool features such as behaviors (which let you simulate gravity, wind, attraction and repulsion between multiple objects, and other movements); and plays nicely with other Apple apps, including Final Cut Pro and DVD Studio Pro. It won't replace programs such as After Effects. But with its combination of performance, simplicity, and price, it'll be joining them in the toolboxes of many graphics pros.—DAN MILLER
Motion: ; January 2005; $299 (see Best Current Price ); Apple
Best Way to Burn
Toast with Jam 6.0 makes an already must-have Mac product even better. Roxio now lets you write double-layer DVDs just like the pros in Hollywood. That capability, Dolby AC-3 audio compression, and an enhanced cross-fade editor make this an invaluable tool for all Mac musicians and moviemakers.—JAMES GALBRAITH
Toast with Jam 6.0: ; November 2004; $200 (see Best Current Price ); Roxio
Note: When you purchase something after clicking links in our articles, we may earn a small commission. Read our affiliate link policy for more details.