If anything characterized the world of digital music in 2004, it was Apple's iPod. Although a slew of music players and online music marts were unveiled by entities other than Apple, no "iPod killer" or music service gained significant traction. By the end of the year, the word "iPod" had become nearly a generic term for a digital music player, much as Walkman described portable music players 20 years earlier. And as the iTunes Music Store extended its reach across the globe, similar services did their best to scratch out a living from Apple's leavings. Here are this year's stories.
The iPod in Miniature
As competition in the online music and digital music player industry began to heat up in the waning months of 2003, it became clear that if Apple wanted to maintain its edge, it had to offer a less expensive iPod to compete with flash-memory-based players. It revealed its intention to do so in at January 2004's Macworld Expo in San Francisco, when Steve Jobs announced the $249 iPod mini —a smaller version of the iPod that came in five colors (gold, silver, blue, green, and pink), sported a new click wheel controller, and carried a 4GB hard drive.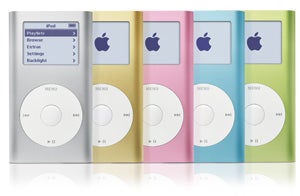 As with the original 5GB iPod, many people were taken aback by the price of the iPod mini. Few considered $249 to be inexpensive, and if you were going to spend that kind of money, why not pungle up an additional $50 for an iPod with 3.7 times the storage of the mini? (On the day of the iPod mini announcement, Apple bumped up the storage capacity of the $299 iPod to 15GB.)
The Impact: Pundits be damned, the iPod mini sold like hotcakes. Sales clearly demonstrated that consumers couldn't care less that you could buy far more music storage for a little more money or that they could have the same storage from a less expensive player such as Creative's MuVo 2. People wanted the iPod mini because it was cool and were willing to pay the price to bask in that reflected coolness.
Talkin' 'Bout My Fourth-Generation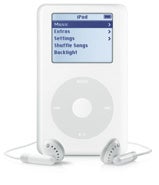 When Apple announced the fourth-generation iPod on July 19, 2004, it could have done so by proclaiming that the "maxi-mini" was born. The fourth-generation iPod was, in some ways, closer in design to the iPod mini than it was to the previous three generations of white iPods. Available in 20 and 40GB configurations priced at $299 and $399, respectively, the fourth-generation iPod bore the same kind of click-wheel controller used on the mini. And like the mini, it could be charged via USB 2.0.
Apple offered more hard drive capacity for less money on these iPods. To help make this possible, Apple made the previously bundled case and remote control optional (though a dock was included with the 40GB fourth-generation iPod).
The Impact: The fourth-generation iPod was an evolutionary upgrade rather than revolutionary. It didn't offer the FM tuner or line-in recording of other music players and no one much seemed to mind. Few cared that a case and remote control failed to appear in the box—most people purchased third-party cases anyway and it's the rare iPod owner who invites greater cable clutter by mixing in a remote control.
Putting the HP in iPod
On January 8, 2004, HP and Apple announced that HP would sell HP-branded iPods supplied by Apple. On September 15, 2004, HP released its first iPods—models identical to Apple's 20 and 40GB fourth-generation iPods, save for the HP logo etched in the back.
The Impact: Apple didn't need a partner to sell iPods—it was doing very nicely on its own. In order to extend the reach of the iTunes Music Store (and, thus, sell more iPods) it did want iTunes bundled with as many Windows PCs as possible. Allowing a major PC vendor such as HP to put its name on a product as popular as the iPod gave Apple that opportunity.
Under a Blood Red Click Wheel
Apple called a press event for October 26, 2004. The invitation read "Steve Jobs, Bono and The Edge invite you to attend a special event."
The event began with the unveiling of the iPod Photo, the first iPod to feature a color display. Bearing either a 40 or 60GB hard drive (priced at $499 and $599 respectively), these iPods could be configured to display their pictures on a television with the assistance of an included audio/visual cable or via an S-video cable strung between a television and the iPod's included dock. They also featured greater battery life than previous iPods, letting you play music continuously for over 15 hours on a single battery charge.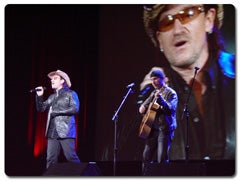 Two members of the band U2 were on hand to endorse the first product to bear the group's name—the iPod Special Edition: U2. Though functionally no different than a 20GB fourth-generation iPod, this special player was the first "big" iPod to come in colors—specifically a black face with red click wheel. Along with a coupon for $50 off of U2's entire 400-plus song catalog from Apple's iTunes Music Store (normally priced at $149), this special iPod also carried the signatures of the four U2 members etched on the back plate.
The Impact: Steve Jobs made it clear that Apple felt video was the wrong direction for portable players like the iPod. Photos, on the other hand, made sense. Apple lost a portion of the iPod photos potential customers when it was revealed that a computer was necessary for the iPod photo to display pictures—you couldn't directly download pictures from a digital camera and then view those pictures on the iPod. Given this unmet expectation and the iPod photos' price it wasn't the kind of runaway success as was the iPod mini.
A portion of U2's fans were unhappy that the Boys From the Emerald Isle had appeared to have sold out to The Man by endorsing a product. The Man, on the other hand, was more than happy to be enveloped in U2's hipness.
Sony Fails to Deliver the Goods
If there was one company that had a chance to slow Apple's ascendancy, it was Sony. The company had been in the music business for years, owned its own record label, controlled a major portion of the home entertainment market, and delivered attractive and well-designed products. In the summer of 2004 Sony introduced its first hard-drive based music player, the Vaio Pocket VGF-AP1, a player that played files encoded only in Sony's proprietary ATRAC format.
The Impact: The inability for this and other Sony players to play the most popular audio format on the planet—MP3—spelled curtains for Sony as a significant entity in 2004's digital player market. In a case of "too little, too late" Sony announced late in 2004 that it would make its players natively compatible with MP3 files.
Joining the Chorus
Everybody and his brother jumped into the online music marketing game in 2004— Microsoft, Virgin, Real Networks, Napster, MusicMatch, Sony … even Wal-Mart. The various services attempt to distinguish themselves by claiming that because they support Microsoft's WMA format (a format supported by nearly all music players not made by Apple), they offer consumers greater choice.
Likewise, every company capable of surrounding a circuit board in plastic pumps out a digital music player. Many such players are promoted "iPod killers" by the press yet, once released, are found lacking in comparison to the iPod.
The Impact: Virtually none in 2004. These emporia and players do little to dent the iPod and iTunes Music Store's dominance.
Harmonic Convergence
Hoping to ride Apple's coattails, RealNetworks released Harmony, a Digital Rights Management (DRM) translation system, that allows music purchased from RealNetworks' RealPlayer Music Store to play on the iPod. Taking umbrage at its DRM being unraveled by Real's engineers, Apple branded Harmony as the "tactics… of a hacker" and vowed to fight Harmony by means both legal and technological. Real posted a petition asking users for their comments.
The Impact: Real pulled the petition shortly after it was posted as the bulk of the comments chided the company for actions many considered unethical. Apple delivered on at least one of its threats by making the iPod photo incompatible with files processed by Harmony. It took a full month after the iPod photo's release for anyone to notice.
iTunes Without Borders
Wildly successful in the U.S., Apple worked out the licensing issues necessary to take the iTunes Music Store abroad. In June, the store opened in the UK, France, and Germany. The store came to Austria, Belgium, Finland, Greece, Italy, Luxembourg, The Netherlands, Portugal and Spain in late October. And Canada finally got its version of the iTunes Music Store in the first days of December.
The Impact: Canadians can now focus their ire on the ongoing hockey strike.
Charity Begins at Home
The British press held Apple in little regard when it was revealed that the iTunes Music Store would not sell the remake of "Do They Know It's Christmas?"—the proceeds from which would go to charity—because Apple was unwilling to change the store's pricing structure (the charity asked that retailers sell the song for twice the price of a normal single). Apple later said it would sell the single but would do so by charging the usual price of 79 pence and donating an additional 70 pence from its corporate pocket. Representatives from other online music merchants were not happy.
The Impact: More money went to charity, more people were exposed to the iTunes Music Store, Apple earned greater wrath from its competitors, and Steve Jobs appears to give not a tinker's damn what those rivals think.
( Editor's Note: This story has been edited to correct an error about RealNetworks' Harmony. )
Note: When you purchase something after clicking links in our articles, we may earn a small commission. Read our affiliate link policy for more details.