netTunes and AirTunes
One of the best features of Apple's AirPort Express is its ability to stream music wirelessly to remote speakers using AirTunes. The one drawback? You can't control playback from your stereo as you can with products like Slim Devices' Squeezebox and Roku's SoundBridge. But combining AirTunes with Shirt Pocket's $20 netTunes software lets you control iTunes on one Mac from another Mac, using iTunes' native interface. Just bring your PowerBook into the living room, and you can connect to your music-library Mac in the study—and you don't have to run into the other room to pick a new song.
Flickr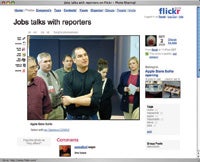 Imagine a blog-friendly iPhoto with social-networking capabilities thrown in, and you've got Flickr, a free service that lets you easily store, organize, and share photos online. Upload photos from your Mac; organize, annotate, and add metadata tags to them; and then share your shots with the public and private groups you belong to (the thriving Macintosh and I Love My Cat groups are our favorites). Flickr can export pictures or galleries of photos to your Weblog, and accounts cost nothing to set up, so friends and relatives can check out your photos for free—as long as they don't mind seeing a few ads, too.
Pixma iP5000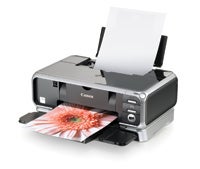 When it comes to ink-jet printing, size is everything—drop size, that is. So Canon's $200 Pixma iP500 (see Best Current Price ) is a big deal. It's the industry's first ink-jet to put down 1-picoliter drops—half the size of what the competition offers. The microscopic drop size, combined with a 1,856-nozzle print head and 9,600-by-2,400-pixel resolution, produced images that, in our opinion, had amazing detail. The Pixma iP5000 also produces great text—so good, in fact, that you'd never know it came from an ink-jet.
iDockCover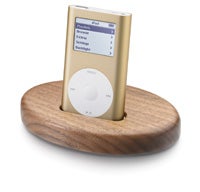 Nowadays, iPod accessories may be more plentiful than spandex-clad hair bands were in the eighties, but the iDockCover, from Westshore Craftworks, may be the first add-on made just for the dock. Handcrafted from flame maple, walnut, and African padauk woods, these $35 covers for the docks of the 3G, 4G, and mini iPods add a touch of color and class to an otherwise sterile cradle. Each lacquered cover is a work of art—with a smell that will remind you of wood shop.
PodGourmet Vegan Edition
Animal-loving foodies, take heart—add Enrique Quintero Design's $5 PodGourmet Vegan Edition to your iPod, and you've got access to 277 animal-free dishes that'll give your cooking more "bam" than Emeril. The software includes recipes for tasty treats such as tandoori seitan, hemp pancakes, and a tofu Reuben sandwich. It uses the iPod's Notes feature, so anyone with a 3G, 4G, or mini iPod can get in on the culinary fun. If being vegan is good enough for Steve Jobs, maybe it's good enough for you, too.
What's Hot: Brought to you by John Moltz of the Crazy Apple Rumors Site
1. Microsoft's Steve Ballmer says "The most common format of music on the iPod is 'stolen.'" Ballmer added, "Having lifted interface ideas from Apple for years, I know a thing or two about stealing."
2. Apple adds a single-processor Power Mac G5 back to its lineup. Rumors of a Power Mac featuring half a processor with a salad or a cup of soup appear to be unfounded.
3. Apple releases a U2 iPod, which comes with a coupon for $50 off the band's collected works. Dell counters by releasing a Zamfir Digital Jukebox, which comes with $50 off the works of the Master of the Pan Flute.
4. Apple finally announces an iTunes Music Store for long-suffering Canadians. Now if only Steve Jobs could do something about that NHL lockout.