They say that good things come in small packages. While some gallant pachyderms might take exception to this notion, in the case of the iPod and its accessories, no truer words were spoken. To prove the point, we look at three pocket-sized accessories you're sure to like—SendStation's PocketDock, Griffin Technology's iTalk, and MacAlly's PodWave.
PocketDock
When Apple introduced the redesigned iPod in early 2003, users praised its slimmer, more elegant design, but this improvement came with one catch: Doing away with the standard FireWire port and replacing it with a new dock connector meant that the accessories that used the FireWire port—such as car chargers—were no longer compatible. And, perhaps more importantly, instead of being able to use any standard FireWire cable to sync and charge your iPod, you had to make sure you always carried a special dock cable with you.
In light of the many new dock-oriented third-party peripherals that have since been released, the dock connector doesn't seem like such a bad idea anymore, but it would still be nice to be able to use a standard FireWire (or USB) cable in a pinch. Similarly, one of the dock connector's killer features is that given the right adapter, it can provide a line-level audio signal, which provides better sound than the headphone jack when connecting your iPod to a home stereo or headphone amplifier.
It's for these reasons that we think SendStation's line of PocketDock adapters are must-have accessories for your iPod. The standard PocketDock ($19) is, quite simply, a tiny adapter that plugs into the dock connector on your iPod and provides a standard FireWire port. Anything you could do with an older iPod's FireWire port—sync with iTunes, charge the battery, use the iPod as a portable hard drive—you can do with a "dockable" iPod via the PocketDock. The PocketDock is small enough that you can keep it in your iPod case or laptop bag, and because you can connect your newer iPod to your computer using any standard FireWire cable, you never have to worry about forgetting your dock cable again.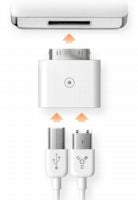 SendStation's PocketDock
The $23 PocketDock Combo serves a similar purpose except that it provides both FireWire and USB ports, allowing you to connect your iPod to any Mac or Windows PC using a FireWire or USB cable. This allows you to sync all dockable iPods, and charge all ClickWheel iPods and iPod minis, via USB. (You can also charge and sync any dockable iPod via the Combo's FireWire port.) The only catch to the Combo is that its uses a Type B USB port (the larger, squarish version) rather than the more common Type A (the smaller, flatter version). However, the company's view is that since Type B cables are commonly used by USB printers and scanners, most users are likely to have one on hand.
Finally, the $30 PocketDock Line Out also provides a FireWire port, but also features a line-level audio output minijack for connecting your iPod to a headphone amplifier or home stereo without the need for Apple's dock base. As a nice bonus, the Line Out version includes two audio cables—a 1/8-inch mini-to-mini and a mini-to-RCA (left/right)—to allow you to connect your iPod to virtually any stereo system or amplifier.
Note that the PocketDock Combo and Line Out models are slightly wider and thicker than the standard PocketDock; as a result, some iPod cases that have holes for Apple's dock cable won't accommodate the Combo and Line Out models. But apart from that, the PocketDock line of adapters is perfect for people who want a compact way to increase iPod connectivity.
iTalk
One of the hidden features of 3G and later iPods (except the iPod mini) is the ability to record audio, provided you have the appropriate accessory. If you've got your own high-quality microphone, you can use Belkin's $30 Universal Microphone Adapter to connect that microphone to your iPod. However, if you want an all-in-one solution, your choices are Belkin's $35 Voice Recorder or Griffin's $40 iTalk. In our testing of both, the iTalk is clearly the better product. (Note that the iTalk will also accomodate an external microphone.)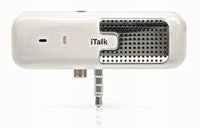 Griffin Technology's iTalk
The iTalk sits on top of your 3G or later full-size iPod, connecting to the headphone jack and remote port. At only .75 inches tall, half an inch thick, and the same width as the iPod, the iTalk adds very little bulk and gets its power directly from the iPod's headphone jack. When you connect the iTalk to your iPod, the iPod automatically enters Voice Memo mode (also accessible later by navigating to the Voice Memos menu item). The familiar iPod menus let you record; cancel or stop recording; and save, playback, and delete recordings using the iPod's Menu, Select, and Wheel controls. A red light on the iTalk indicates that you're recording, and your iPod's screen shows the recording time. (Note that the iPod's recording software only allows 8-bit, mono recordings, so don't expect to be able to record your band's next demo track using the iTalk. You'll want to restrict your recordings to spoken word.)
When using the iTalk's built-in microphone, recording quality—though mono—is excellent at close range (3 feet or less). At distances of 10-20 feet, the iTalk still picks up loud voices clearly thanks to its automatic gain control, but ambient noise becomes more noticeable. For better recording quality, the iTalk's passthrough headphone jack doubles as a mic input, allowing you to use a high-quality microphone. (If you're going to be recording at long distances, we recommend using the iTalk or Belkin's Universal Microphone Adapter with either a wireless microphone or one designed to pick up distant sources.)
At any time—even if the iTalk is not connected—you can listen to your recordings by accessing the Voice Memos screen. Although you can listen using headphones or external speakers, the iTalk can also be used to listen to your recordings (or your music, for that matter) via its built-in speaker. The sound is mono and won't win any awards for quality, and the speaker's maximum volume is quite low, but for listening to mono voice memos it does an adequate job—certainly good enough for spot checking of your recordings.
The iTalk's small size, excellent functionality, and flexibility make it one of our favorite iPod accessories. If being able to record mono audio to your iPod is something you'll find useful, the iTalk is highly recommended.
PodWave
We've reviewed a number of portable speakers for the iPod, but none are as ultra-portable as the MacAlly PodWave, which provides stereo (left/right) speakers at the ends of a tube 3.3 inches long (just wider than a standard iPod) and only 1 inch in diameter; it weighs less than an ounce. When in use, the PodWave sits on top of your iPod, connected to the headphone jack—it fits standard iPods much better than iPod minis due to the PodWave's size and the mini's off-center headphone jack—and puts out surprisingly good sound. That's not to say the sound is great; the PodWave's output is significantly lacking on the low-end and fairly tinny, not to mention that output is seriously limited by both the PodWave's size and its power source (a single AA battery). In other words, you shouldn't expect full-size speaker sound quality. But the PodWave's output is nowhere near as bad as we anticipated given such tiny speakers—it's much better than the transistor radios we listened to as kids and certainly adequate for those times when you want to listen without headphones but don't have room in your bag for some of the better (and more expensive) systems we've recommended. We were also impressed by the lack of distortion: With fresh batteries and the iPod EQ disabled, we were able to play music at nearly full volume without crackling or buzzing. (Enabling certain EQ settings resulted in more distortion at high volume levels, but we've found that to be the case with a number of speakers and headphones when used with the iPod's EQ.)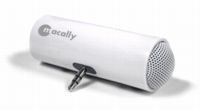 MacAlly's PodWave
The PodWave includes a dedicated on/off switch to help extend battery life—the unit should provide about 8 hours of playback per battery, depending on your listening volume. (Since the PodWave uses the iPod's headphone jack, volume is controlled by the iPod.) As a bonus, because the PodWave is so portable, it turns the iPod into a great travel alarm clock—you simply set your iPod alarm to play back music, turn up the volume, and make sure the PodWave is turned on. Our only major annoyance with the PodWave was its tendency to rotate freely. (Unlike some other iPod accessories, the PodWave doesn't include a "nub" that fits in the iPod's remote jack to prevent the unit from spinning.) On the other hand, this makes it easy to access the iPod's hold switch—you can simply swing the speaker unit out of the way.
If you want to be able to listen to your iPod on the go and don't care about ultimate sound quality or loud volume levels, the PodWave is a nifty accessory that provides far more utility than you'd expect given the measly amount of space it takes up in your bag.
[Note that although the PodWave is clearly targeted towards iPod users, it should work with any portable music player.]