As my colleague Chris Breen noted, the Playlist staff spent the week enjoying/surviving CES. If you've never been to the show, you wouldn't believe the sheer enormity of it; year after year it dwarfs other electronics shows. But if you're an iPod fan—or writer, as the case may be—this year's CES often seemed less a Consumer Electronics Show than an iPod Accessory Show. Whether it was accessories specifically designed for iPods, headphones and speakers being demoed from iPods, iPod adapters for car stereos, or walls of iPod cables and cords, the iPod platform was a force. With this in mind, we kept our eyes out for cool new iPod accessories and gadgets. Here are some of the best.
The Newbies
There were many accessory vendors new to the iPod scene at CES; unfortunately, most of them were either demonstrating variations on existing products (which isn't necessarily a bad thing, but isn't very exciting) or peddling things that made us scratch our heads and say, "Huh?" However, we discovered a few gems. Surprisingly, a number of them came from the same vendor, Nyko. Previously known for their gaming peripherals, the company introduced an entire line of iPod accessories, including slick battery packs, aluminum cases with built-in chargers, car mounts, and a speaker system. But their two coolest products were totally unique to the iPod market. The iTop Button Relocator does something no one apparently considered before but had attendees singing choruses of "What a great idea!": It provides controls on the top of the iPod. By plugging the iTop into the remote/headphone jack on 3G and later iPods, you get volume up/down, skip forward/back, and play/pause buttons (along with a headphone jack and hold switch) along the top of the iPod, allowing you to control it without accessing the front of the player. If you keep your iPod in a flipcase or in a pocket or bag, the iTop will let you control it without having to take the iPod out (and without having to use—or buy—Apple's messy corded remote). Pricing hasn't been set, but the iTop should be available in March at a price of $30-$40.
Nyko's iTop
Nyko also demonstrated a nifty gadget that should satisfy many of those demanding a "video iPod." Descriptively called Movie Player (although the name may change), it features a 3.5-inch TFT LCD screen, stereo speakers, and playback controls, and plays back video, image, and audio files stored on your iPod. You use the included software on your Mac or PC to convert your multimedia files (.mov, .mpg, .avi, .asf, .wmv, .jpg, .bmp, .tif, .gif, .wma, and .mp3 formats supported) to Movie Player format; you then mount your iPod on your computer as a hard drive and drag the files into a Movie Player folder. When you want to view your files, you slide your iPod into the Movie Player slot; it docks with the iPod and lets you use the Movie Player's controls to choose and play the desired files. When docked with an iPod, the Movie Player can also record directly from a video or audio source using included AV cables. An internal lithium ion battery powers the unit. According to Nykos, the Movie Player will be available in the third quarter of 2005 and should retail for $199-$249.
Nyko's Movie Player
In one of the coolest product peeks we got at CES, Aura Communications gave the Playlist staff a private demo of their new LibertyLink wireless technology, a near-field wireless system based on magnetic induction. The company claims this technology is better than radio frequency (RF) and Bluetooth technologies not only because it's cheaper, but also because of its near-field transmission characteristics: It provides a 4- to 6-foot "personal bubble" of transmission that is not affected by surrounding wireless noise and doesn't affect other devices in the vicinity. In our demo, the audio quality was good—most likely limited by the cheap headphones rather than the LibertyLink connection itself—and exhibited virtually no static, even on the RF- and Bluetooth-saturated CES show floor. Even when you approached the limit of the broadcast range, static was notably absent: Like a "bubble," you're either in range or you're out—the signal simply dropped and then reappeared when you walked back into range. As one of the company's main investors is Creative, the company was demonstrating a wireless adapter (and headphones) built around a Creative Zen Micro. However, the representatives were quick to point out that their relationship with Creative does not prevent them from working with other companies, be they third-party iPod accessory vendors (hint, hint) or even Apple themselves. Perhaps we'll see wireless iPod headphones sooner than we expected.
The Veterans
Established companies also used CES to introduce new products. Altec Lansing, whose inMotion, inMotion iM3, and inMotion mini systems have been among the most popular portable speakers for the iPod, previewed their inMotion IM4. The iM4 uses the same speaker drivers, battery life, and overall shape as the iM3, but in a design that doesn't limit its use to dockable iPods. Clad in dark gray and white (rather than the white/silver of the current models), the iM4 features a fold out, non-slip base that can accommodate any portable music player—from hard drive players to CD/DVD players to the rumored flash-based iPod from Apple—via a standard 1/8" minijack cable. The iM4 is due in March with an expected price of $129.95.
Altec Lansing iM4
Longtime accessory vendor Kensington was talking up their new line of iPod accessories that includes chargers, cases, and FM transmitters. The company also announced that their FM Transmitter/Auto Charger —which is limited to eight predefined transmission channels—will soon be available in a full-spectrum digital version complete with three user-selectable presets. The company claims both transmitters offer superior transmission quality thanks to Arielle technology
We also spent some time with Griffin Technology, who showed us a number of new products either just announced or on the way. One of our favorites was the AirClick series of remote control systems for the iPod and iTunes. All three models include a simple five-button remote: play/pause, forward, back, volume up, volume down. The iPod and iPod mini versions include receivers shaped much like the company's iTrip and iTrip mini FM transmitters; you can then control your iPod's playback when connected to your home stereo or iPod speakers. The computer version includes a dongle, about the size of a USB flash drive, that plugs into a USB port on your computer and directly controls iTunes, even when it's in the background. Each AirClick system will retail for $39.99, with a "combo" system—which includes a single remote along with one USB and one iPod receiver—to be available at $49.99.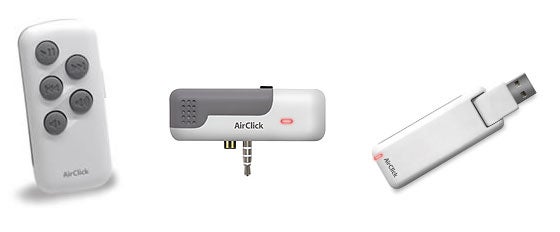 Griffin's AirClick Remote Control, AirClick Receiver for iPod, and AirClickUSB Receiver
Oh, and one more thing… Griffin also let us in on a little secret that will be music to the ears of cassette-deck-stereo, car-driving, iPod-lovers everywhere: The SmartDeck. Like any run-of-the-mill cassette adapter, the SmartDeck will allow you to listen to your iPod through your car's cassette deck. What pushes the SmartDeck over the super-cool line is that it lets you control your iPod using the cassette deck's controls . You read right: The SmartDeck actually plugs into the remote/headphone jack on 3G and later iPods; you can then use your car stereo's controls to play, pause, skip forward, and skip back. All for the surprisingly low (estimated) price of $25. No estimated ship date was given.
CarTunes
Griffin isn't the only vendor paying more attention to auto solutions for the iPod. On the heels of the success of BMW's "iPod Your BMW" adapter and Alpine's KCA-420i iPod Interface, accessory manufacturers and car audio companies are almost tripping over themselves to introduce iPod adapters and interfaces for their systems. Monster Cable was demonstrating their iCruze ($249.95 + cables), an adapter that works with most stock car audio head units with CD changer capability to connect and control any dockable iPod. Like the BMW solution, the iCruze is limited to your iPod's first n playlists (where n is the number of CDs your CD changer controller supports). However, unlike the BMW product, Monster's allows you to skip songs ten at a time to ease navigation of crowded playlists, and the company also offers a $99.95 LCD Display Module that displays track information above and beyond playlist and track number.
Pioneer also announced the $140 CD-IB100, an adapter that offers similar functionality to the iCruze for consumers with IP-Bus-equipped Pioneer head units. Even Alpine got into the act, announcing new 2005 head units that provide a few minor interface tweaks when used with the KCA-420i.
Perhaps our favorite iPod/car interface at CES was Clarion's new VRX755VD. Although the company is also offering a similar solution to the iCruze and Pioneer CD-IB100 for their CeNET Bus-equipped head units, the VRXX755VD—which will set you back a cool $1600 (plus $50 for the cable)—is a 212-Watt head unit featuring a 7-inch, pop-up LCD display with touchscreen functionality. When connected to an iPod, the screen provides an iPod-like interface that allows you to easily browse artists, songs, and playlists. We found the track information a bit difficult to read due to poor color choices, but in terms of finding and playing songs, our short demo was impressive.
Clarion VRX755VD
Happy New Year
If CES is any indication—and it's usually a great indication of the direction the consumer electronics market is heading—the iPod accessory market is booming even louder than most of us realized. And if analysts' predictions of an even better 2005 for the iPod come true, this is only the beginning. We'll be here to keep you up to date. (Now just wait until Apple announces a flash-based iPod…)