Well, that was interesting.
The rumors are true. Apple is going small in a big way, with the new $499 Mac mini and the $99 iPod Shuffle. In a wide-ranging keynote address that ran more than two hours, Steve Jobs essentially set the table for his company's endeavors in 2005. Here's a quick-hit look at what happened:
Mac mini. This new $499 Mac is by far the cheapest Mac ever, sort of a half-height version of the G4 Cube (at way less than half the Cube's price). Most stunning is that it's got decent power: a 1.25 GHz G4 processor (or a slightly faster 1.42 GHz in the $599 version). If you want a keyboard or mouse, you'll need to pay extra. It'll also do AirPort Extreme and Bluetooth, but each'll also cost you extra. Want a monitor? Extra. But by tossing everything else overboard, Apple's providing an entire Mac for less than $500. The possibilities are endless, but it could be a big hit with switchers from Windows, with people looking for a low-cost second (or third) Mac in their homes, even for people who are looking for a cheap media server to store their music and pictures on.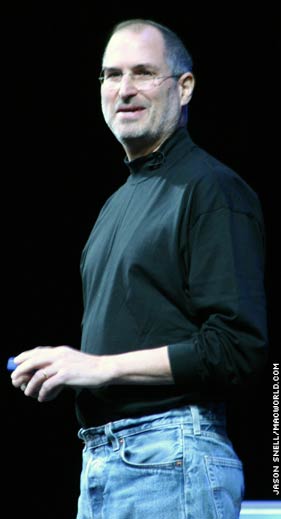 iPod Shuffle. Chris Breen's speculative iPod Imaginings article from yesterday hit it on the head: this is a specific iPod for a specific audience. If you want to have access to your entire library, the iPod Shuffle isn't for you. But if all you want is something as tiny as possible to accompany you on a walk, hike, bus ride, or whatever, the Shuffle will do the trick. Its $99 price tag is stunning; its 512 MB of memory means that you can fit a whole lot of music on it. I would imagine it will be a huge hit, just as everything named iPod tends to be.
iLife '05. Jobs unveiled this year's update to Apple's media software suite, including a version of iPhoto with support for robust image editing via the new Adjust palette, major improvements to slide shows, and more. Jobs said that iMovie is now faster (it couldn't get much slower, so that's a good sign) and, impressively, it supports high-definition video. iDVD gains new themes, and GarageBand picks up multitrack recording and loop creation, among other features.
What struck me about iLife is that Apple really seems to be pushing the suite above its consumer focus, bringing professional features to apps that have never really seemed that professional. These days a high-def camcorder will set you back more than three grand, but there's HD support within iMovie. The Adjust palette in iPhoto means that regular people have access to histograms and levels and all sorts of cool (but scary) features that Photoshop pros have become accustomed to. iLife '04 was a consumer tool that could be cleverly appropriated for low-end professional needs. iLife '05 is much more straightforward: it's got pro features aplenty.
iWork. Amid the other announcements, iWork is a bit of a yawner. The new version of Keynote won applause in the hall, and it's good to see a serious update to Keynote. I've been using Keynote quite a bit, and I find it remarkably easy to use. PowerPoint, in comparison, makes me itch all over. But I'm not sure what to think about Pages, the new app that joins Keynote in the $79 iWork '05 suite. At least from Steve Jobs' demo, Pages seems more like a low-end publishing application (a replacement for the dead-and-gone PageMaker?) than a word processor. However, it does open and save Word-compatible documents, so the possibility of Pages as a Word competitor certainly exists. It'll be interesting to really see what features Pages offers when it ships on January 22.
Tiger on track. Jobs didn't budge from the date, given last year, of "the first half of 2005" for the release of Tiger. Then again, he didn't get any more specific, either. It's still unclear whether Tiger will see the light of day before it's summer. It was nice to see an official announcement of QuickTime 7. The niftiest demos were, as you might expect, a raft of beautiful new Dashboard widgets. Anyone who's used Konfabulator won't be as impressed, but the fact that all of these widgets will work for anyone who's got Tiger means that Dashboard will reach a mass audience that Konfabulator never will. I'm excited, although I still wish there was a way to stick a Dashboard widget on the desktop instead of on a layer in Exposé.
The Year of High-Definition Video Quoth Jobs: "2005 is going to be the year of high-definition video." HD support will shortly be in Final Cut Pro, Final Cut Express, iMovie, and QuickTime. Sony's president made an appearance to promote his new "low-cost" $3500 HD camcorder. (Yes, that is cheap for an HD camcorder. It's just not cheap for a consumer camcorder.) Does this announcement augur anything for future Apple forays into the world of high-definition video playback? Maybe, maybe not. But I'd expect more talk from Apple about things that are highly defined throughout 2005.