Last week the Playlist staff traversed the endless expanses of CES to find the latest and greatest in iPod accessories. But as immense as CES is, and as popular as iPod products were this year in Vegas, iPod fans know that the "real" show happens 550 miles away and a week later: the annual Macworld Conference and Expo at San Francisco's Moscone Center. We again did our best to find all the cool new toys for iPod girls and boys, and have organized our report by manufacturer. (Keep an eye on the Playlist site for full reviews of these products in the near future.)
Altec Lansing Altec Lansing was showing off new iMac/iPod-matching white versions of their $100 MX5020 and $199 MX 5021 speaker systems. The MX5020 is a 2.0 (left/right speaker) system the company classifies as an "executive" product thanks to its small size, gloss white finish, stylish drivers, and hideaway controls. The MX5021 is a 2.1 (left/right/subwoofer), THX-certified system that, like our favorite, the $299 FX6021, includes a wired controller pod and a wireless remote.
Altec Lansing's MX5021
Altec Lansing was also displaying their two new iPod headphones, both featuring an iPod-white finish. The $50 iM302WHT use an over-the-head design that folds up to fit into a protective case. The iM202WHT (price not available) are stylish earbud/earclip hybrids—an earbud attached to an earclip for a secure fit.
Finally, the company was also showing the new $130 inMotion iM4 portable system, which we first noted in our CES coverage. Like the popular inMotion, inMotion iM3, and inMotion mini systems, the iM4 is a fold-up portable speaker system. However, whereas the other inMotion systems are compatible only with iPods, the iM4 can be used with any portable music player. Clad in dark gray and white (rather than the white/silver of the current models), the iM4 features a fold out, non-slip base that can accommodate any portable music player—from hard drive players to CD/DVD players to Apple's new iPod shuffle—via a standard 1/8" minijack cable. The iM4 is due in March.
Altec Lansing's inMotion iM4
Better Energy Systems England's Better Energy Systems announced the U.S. debut of its $120 Solio charger/battery for the iPod and other electronic devices. By unfolding the Solio and placing in direct sunlight, you can either charge connected electronics directly—using available adapters for the iPod and many mobile phones—or charge the Solio's internal battery for later use. (If you need a charge at midnight, the Solio also includes an AC wall adapter.) Used as a charger, the Solio will charge your iPod's battery at the same rate as Apple's AC adapter/charger. Used as a backup battery, the Solio's 1600mAh rechargeable Lithium-Ion battery can fully charge an iPod or provide up to 9 hours of additional iPod battery life if connected to the iPod while playing. (It can also fully charge a mobile phone while "topping off" a less-than-fully-depleted iPod battery.) The Solio was awarded a Best of Show award by our sister publication, Macworld .
Better Energy System's Solio
Boom Bags In the most interesting (and perhaps only) convergence of luggage and audio, Boom Bags introduced their new line of audio-equipped carry-on luggage. The company has taken standard rolling carry-on bags and equipped them with stereo speakers and a 10-Watt amplifier—the audio components fit in the often-wasted space between the rails of a suitcase's collapsable handle. Once you reach your destination, you simply plug in your portable audio player or computer, unzip the padded, protective panel that hides the speaker controls, and then crank up the volume. Two models are available: a smaller Office on Wheels that includes a removable laptop shoulder bag and a larger Rolling Suiter that includes a removable tri-fold garment bag. Both models retail for $330 and include the amplified stereo system with 2 speakers and a sub-woofer as well as cables to connect to your audio source.
Boom Bag's Office on Wheels Carry-On
Casauri A new entry in the iPod scene, stylish bag maker Casauri introduced their new Citra Collection iPod case. The $20 case, which fits all iPods, comes in a number of colors and designs—balmy orange, sky blue, palm green, pink, and sun stripes—to match Casauri's Citra Collection of laptop cases and handbags. The case's clear front lets you see your iPod's full face and is thin enough to allow you to use your iPod without removing it from the case.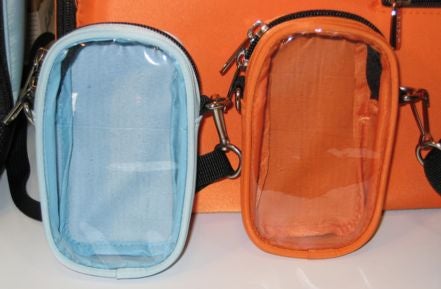 Casauri's Citra Collection iPod case
Clarion Hot off the CES debut of Clarion's new VRX755VD iPod/car interface, the company was demonstrating the system at the Expo. Although Clarion is also offering an adapter for using the iPod with their standard CeNET Bus-equipped head units, the VRXX755VD—which will set you back a cool $1600 (plus $50 for the cable)—is a 212-Watt head unit featuring a 7-inch, pop-up LCD display with touchscreen functionality. When connected to an iPod, the screen provides an iPod-like interface that allows you to easily browse artists, songs, and playlists.
Clarion's VRX755VD
Dension USA Dension announced a number of new car/iPod integration products, all based on their ice>Link. The $200 ice>Link: Plus, compatible with many aftermarket car stereos and most BMW stock stereos, provides new features such as CD text display, unlimited playlists, and tight iPod integration—it adds new menus to the iPod's actual display for use with the ice>Link: Plus. The $400 MOST>Link: iPod, compatible with new Mercedes models and available in approximately 4 months, provides similar features as the ice>Link: Plus but adds a direct fiber optic connection and full control of the iPod from the stereo and steering wheel controls. Finally, the Screen>Link: Plus, available in February, interfaces with in-car LCD displays to provide full control of the iPod from the screen. (No pricing information was provided for the Screen>Link: Plus.)
Fujitsu Ten Japan's Fujitsu Ten announced the U.S. debut of their Eclipe TD audio systems. Available in a number of configurations, including 2.0, 2.1, and 5.1, all include speakers and a dedicated amplifier in super-stylish enclosures—as well as a hefty price tag. Unfortunately, "U.S. availability" is limited to a single U.S. dealer: AudioVision San Francisco (415-614-1118).
Fujitsu Ten's Eclipse TD 307 system
Griffin Technology We covered Griffin's new iPod accessories in our CES coverage last week—including our exclusive on the new SmartDeck cassette adapter—but it's worth noting them again here. The AirClick series of remote control systems include a simple five-button remote that provides play/pause, forward, back, volume up, volume down functions. The iPod and iPod mini versions include receivers shaped much like the company's iTrip and iTrip mini FM transmitters; you can then control your iPod's playback when connected to your home stereo or iPod speakers. The computer version, The AirClickUSB includes a dongle, about the size of a USB flash drive, that plugs into a USB port on your computer and directly controls iTunes, even when it's in the background. Each AirClick system will retail for $39.99, with a "combo" system—which includes a single remote along with one USB and one iPod receiver—to be available at $49.99.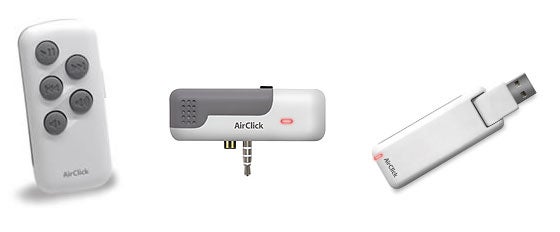 Griffin's AirClick Remote Control, AirClick Receiver for iPod, and AirClickUSB Receiver
After giving us the exclusive details on their new SmartDeck adapter at CES last week, the company unveiled the $25 product publicly at the Expo. If your car still has a cassette deck, a cassette adapter is often the easiest—and best sounding—way to get your iPod's audio playing through your car stereo. But Griffin's SmartDeck has some killer features not found in other cassette adapters: It uses special sensing technology to let you use your car stereo's controls to play/pause, skip to the next or previous track, and stop. (Ejecting the adapter or switching to another input even pauses the unit.) You get much of the functionality of expensive adapters at a fraction of the price; you also get better sound quality than other cassette adapters thanks to automatic volume control. The SmartDeck was awarded a Best of Show award by our sister publication, Macworld .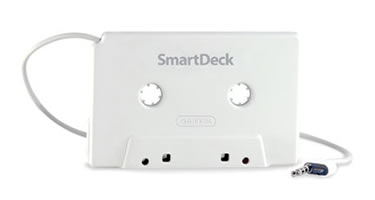 Griffin's SmartDeck cassette adapter
Also announced were the $20 TuneJuice, a battery backup for iPods with a dock connector that uses a standard 9-Volt battery to provide up to four hours of additional playback time, and the $150 BlueTrip, which transmits audio from your iPod to any stereo or speaker system via Bluetooth.
iSkin Maker of some of the most popular "skin" cases for the iPod, iSkin was displaying a number of Special Edition skins. The $34 Red Alert iSkin, named after DJ Red Alert, comes in deep red and includes a free Click Wheel protector and a special red-tinted screen protector. The other Special Edition case, also $34, features an "animal stripe" print and is available in pink, green, and blue. These models also include special tinted versions of iSkin's plastic screen protector, as well as limited edition "swirl" Click Wheel protectors. All Special Edition iSkins include a gift card good for two free Audible.com programs.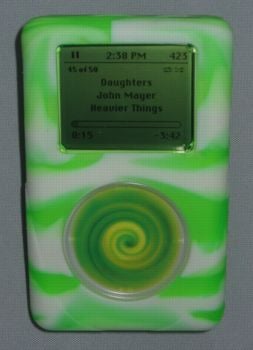 iSkin's Special Edition eVo case
JBL JBL introduced one new product and new versions of two existing products. In the new product department, the company announced the new $200 Encounter 2.1, a left/right/subwoofer system that, like the popular Creature II (which we've reviewed favorably ), features a completely unique design, but includes larger and more powerful satellites and subwoofer. In the new version department, JBL showed off a new PowerBook- and iPod-mini-matching "aluminum" version of their $60 Duet 2.0 speaker system, as well as a U2 iPod-matching black version of the $100 Creature II 2.1 system. (They also noted that their $100 On Tour system is currently the smallest iPod-targeted speaker system, making it a perfect match for the new iPod shuffle.)
JBL's Encounter speakers
Power Support Power Support is one of the largest vendors of iPod accessories in Japan, but has only recently begun selling their products in the U.S. The iPod accessory market is all the better for that, as Power Support makes some very cool products. Their $11 Crystal Film is among the most protective iPod screen covers we've seen and doesn't seem to be as susceptible to air bubbles as other screen protectors. The new 3D Wheel Film for 4G iPods (just announced) is unlike other Click Wheel protectors in that it also protects the Enter button in the middle of the wheel via a raised "bubble" in the film. We also like their $20 Crystal Jacket for 4G iPods and Silicone Jacket for 3G and 4G. The latter is one of the nicest fitting "skin" cases on the market—we were impressed by the quality of the silicone and Power Support even textures the inside of the Jacket to make it easier to insert and remove your iPod. (The company sells Silicone Jackets in Japan for many small cameras; they showed us one and we can't wait for them to start selling these cases here in the U.S.)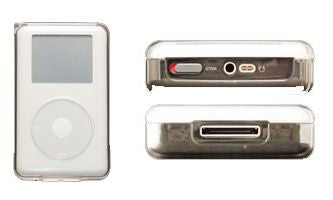 Power Support's Crystal Skin case
Power Support also let us in on their plans to import other companies' products from Japan for sale in the U.S.—good new for iPod gadget lovers considering all the cool gear available in Japan that we never see over here. They even provided us with one of the first Japan-only products they'll be selling, the super-stylish Miyagi case (shown below), which will cost US$40 for 4G iPods and $35 for iPod mini. We look forward to seeing more great stuff from Power Support.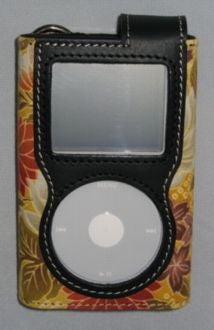 The Miyagi case, to be imported from Japan by Power Support
Pressure Drop Although not iPod-specific, Pressure Drop, Inc. previewed an interesting product that piqued the interest of many iPod-owning passersby. The TrestleHub is a combo USB2.0/FireWire designer hub (fours ports for each) that acts as a "digital lifestyle organizer." Translation: It has a number of shelves to store your iPod(s), PDA(s), etc. The TrestleHub should be available early this spring; the price has yet to be determined.
Pressure Drop's TrestleHub
Shure Incorporated We've long been fans of Shure's in-ear-canal headphones, which include the $99 E2c, the $179 E3c, and the $499 E5c. In fact, we've called the E3c the best trade-off between high-end sound and reasonable price. The only problem with the Shure line has been that if you wanted something better than the E3c you had to spend over $300 more to jump up to the E5c. That will change with the newly introduced E4c, which Shure developed to fill the substantial price gap in the existing model line. Shure claims—and our brief audition confirmed—that the $299 E4c provide better treble detail and bass than the E3c thanks to their High-Definition drivers and Tuned-Port technology, while keeping the cost down compared to the E5c by using only a single driver per ear. (The E5c use two drivers per ear.) The company also designed the E4c with the iPod in mind, using white, gray, and brushed metal finishes with white cables.
Shure's E4c canalphones
Speck Products Speck was displaying their new ToughSkin Ruggedized iPod Cases. Like their standard skin cases, the ToughSkin protects your iPod from scratches. However, the thicker skin and rubberized bumpers of the ToughSkin provide extra protection from bumps and drops. It also includes clear plastic protection for the screen and scroll wheel and a detachable belt clip. The ToughSkin is available in blue, red, black, orange, and clear, and is available for 4G iPods and the iPod photo. It retails for $35.
Speck's ToughSkin
STM Australia's STM introduced their new $40 iPod mini cocoon. Like the standard Cocoon, the mini version provides a belt clip-equipped hardshell case that holds an iPod mini and earbuds with enough room for some cash and an ID or credit cards. However, the mini version includes a silicone skin with lanyard that's nice enough to be used on its own. The mini cocoon is available in gray and lilac and is available in the U.S. from distributor RadTech.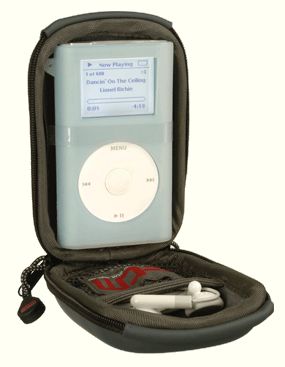 STM's iPod mini cocoon
TEN Technology In one of the most exciting debuts of the show—winning a Best of Show award from Macworld — TEN Technology demonstrated their long awaited Bluetooth headphone system for the iPod, the $200 naviPlay. The naviPlay's small transmitter fits any dockable iPod and sends your tunes to a lightweight receiver/remote control; you plug your favorite headphones into the receiver. In our testing, we got good, clear sound from approximately 30 feet away. (It also worked great—better than our mobile phone's Bluetooth headset—when the iPod was buried deep in our backpack.) And although we loved the standard naviPlay, which lets you use your own headphones, we liked the $239 version bundled with HP's upcoming Bluetooth Stereo Headphones even better, as it includes playback controls right on the headphones themselves for a completely cord-free experience. iPod users finally get a truly portable, wireless headphone solution.
TEN Technology's naviPlay wireless (Bluetooth) headphone kit.
The company also introduced the $50 naviPro eX, an upgraded version of their popular naviPod remote for the iPod. Compatible with 4G, photo, and mini iPods, the naviPro eX provides the same play/pause, skip forward/back, and volume controls as its predecessor, but adds the ability to change playlists, albums, and chapters (in audiobooks), as well as to toggle shuffle and repeat modes, all from the remote. The company also promises remote control of photo slideshows when used with an iPod photo.
Finally, the company debuted the $50 FlexDock. Similar to Belkin's TuneDock, the FlexDock mini plugs into your auto's accessory outlet and provides a stiff, articulating arm to hold (and charge) an iPod mini. An adjustable-level audio output jack provides a way to get your iPod mini's audio to your car stereo. (The included cassette adapter will do the trick if your stereo has a cassette deck.)
Tucano Italian bagmaker Tucano made their U.S. debut, introducing a number of stylish and sporty iPod cases. The $20 Tuta 4G and Mini Tuta, for 4G and photo iPods and the iPod mini, respectively, provide a custom-fit neoprene sleeve with a clear plastic screen protector (the Click Wheel remains exposed). The $30 Muta and Mini Muta are also padded neoprene, but enclose the entire front of the iPod in clear plastic, offering better protection than the Tuta while allowing you to see the iPod's entire face. The Muta models also provide a belt clip. (The $40 Muta + Armband and Mini Muta + Armband add an armband to the Muta and Mini Muta, respectively, for use when exercising; the $60 Muta Kit and Mini Muta Kit include an armband, waistband, and storage pounch for earbuds.) All Tucano cases are available in a number of different colors and prints and can be purchased from select U.S. retailers, including MacZone.com, Tower Records, Sam Goody, Fry's Electronics, and Barnes and Noble.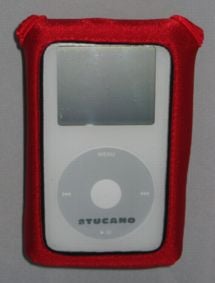 Tucano's Muta 4G case
TUNEWEAR Japan's TUNEWEAR, who recently partnered with MCE Technologies for U.S. distribution, was displaying the latest additions to their line of iPod accessories. The ICEWEAR 4G and photo are the full-size versions of the company's ICEWEAR mini (which we named our favorite clear skin in our recent holiday gift guide ) and retail for $20. The Aluminum Clip is a $19 aluminum belt clip that fits over the ICEWEAR mini case. The PRIE line of flip cases come in three versions, each offering a number of color choices: The $25 PRIE Classic fits 4G and mini iPods is made of leather-like material, while the $35 PRIE Lux and $45 PRIE Pearl are contructed of genuine leather and sheepskin leather, respectively.
The company's $55 PRIE HOOK cases fit 4G and mini iPods and provide a genuine leather case along with a convenient carabiner-style hook for attaching the iPod to a belt loop or bag. TUNEWEAR also showed their new $25 WATERWEAR cases, which provide waterproof protection for 4G and mini iPods, and their $9 POPTUNE "wearable wrappers," which let you dress your iPod mini up in one of eight patterns.

Tunewear's Poptune skins for the iPod mini
UpBeat Audio UpBeat introduced their new Boostaroo Revolution headphone amplifier. The Revolution processes traditional two-channel audio into three-channel surround sound, with enough power to drive two sets of headphones (including high-impedance models that are normally not drivable by the iPod or other portable audio sources).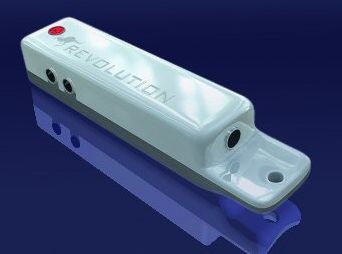 UpBeat Audio's Boostaroo Revolution
XtremeMac One of the first companies to provide accessories for the iPod, XtremeMac announced three new additions to their product family. The $40 AirPlay is a tiny FM transmitter that, like Griffin Technology's iTrip, plugs directly into the headphone/remote jack of 3G, 4G, mini, and photo iPods. But unlike the iTrip, the AirPlay provides the ability to change the FM broadcast frequency (88.1 to 107.9) directly via up/down buttons and an illuminated LCD display. (The unit is also the smallest FM transmitter we've seen.) The $13 Shieldz for iPod mini, available in six colors (Sky, Kiwi, Tangerine, Lilac, Rose, and Ice) provide protection for the front and sides of an iPod mini and are intended to be used with Apple's belt clip or armband, or XtremeMac's Accessory kit for the iPod mini, to provide full-body protection. Finally, the company announced that their SportWrap iPod Armband is now available in red, blue, yellow, and black.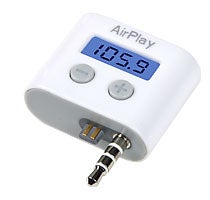 XtremeMac's AirPlay FM Transmitter