Not content to dominate the middle- and high-end of the portable music player market, Apple has determined to own it all by releasing the smallest and most affordable iPod yet, the iPod shuffle. Available in capacities of 512MB and 1GB (priced at $99 and $149, respectively) the shuffle is remarkable not only for its size and price, but also for its lack of a display. Is a display-less iPod for you? That depends on what you expect from your music player and how much effort you're willing to expend creating playlists that make sense for your on-the-go lifestyle.
Limited for Your Protection
Given a regular iPod's ability to display contacts, calendars, and notes; play games; and—with all dock connector iPods save the iPod mini—record voice-quality notes through an add-on microphone and store pictures via a media card reader, it's little wonder that previous iPods have been described as more than simple music players. In this case there's precious little danger of the iPod shuffle being confused with anything but a bare-bones music player as that's exactly what it is—the first iPod that's dedicated solely to playing music with nary a bell nor whistle in sight.
How stripped down is it? I've mentioned the lack of a display so navigation is barely a concern. The iPod shuffle bears a simple three-position toggle switch on the back that turns the iPod off, directs it to play its playlist from beginning to end in order, or flips the device into Shuffle mode where songs are played randomly. A green stripe below the switch helps you see what position the switch is in but it's a little too easy to skip past the first position into Shuffle mode when you pull down on the switch.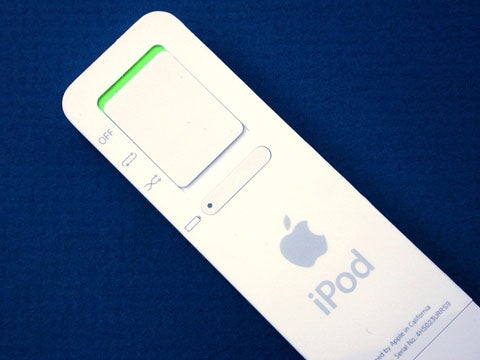 Apple's tiniest iPod communicates through two LEDs planted under the plastic housing on the front of the device. For example, a yellow LED shows when the player is charging—a green LED shines when the shuffle is completely charged. A blinking green LED indicates that the device has been paused. If it blinks yellow three times in succession, you've engaged Hold (by holding down the Play/Pause button for three seconds). Thankfully, Apple includes a small iPod shuffle "cheat card" that tells you what the various blinks and LEDs mean.
Some blinks take precedence over others in less-than-helpful ways. Specifically, the iPod shuffle displays a steady green LED when the device is fully charged. However—as is noted in the manual—if you've configured iTunes so that the iPod is used as a disk, a yellow LED blinks continuously so you can't be sure exactly when the shuffle is completely charged.
And there are times when some LED action would be better than none. Specifically, the only way to tell if the iPod shuffle is playing is to plug it in. Yes, it will blink for one minute when paused, but once that minute has elapsed, the device glows not at all—just as if it were playing or switched off. Unless you're careful to switch it off when you're not using it, you could easily discover that its battery is drained after it was accidentally activated when stored in a pocket, purse, or backpack.
The back bears its own LED. Just below the toggle switch is a Battery Status button that, when pressed, flashes an LED that gives you a very general idea of how much of a battery charge remains—green indicates a good charge, yellow, a low charge; red, a very low charge; and no glow means no juice remains. Given the shuffle's limited means of communication, I understand why you're offered only a four-stage status indicator, but I regret that there's not some interim indication when you've reached the half-way point of your charge. A glowing green LED can indicate that you have anything from 5 to over 12 hours of power remaining.
An iPod just isn't an iPod without some kind of click-wheel controller and the iPod shuffle is no exception. Because the iPod shuffle can't be navigated, there's no reason to include a spinning wheel controller or a Menu button. Instead, the device includes a round controller that offers a Play/Pause button in the middle and a four-way click ring on the outside that offers Volume Up, Volume Down, Fast Forward/Next, and Rewind/Back. (Choosing between moving from one song to another and simply fast-forwarding or rewinding through a portion of a song works the same way as it does on other iPods: Click once to move to another songs, click and hold to fast-forward or reverse.)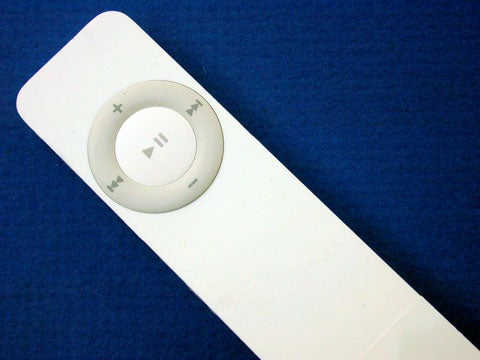 Making the Connection
When you pull the far-too-easily lost cap from the tip of the iPod shuffle you'll see a USB connector. This is the means for linking the iPod to a computer or an optional power supply.
Having such a connector built into the iPod is both convenient and not so convenient. It's helpful because it means you don't have to lug along (and possibly lose) a cable to move music and power between your computer and player. It's not so convenient because, by default, you must charge the iPod shuffle with your computer and a computer isn't always handy. Also, because the iPod shuffle is a bit wider than the USB keydrive it resembles, it won't fit on some computers (Apple's eMac, for example). Both these issues can be addressed by Apple accessories that cost nearly a third of the 512MB iPod shuffle—the $29 iPod USB Power Adapter, the $29 iPod shuffle External Battery Pack (which provides 20 additional hours of playtime with two AAA batteries), and the $29 iPod shuffle Dock.
iTunes Additions
If you're a digital music enthusiast it's likely that your iTunes music library exceeds the number of songs that can be stored on an iPod shuffle. With that in mind, Apple has made adjustments to both the iPod shuffle and iTunes to make it easier to pack the player with the most music—and greatest variety of music—possible.
Its first space-saving trick is to limit the kinds of files that can be played by the iPod shuffle. Unlike with other iPods, the iPod shuffle can't play AIFF or Apple Lossless files—files that consume a lot of storage space (wav files, which consume the same 10MB per minute of stereo audio as AIFF files, can be played by the iPod shuffle, however). The next trick is found in iTunes' iPod preferences. Here you'll discover the Convert Higher Bit Rate Songs to 128 kbps AAC for this iPod option. When this option is enabled, iTunes converts AIFF and Apple Lossless files to 128 kbps AAC files. Such a conversion reduces an AIFF file to about seven percent of its original size (and compromises audio quality in a way that those with discerning ears may find objectionable).
iTunes 4.7.1 (included with the iPod shuffle) adds the Autofill feature that picks songs from your iTunes music library or from a playlist you designate in iTunes' Source list. You can direct Autofill to choose songs at random as well as favor songs that have a high rating. You can also choose to replace the songs on the iPod shuffle when Autofilling or add selections to the current songs on the device. While not as powerful as a well-built Smart Playlist that can exclude or include songs by genre and play time, Autofill is a reasonable and easy-to-use compromise.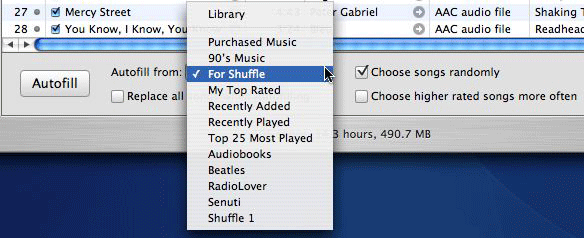 It couldn't be much easier to use Autofill. Just plug in the iPod shuffle, select it in iTunes' Source list, choose a source for your music in the Autofill pane that appears at the bottom of the iTunes window, and click the Autofill button. iTunes will grab a subset of your music, create a playlist, and copy the contents of the playlist to the iPod shuffle. If you've enabled the Convert Higher Bit Rate Songs to 128 kbps AAC for this iPod option, it will take longer to sync the device, as large files must be converted on the fly (I found that on a 1.25GHz PowerBook G4 it takes about a minute to download a song that's being converted).
Something not mentioned in Apple's documentation, but worth noting, is that when you instruct iTunes to keep the iPod shuffle in the Source list even when its disconnected (an option in the iPod shuffle's Preferences tab) you can click Autofill over and over to create different playlists. When you stumble across one you like, select all its contents and choose New Playlist From Selection from iTunes' File menu to create a new playlist that contains the songs generated by Autofill. When you next connect your iPod shuffle, just select this playlist from the Autofill From pop-up menu and click Autofill to load the music from the playlist to your shuffle.
The iPod shuffle will play type 2, 3, and 4 Audible.com audiobooks (audiobooks sold by the iTunes Music Store are compatible) but won't automatically add them to the iPod shuffle. Instead, you must add them manually, which can be a bit of a chore with an iPod shuffle that's already full of tracks. The device doesn't support EQ settings imposed in iTunes.
One last useful feature found in the iPod shuffle's Preferences tab is the ability to reserve specific amounts of storage space on the device for music and data. When you attach the shuffle to your Mac or PC, select it in iTunes Source list, and enable the Enable Disk Use option, you can activate a slider that determines how much of the shuffle's storage space will be devoted to music and how much will be used for storage. If the iPod shuffle is full of music, clicking OK after setting this slider will cause iTunes to toss out some of the music on the shuffle to make room for data storage. Regardless of whether you've set aside room for data, you can copy data to an iPod shuffle that's mounted on your computer as a disk drive.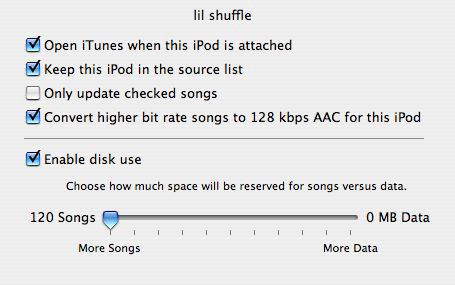 In Use
The iPod shuffle sounds as good as any iPod I've owned. As Apple suggests, it's about the size of a pack of gum and, when worn around your neck on the included lanyard, feels just about as heavy. Given that the shuffle can be easily detached from the lanyard with a quick jerk, it won't take long for those who live in less savory parts of their communities to learn to wear it inside their clothing. Blingish as it may be, it will be a tempting target for those thieves with quick hands and feet. (On the other hand, I suppose it's better to lose the iPod than be throttled by the lanyard when the iPod won't detach.)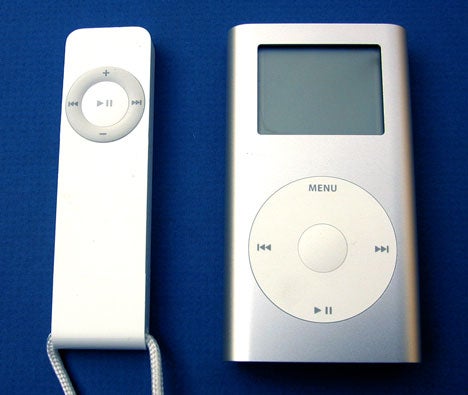 Because there's no hard drive that can fidget when jostled, skipping isn't a concern, making the iPod shuffle an ideal player for the active iPod owner. The included earbuds are Apple's standard issue and, as such, may not be for those who demand both a comfortable fit and great sound from their headphones.
The controls are responsive and reasonably intuitive given the lack of a display (though, as I mentioned earlier, it can be difficult to place the toggle switch on the back exactly where you want it on the first try). I wouldn't mind seeing one more LED that makes the iPod's actions a little clearer, but given that the iPod shuffle was designed to be a "push play and put it away" device, most users won't find its limited communication skills troubling.
Because the iPod shuffle is formatted as an MS-DOS drive, it's perfectly at home on a Mac or PC and can easily be attached to either without having to be reformatted. Windows users should be aware, however, that their PCs may start up slowly (or, as I discovered, not at all) when the iPod shuffle is connected.
As has been typical of the last few iPod models, Apple has again underestimated playtime. The company claims at least 12 hours of playtime from a fully charged iPod shuffle. In tests where I pressed play and walked away (in other words, I didn't touch the controls once playback began), my 512MB shuffle played for over 17 hours on a single charge. Impressive.
The Lowdown
To appreciate the iPod shuffle you must abandon some notions of what a music player must be. If you demand that you be able to pick exactly the song you want to hear when you want to hear it, the iPod shuffle isn't for you. As I explained in iPod Imaginings, the iPod shuffle is akin to a radio station that you've chosen because you appreciate the style of music it plays. You are the shuffle's programmer and if you don't care for what you hear, it's because you haven't programmed it properly. Unlike with other iPods, this means that you must put some thought into your playlists. Some people will find this burdensome and for those who do, Apple offers a load of other iPods that provide far greater freedom of musical choice.
But I imagine that there are a lot of potential and current iPod owners who will appreciate the convenience of being able to easily throw a subset of their music collection on a $99 or $149 device that doesn't skip, sounds good, and plays their favorite tunes with the press of a single button. I now count myself among them.