In my recent review of the iPod shuffle I mentioned that while iTunes' new Autofill feature is convenient, you can create better playlists for the shuffle with a Smart Playlist. After a couple of colleagues responded with "Care to show us how, smart guy?" I've come up with this:
After creating several Autofill playlists, I was surprised to discover just how many songs in my music library run for less than a minute. I like Brian Wilson's "Barnyard" and the Who's "Tommy's Holiday Camp" as much as the next guy, but I prefer that my iPod be filled with songs that are more than musical appetizers. Likewise, I don't want to pack my shuffle with songs containing endless drum solos or large wav files (the one uncompressed format playable on the shuffle).
Also, having an iPod full of holiday music was great a month ago, but now that it's nearing Valentine's Day, I can do without visions of sugar plum fairies dancing through my head. And because I prefer that my exercise sessions aren't interrupted with fits of laughter, any Spoken Word selections (which, in my collection, are made up largely of Eddie Izzard recordings) are out.
With all this in mind, my For the Shuffle smart playlist reads this way: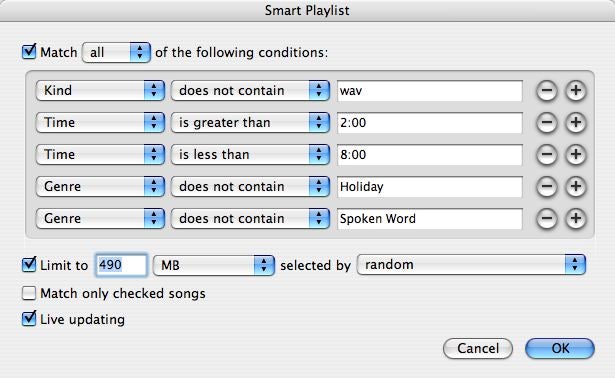 Once you've created the smart playlist, simply select the iPod shuffle in iTunes' source list and choose the smart list you created from the Autofill From pop-up menu. To refresh the contents of the smart playlist, just select everything in it and hit the Delete key to remove its contents. Because Live Updating is switched on, the smart playlist will be automatically repopulated with music.
There are loads of other ways to create smart playlists for the shuffle. If you'd like to propose some of them, feel free to use the comments link below to post your ideas in our forums.