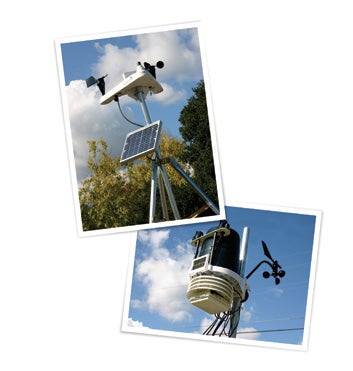 What was the hottest day of the summer? How much rain did we get this spring? An old maxim says that weather is what you talk about when you can't think of anything else to discuss, but for as long as I can remember, I've been fascinated by Mother Nature's behavior.
Technology's march has been good to weather watchers like me, not to mention school science programs, weather forecasters, gardeners, and farmers. As a kid, I would look out our kitchen window at a mercury thermometer. As an adult, I've bought overpriced wireless thermometers. But now that I've entered the world of the Mac-enabled weather station, I can publish my weather to the Web and join a network of thousands of weather stations across the globe. I've also learned more about the climate outside my house than I ever expected to.
All weather stations work with PCs, but I spent time with two Mac-compatible ones: Davis Instruments' Vantage Pro and WeatherHawk's WeatherHawk. Here's how to set up your own:
Stations for All Seasons
A weather station monitors the local environment and relays information about it to you indoors. The most full-featured ones measure temperature, barometric pressure, humidity, rainfall, wind speed and direction, and even solar radiation.
The top of the Vantage Pro (cabled model, $495; wireless model, $595; optional solar and UV sensors, $400) is essentially a bucket that collects rainfall for measurement; a small solar panel on the front keeps the battery charged. Davis says that one battery should last as long as three years.
A separate attachment contains a wind gauge and a generous amount of cable so you can place the gauge far away from the station if necessary. You might want to keep the station in the backyard, for instance, but mount the wind gauge on the roof. The Vantage Pro was easy to set up, thanks to clear instructions.
You can't relocate the WeatherHawk's wind gauge (cabled model, $1,546; wireless model, $1,846). But there was almost no setup time for the WeatherHawk station itself—the only thing I had to plug in was a separate solar-panel array ($179), which mounts on the same pole as the WeatherHawk station.
Connection Forecast: Stormy
Once your weather station is set up, you need a way to get that data to your Mac. If you don't mind drilling holes and running cable, you can save a little money by buying a weather station that connects via a long cable. To minimize the impact of your weather fixation, opt for a wireless version.
The Hookup Blues Hooking up either of these weather stations to a Mac isn't as easy as it should be. In general, weather stations are designed primarily with Windows PCs in mind, and these two are no exception. So the first big hurdle is the physical connection: both use an old-style serial connection rather than USB. Even the wireless models send back a signal that's received by devices with serial ports.
I used the $79 Keyspan USB Twin Serial Adapter to connect the Vantage Pro to my Mac. The device for receiving transmissions from WeatherHawk's wireless station uses a PC-standard serial connector, so I also used a PC-to-Mac adapter cable. Another option would've been Keyspan's $40 High Speed USB Serial Adapter. (My Mac also has a GeeThree Stealth Serial Port, but neither product was compatible with it.)
Consoles and Other Critters While the WeatherHawk station connects directly to your Mac via a wireless receiver box, the Vantage Pro uses an intermediary device: a cool console gadget that you can place on a table or mount on a wall. Both stations come with a data logger that collects data even when your Mac isn't running, but Davis's console is even more convenient because it lets you glance at weather data without touching your Mac. It transfers weather data back to the Mac via a custom serial cable. (In case you don't want to put the console near your Mac, Davis also offers the $195 Wireless Weather Envoy.)
With the WeatherHawk, there's no middleman, so there are fewer items to install and connect. I did appreciate the Vantage Pro's console. It even has a sense of humor: during a mid-October downpour, the console suddenly began displaying the text "It's raining cats and dogs!"
It's Raining Data
The entire point of hooking up a weather station to a Mac is that you can do clever things with the data the station collects—for instance, plan for a bumper crop of tomatoes by figuring out when the last day of frost is in your microclimate.
Of course, you can keep a database of weather information on your Mac to sift through at your leisure. But it's more fun to generate Web pages full of live data that can be viewed from anywhere on the Internet. Each weather station's software offers that option, with varying degrees of difficulty.
WeatherLink Davis Instruments weather stations, including the Vantage Pro, work with Davis's $165 WeatherLink for Mac OS X software. WeatherLink isn't quite a native OS X application. It's written in Java and looks (and works) like a Windows application. However, WeatherLink is remarkably full featured. You can view charts and graphs of weather data, and export data you've collected to text files for viewing in applications such as Microsoft Excel.
WeatherLink's most impressive feature is its Web support. Using a set of almost 50 custom tags, you can create Web pages that display live weather data, including graphics generated by WeatherLink itself. In minutes, I was able to create a basic page that listed all the data I wanted to see.
Once you've created a template, WeatherLink will generate an HTML page based on current weather conditions and either save it to a special location on your hard drive or transfer it via FTP to a remote server on the Internet—say, to space on your service provider's Web server.
Sadly, WeatherLink is a bit unstable. It occasionally locked up when the console temporarily lost touch with the weather station, and the Web page wouldn't update again until I canceled the operation and restarted the program.
WeatherHawk-X On the other hand, WeatherHawk's $146 WeatherHawk-X is a native OS X app; it was written by AfterTen Software. WeatherHawk-X provides an attractive view of current conditions. A small graph area can display one of a handful of preset graph types, but it doesn't offer the number of detailed charts, the volume of tags, or the variety of autogenerated Web graphics that WeatherLink does. The program also uploads files only via FTP, even if you just want to save the files to a local folder on your Mac.
National Networks WeatherHawk-X excels in its support for uploading weather data to outside sources. It supports the GLOBE Program, a group of school-based weather stations, and Weather Underground, a Web site that collects and displays data from personal weather stations around the country. Five minutes after I'd launched WeatherHawk-X, my home weather was being displayed on Weather Underground.
The Really Local Forecast
Too often, we Mac users are at our computers when we should be getting some fresh air. Yes, a Mac-based weather station means you never have to open the door to see what it's like outside. But it also lets you satisfy your curiosity about the world in a whole new way.
Sidebar: Desktop Weather
What if you don't want to be limited to displaying the data from your weather station in a Web page? Christopher Snell's WeatherStation, a widget for the $25 Konfabulator, offers a supergeeky solution. By default, WeatherStation works with a Perl-based interface on top of a Davis weather station that requires some serious Unix chops to set up. But I managed to get WeatherLink to generate a Web page in WeatherStation format, which let me display beautiful live weather data on my desktop without having to install the server. Go to our Editors' Notes Weblog for details and some template file samples.
[ Editorial Director Jason Snell knows the temperature in his yard right now . ]