Unless you were born in the past week, you've heard about podcasting, the new audio-based blogging phenom that's sweeping the Web. And just how popular is podcasting? Even Apple's Vice President of Marketing, Phil Schiller, is wild about it. Approached at this January's Macworld Expo in San Francisco, Schiller said enthusiastically, "It's a fun way to get more programming on your iPod. I love it."
I heard it straight from Phil's mouth—via my iPod—thanks to the Wizards of Technology's podcast of the encounter. Download show number 20 to hear it for yourself.
With podcasting, you can hear what anyone with a mic, a computer, and an Internet connection has to say. And you can listen in when you choose to rather than rearrange your day to accommodate someone else's programming schedule.
If you aren't hip to the latest thing in digital audio, don't worry, you can easily get up to speed. Here's everything you need to know to join the legion of podcast listeners.
What's a Podcast?
Podcasts are audio files created to be distributed over the Internet. They're available for free and usually encoded in MP3 format. But the cool part is the way they get to you. With the right software, you can subscribe to podcasts and have new shows downloaded automatically (and even transferred to your iPod) while you sleep.
The key technology behind delivering podcasts is RSS (originally RDF Site Summary , but now commonly known as Really Simple Syndication ). This is a format most commonly used for delivering summaries (or feeds) of news stories, but thanks to an enclosure element in RSS, you can attach audio files to these feeds as well. An RSS aggregator downloads feeds that you subscribe to. Once you tell the aggregator where you want content from, it searches on a regular basis for updates and downloads what it finds for you. You can then browse the content at your leisure.
The second piece of the podcast puzzle is getting the files to your portable player. Former MTV VJ Adam Curry gets credit for pioneering podcasting. According to ipodder.org, Curry wrote the first AppleScript that uses RSS feeds to download and automatically transfer audio files to an iPod. He then put the code out into the community so others could make improvements where they saw fit.
Aggregators Abound
To listen to a podcast you don't need a portable player or RSS software. Most podcasters also post their files on their Web sites. Download a file like you would any other MP3 file and listen to it on your computer. Of course, doing only that takes away from the fun of listening away from your desk.
To automate the process of downloading and transferring podcasts to your portable player, you'll need to download some software. Podcast aggregators are available for Mac OS, Linux and Windows.
Some applications to check out include:
iPodder: Free. Windows, Mac. This is the application that was developed from Curry's original idea. While its interface is bland, it works fairly dependably. Coolest feature: You can access the iPodder.org directory of podcasts through the application and add feeds directly instead of cutting and pasting the RSS address. Syncs with iTunes.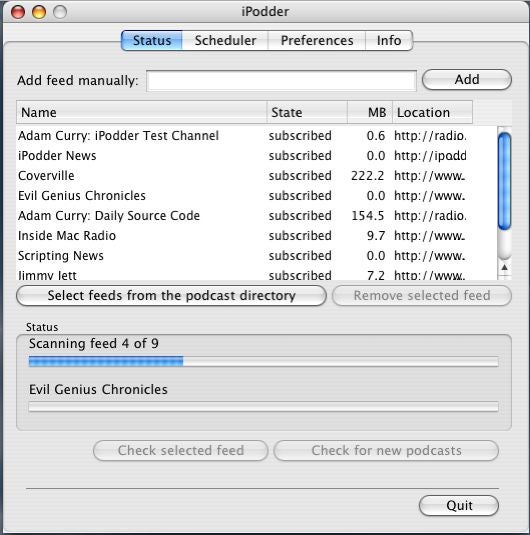 iPodder
iPodderXLite: Free. Mac. Though a far slicker-looking app than iPodder, I had some problems getting iPodderXLite to automatically transfer files it downloaded to iTunes (the program's author, August Trometer, acknowledged the issue and said a new version that fixes the problem should be available very shortly). The free version has a top ten list that you can use to add new feeds or you can add them manually. You can also use it to download video, pictures, or any file type. The $20 version, iPodderX, offers more podcasts in the directory to choose from.
Doppler: Free. Windows. Podcasts are not just for iPods. If your portable player can sync with Windows Media Player, this may be the best option for you. During installation you can elect to transfer downloaded files to Windows Media Player or iTunes. It has an easy-to-use interface but you have to add feeds manually.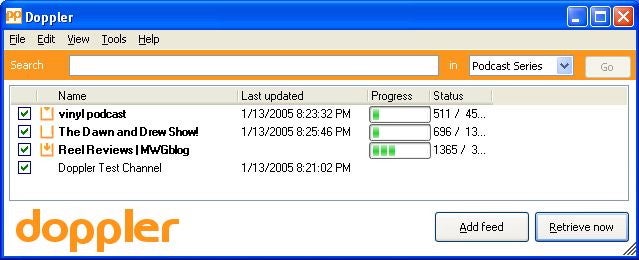 Doppler
Sync Up
Podcast aggregators are designed to transfer the files to your media player, but you'll need to do some tweaking in iTunes to automate the download process. With an iPod, iPodder software, and iTunes, you can use playlists to make this happen.
When you add a feed to iPodder, you can specify how often it should check for new podcasts—even to the minute. If you set it to check once a day, you can get fresh content whenever it's available (not all podcasters post everyday, even when they promise to).
When iPodder transfers a podcast feed to iTunes, it creates a new playlist based on the artist listed in the file's ID3 tag. On subsequent updates, it adds the file to the existing playlist. For example, if you've subscribed to Leo Laporte's Laporte Report, you'll find all Leo's audio thoughts stored away in a playlist devoted to his musings. You can set iTunes to update your iPod with that podcast's playlist every time you connect your portable player.
Another option is to create a smart playlist of recently added files and set iTunes to add those files to you iPod when connected. To create the playlist, choose "Date Modified" and "Is In The Last" then select "1 Day." And make sure you connect your iPod once a day.
What to Listen To
Seemingly every day a new podcast is born. You'll find all sorts of stuff to listen to—some of it is even worth your time. Because the shows are created by enthusiasts instead of the conglomerate corporations that we're used to getting our media from, you get a lot of niche-dominated stuff including talk about technology, discussions of less-than-mainstream politics, and music that's far from the top 40.
Finding a good podcast takes a lot of experimenting, but there are some solid sources to begin your exploration. Curry's Daily Source Code is a must-listen for newbies as it illustrates the best and worst that podcasting has to offer. His show, which focuses on technology, podcasting, and Curry's life, is sometimes insightful and often amateurish. Additionally, Curry is a great source for finding other worthwhile podcasts. He turned me on to one of my favorites, The Vinyl Podcast, a podcast that highlights out-of-print music ported to MP3 from vinyl.
Podcast Alley doesn't have its own podcast, but it invites users to rank other podcasts found in its directory. When you're faced with a few hundred podcasts to choose from, it's helpful to see what others think. The top fifty list is a good place to browse.
Podcast Bunker culls the best from the rest of the podcasts out there. This site features podcasts hand-picked for high-quality content and audio. The Bunker's coolest feature is the 30-second preview of the latest show from a podcaster—a great way to sample before you give up bandwidth to download the whole show.
Podcasting is growing beyond grassroots, too. WNYC, New York NPR station, is offering On the Media as a podcast, with other shows promised soon. When you visit On the Media's site, click the orange "POD" icon in the upper right corner for the RSS feed.
Get Going
If you're ready to listen to podcasts, try this:
Download iPodder software.
Add Daily Source Code, the top ten feeds from Podcastalley, and a few recommended selections from Podcast Bunker.
Add recommended podcasts you hear from the podcasters you like.
In no time you'll have an iPod full of fresh content any day of the week. Not only will you be better informed (or, at least, better entertained) you and Phil Schiller will have something to talk about the next time you meet.