Aside from a couple years of piano lessons back when I was too young to appreciate them, I missed the whole let's-make-music-and-create-a-band experience growing up. I've enjoyed listening to songs, but never have I felt the urge to pick up a guitar and strum my own greatest hits—until Apple released GarageBand, that is. Now, I find myself watching John Mayer perform on stage with Steve Jobs and think, "Hey, that kinda looks like fun."
In Apple's inimitable way, GarageBand 1 ( , May 2004 ) inspired people like me—and plenty of high school rockers, no doubt—to pick up an instrument and create actual music that doesn't sound like a blender going through a garbage disposal. With the introduction of iLife '05, Apple has beefed up GarageBand 2 with a few features that are sure to sound good to budding musicians (and even experienced hands, though it's by no means a pro application).
Multi-track Recording
You could record only one track at a time in the first version of GarageBand, making it a chore to bring the band together to lay down a quick demo. Version 2 allows recording of up to eight simultaneous Real Instrument tracks. You'll need a USB- or FireWire-based input device that can accept up to eight channels, of course; your Mac's line-in port can only differentiate between left and right stereo, meaning that even if you have a mixer that has eight channels, unless it connects to your Mac via FireWire or USB, you can only record two tracks at once. In addition to those eight tracks, you can also simultaneously record one Software Instrument/MIDI track (such as a USB keyboard attached directly to the computer). That means you can have up to nine tracks coming into your computer at once. A new button appears within each track's controls that enables or disables it for recording.
Before you hit Record, however, use the new built-in Instrument Tuner to make sure the notes played by your guitar or other Real Instrument are in tune (or rather, that any out-of-tune notes are caused by your finicky fingers, not the instrument itself).
Speaking of instruments, the onscreen keyboard in GarageBand 1 was nearly unusable for those who wanted to play Software Instruments but didn't own a keyboard. Not so anymore. Now you can alternately use the Musical Typing window to use your computer's keyboard as a makeshift piano.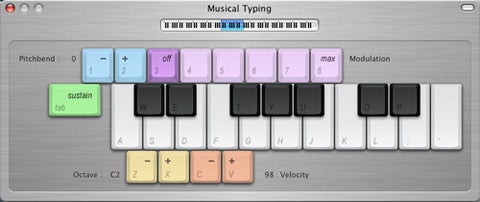 Apple also added a few new instruments to the GarageBand ensemble, including two new piano variations and a brand new Hybrid Synth that contains so many controls it fills my screen from top to bottom.
Music Notation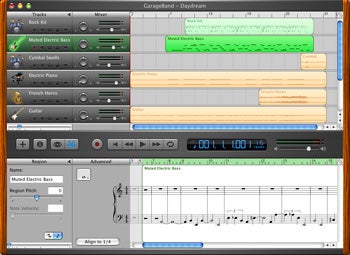 People who can read music as easily as cereal boxes will be happy to see that GarageBand 2 can now display Software Instrument tracks in standard music notation, in addition to the graphic view introduced in the previous version. Click individual notes to edit them; GarageBand automatically adjusts the notation to accommodate (changing quarter notes to half notes, for example). In a subtle bit of visual assistance, dragging the center section that separates the timeline from the Track Editor enlarges or reduces the size of the notation.
Improved Performance
GarageBand is adept at playing back impressive-sounding music, but frustrated fans learned quickly that it was also a resource hog. Although version 2 will handily gobble the processor cycles you throw its way, Apple has implemented a new feature that should improve performance: locking tracks. In addition to avoiding accidental over-recordings, locking a track prompts GarageBand to render it to the hard disk. This way, the program isn't computing that track's contents on the fly, and can devote more power to other tracks. But be warned that locking tracks can eat up hard disk space with astonishing speed. Some people using lots of locked tracks have reported song files ballooning to gigabytes in size.
Locking tracks is similar to bouncing tracks in the previous version, where you would export the song to iTunes, create a new GarageBand file, then import the song back in and continue working. When you unlock a track in version 2, the rendered portion is discarded and the track becomes fully editable again.
Mixmaster
The first edition of GarageBand came with plenty of effects to add sparkle to your recordings, and version 2 ups the ante even more. GarageBand 2 includes a new Vocal Transformer that can give your voice the blipped edginess of a droid or even swap genders for a few measures (as seen in the screenshot). There are also new amp simulations, as well as a new Bass Amp simulation for all the aspiring thunder gods out there.
Similarly, changing the key of your song is a simple feat in GarageBand 2. The Master Track now features a pitch curve to add key changes just like your favorite show tune or Whitney Houston scale-climber.
In GarageBand 1, you could fade a track's volume over the course of a song, but you couldn't change panning easily. Version 2's pan curves make it a snap to bounce your guitar wildly between the left and right speakers, or simulate a plane flying across the sky.

Get Loopy
Happy with what you've recorded? Want to use it again? GarageBand 2 lets you convert a track to an Apple Loop and add it to your existing library of loops. As the number grows (especially if you start supplementing it with Apple's Jam Packs), use the new sorting feature found by clicking the Loops title bar to display specific groups, such as a Jam Pack or any shared loops.
You can also change the pitch and timing of your recorded tracks, so your recordings behave just like GarageBand loops. If you record your own guitar part, for example, GarageBand now lets you change its pitch. And if you change the tempo of the song, the guitar part changes with it. Neither of these were true in the last version of GarageBand—you had to export the track and convert it into a loop for this to work.
In other loop news, GarageBand 2 now lets you import Sony ACID loops. This opens up whole worlds of loop possibilities for GarageBand users, as there are literally thousands of CDs of ACID loops available. You can also import MIDI files with ease, and GarageBand automatically creates individual tracks for all the separate instruments in the MIDI file.
Overall, GarageBand 2's improvements add refinement to Apple's entry-level recording tool. Experienced musicians will no doubt look to more professional applications for much of their work, but now have more reason to start with GarageBand to develop rough sketches. As for the rest of us non-musicians, there's always the program's many effects and gizmos to mask the notes that we missed.