When Steve Jobs proclaimed 2005 as "The Year of HD," he also introduced high definition (HD) video support to Apple's entry-level video editor, iMovie—now iMovie HD.
It's a somewhat perplexing move, since owners of the $79 iLife '05 suite would need to invest in a HD camcorder costing around $3,500 to take advantage HD's higher resolution. iMovie HD can accept HDV footage (which is HD with MPEG-2 compression applied) in either 1080i or 720p formats, and export the edited movie back to the camera for playing on an HD television in all of its glorious quality. It's great—if you've got it.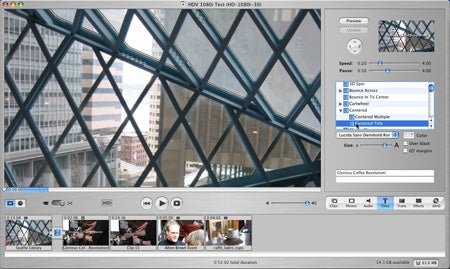 Fortunately, iMovie HD also has plenty of improvements for the rest of us. Not only can it bring in HD video, iMovie finally gains the capability to accept DV-quality footage shot in the 16:9 (widescreen) aspect ratio, which most consumer camcorders can handle. If you import it into a project that already contains normal 4:3 video, iMovie HD automatically letterboxes it; alternately, if you import 4:3 video into a 16:9 or HD project, iMovie HD "pillarboxes" it (adds black borders to the left and right). Not enough? The program also imports iSight video and MPEG-4 video, such as that from newer camcorders that don't save footage to a MiniDV tape). Do you shoot video using a digital still camera? Thanks to the interoperability between the iLife applications, those video clips—which iPhoto 5 now imports directly—can be easily dragged from iMovie HD's Photos pane and added to your movie.
Magic iMovie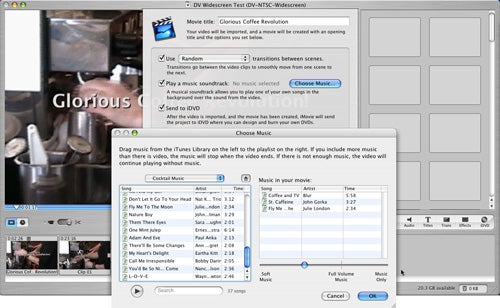 Are you the type of person who edits "in camera," arranging your shots as you film to minimize the amount of editing involved later? The new Magic iMovie feature does most of the post-processing work for you. You give the movie a title, choose a type of transition, and pick some music to accompany the video, and then iMovie HD rewinds the tape in your camcorder, imports the footage, adds the main title, applies transitions between each clip, and lays down the soundtrack.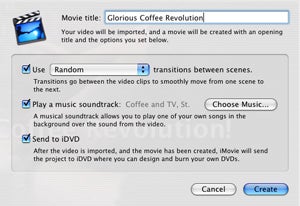 If you start from a new, unsaved project, iMovie HD saves it all to the Movies folder in your Home directory. To specify a different location (such as an external hard disk), save the project there before choosing Make a Magic iMovie from the File menu.
Better Editing
What most users of earlier versions will be happy to see is that Apple has definitely improved performance in iMovie HD. The program just feels snappier, smoother, and isn't plagued by the stutters and jitters that emerged in iMovie 3 and persisted (though not as much) in iMovie 4 ( , May 2004 ).
In terms of raw editing, not much has changed since the last version's introduction of Direct Trimming, which allows you to shorten a clip simply by dragging its right or left edges. But one improvement is bound to save you lots of time: you can now rearrange clips in the Timeline Viewer by dragging and dropping them into place. Previously, you could only do this in the Clip Viewer.

Dumpster Diving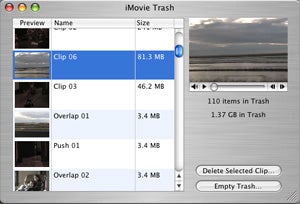 One frustration about earlier versions of iMovie was the Trash: if you deleted anything, the only method of getting it back was to use the Undo command, which was limited to the last 10 actions. iMovie HD finally makes good on its analogy by letting you open the Trash, rustle through its contents, and pull out what you earlier tossed. The Undo feature is now "virtually unlimited," in Apple's words, which appears to mean "unlimited as memory allows." If you don't want to step through lots of previous actions to change an edit you made earlier, or you just want to try a different editing approach, you can also use the new Save As command to create a duplicate project to work on—and the new Revert to Saved to quickly jump back a number of steps, too.
A Little Housecleaning
iMovie HD has received a few minor cosmetic changes, such as the switch between Edit Mode and Import Mode, which is now shiny and metallic. Gone from the main interface is the Edit Volume button found under the Timeline Viewer; to view and edit clip volume levels now, choose Show Clip Levels from the View menu (or press Command-Shift-L). Also missing is the clip speed control, which was marked with a turtle at one end and a hare at the other. To alter the speed of clips now requires you to apply the Fast/Slow/Reverse effect found in the Effects pane.
It's Been a HD Day's Night
The addition of HD import and editing is a very cool thing, if you're wealthy enough to afford an HD camera or if you're looking to the future (HD prices are bound to come down). But the better news about iMovie HD is what it offers those of us editing DV footage now: improved performance, rearranging clips in the Timeline Viewer, unlimited Undo, and support for more formats and camera types.