With a color screen that displays your favorite pictures, the iPod photo is a beauty to behold. It's easy on the ears, too—the 40GB ($499) and 60GB ($599) models carry enough tunes to turn your life into a music video (see our review ). But look deeper: there's a lot more to the newest iPod. From powering business presentations to turning your TV into a digital picture frame, learn how to put the iPod photo to work.
Loading Your Photos
Syncing your photo library to your iPod photo isn't much different from syncing your music. In fact, you use the same program for both tasks—iTunes 4.7.
iTunes can sync photos from anywhere on your Mac. You just need to tell it where your files are located. To do this, open iTunes 4.7's iPod preference pane and click on the Photos tab. Turn on the Synchronize Photos From option and select the appropriate location from the pull-down menu. You can choose to synchronize with iPhoto, your Pictures folder (located in your user folder), or any other folder on your Mac (just click on Choose Folder to select the one you want).
If you don't want to copy all the photos in the selected location, you can use the Copy Selected Albums Only option to narrow the focus to a specific album (if you're using iPhoto) or subfolder (if you're using one of the other options). So, for example, if you don't want to carry around every image you've ever taken, you can instead create a Smart Album in iPhoto that contains just your favorite photos (anything you've rated with four or more stars), and then sync only this album to your iPod.
When you click on OK, iTunes creates low-resolution compressed copies of every image you've selected—using a format that only the iPod can read—and transfers these files to your iPod.
The next time you attach the iPod to your Mac, iTunes will compare its files to the selected albums or folders and make any necessary updates.
Accessing Stored Photos
Just as iTunes doesn't let you synchronize your music on multiple computers—at least not without some third-party help—it doesn't let you synchronize photos between multiple computers. If you plug your iPod photo into a different computer, iTunes gives you the option of either replacing all your current files with those from the new computer or ignoring the new computer's photos entirely.
On the other hand, your music and photos don't have to be linked to the same machine. This is useful, for example, if you keep an extensive music collection on your Mac at work, but store your photos on your home Mac. If you choose to do this, keep in mind that you'll have to confirm your linking choice each time you plug your iPod into one of the computers.
Manual Override While you can't use the iPod photo to automatically sync photo collections between multiple computers, you can use it to manually transfer photos from one machine to another.
To do this, first make sure that the iPod is set up for disk use. In iTunes, open your iPod preferences, click on General, and select the Enable Disk Use option. Then click on the Photos tab. At the bottom of the window, turn on the Include Full-Resolution Photos option, and click on OK. iTunes will place a copy of each photo's original file on your iPod.
Although you can't preview these full-resolution files on your iPod photo, you can access them as you would any other data files, such as a Microsoft Word document or an iPod notes file. Click on the iPod icon (located in the Finder window's sidebar or on the desktop) and go to Photos: Full Resolution. There you'll find all your photos organized by year, month, and date, in a series of cascading folders.
If you download photos to the iPod from your digital camera (via Belkin's $80 Digital Camera Link or $100 Media Reader ), those photos go into a separate DCIM folder at the root level of the iPod. As with other full-resolution files, you can't view these photos on the iPod.
Across Platforms You can attach a Windows-formatted iPod photo to your Mac with no problem—but it will sync more slowly than a Mac-formatted iPod. To exchange files with a Mac-formatted iPod photo, a Windows PC will need to have the latest version (2.0.11) of Mediafour's $30 XPlay 2 installed.
Putting Your Best Photos Forward
The iPod photo's color screen generally does a good job of displaying photos. But with only two inches of real estate, there are limits to its power. Bright, high-contrast images tend to look best; gray, muted photos appear, well, even more gray and muted. You may want to keep this in mind when selecting photos to include.
Another issue is the shape of the screen. Most digital photos have a 4:3 aspect ratio. But the iPod photo's screen has a 5:4 aspect ratio, so you'll likely see black bars along the long edges of your images.
If you want your images to fill up the screen, try cropping them. This has the additional benefit of letting you focus in on your subject—for example, to devote more of your image to smiling faces and less to the wall behind them. If you're using iPhoto, click on the image you want to crop, go to Edit mode, and choose 8 x 10 from the Constrain menu. (This is the same as the aspect ratio of the iPod's screen.) Position the cropping square over the part of the image you want to keep, and then click on Crop. If you'd like to keep a copy of the photo in its original form—in case you want to print it at a different aspect ratio, for example—duplicate it before cropping (control-click on the photo and choose Duplicate). Then create an album just for your cropped images, and sync only this album to your iPod.
Viewing Slide Shows on a TV
If you're sharing your photos with a large group, forget about having everyone huddle around the iPod's tiny screen. Instead, move the slide show to the big screen by hooking it up to a TV or a projector.
The iPod photo comes with a composite AV cable for this task. You simply plug one end of the cable into the iPod's headphone jack and the other into the video and audio inputs on your TV. However, you'll often get better audio and video quality by making the connection from the iPod's dock, which offers S-Video-out and audio line-out ports.
The iPod-to-TV connection works well, though you have to be careful about the order in which you perform certain actions. For example, if you have a picture on the iPod's screen when you string the composite cable between the TV inputs and the iPod, that picture won't pop up on the TV. You must make the connection first, and then start a slide show. If the image still doesn't show up, go to Slideshow Settings (under the Photos menu) and make sure that the TV Connection option is set to On.
By the way, you're not limited to hooking up your iPod to a TV or a projector. For example, you can also use the AV cable or the dock's S-Video port to plug your iPod into a VCR or camcorder and record a slide show from your iPod. This way, your parents can replay the slide show of their grandson's first year long after your visit.
Finding Accessories
In the past couple of years, an entire industry of iPod accessories has emerged—everything from voice recorders to flashlight attachments to portable speaker systems. But before you run out and stock up on cool extras, be aware that not all of them will work with the iPod photo.
Although the iPod photo is similar to the 40GB fourth-generation iPods (all the jacks and ports function identically), the new models are about 1.5mm thicker. And that's a big problem for some accessories—notably, speakers and stands that use a docking station to hold the iPod. For example, the iPod photo won't fit in Altec Lansing's inMotion iM3 speaker system, and it's uncomfortably tight in JBL's On Stage system. (Both companies are working on a solution.) It also won't fit one of our favorite FM transmitters, the Sonnet PodFreq, which lets you play your tunes through a car radio. (Since the publication of this story, Sonnet has introduced an iPod photo-compatible version of PodFreq.)
Any accessory that connects to the top of the iPod—via its headphone or remote jacks—should be compatible with the iPod photo. You should also be able to use devices that connect to the iPod's docking port via a cable or adapter, such as SendStation's Pocket Dock series. For more details on iPod photo compatibility, visit Playlist magazine.
You can maximize the iPod photo's screen real estate by cropping photos to the correct aspect ratio…
… In iPhoto, set the crop constraint to 8 x 10.
Instead of hiding the TV during your next party, why not turn it into a picture frame that randomly shuffles through your favorite photos? To get the best quality, use the S-Video and audio line-out ports on the back of the iPod dock to make the connection.
Run Presentations from Your iPod
Do you wish you could give a Microsoft PowerPoint presentation without having to lug around your laptop? If you have an iPod photo and a projector with composite or S-Video inputs, you can.
Step 1 Open your presentation in PowerPoint. Choose File: Save As, and set the Format to TIFF. (Since iTunes compresses the file when you import it into your iPod, you should use the highest-quality image possible.) Then save your presentation slides to a new folder on your desktop.
Step 2 Open iPhoto and create a new album for your presentation slides. Drag the folder of presentation images from the desktop to this new album. After iPhoto finishes importing the images, open the new album and make sure all the slides are in the correct order.
Step 3 Copy the new album to your iPod photo by selecting it in the Photos section of your iPod preferences.
Step 4 When it's time to give your presentation, connect your iPod photo to the projector. Go to the iPod's Slideshow Settings menu and set Time Per Slide to Manual—so you can decide when to advance to the next slide rather than having a set timer—and then set TV Out to On. You should also set Music to Off. Then open the album that contains your PowerPoint presentation and begin the slide show. You won't get the variety of fancy slide transitions that you would with a live presentation—the iPod offers only wipe transitions—but you will be able to fit your hardware in the palm of your hand.
For Keynote Users Apple's Keynote presentation software doesn't let you save slides as images. If you want to play your Keynote presentations from an iPod photo, you'll need to either export the presentation to PowerPoint or use a utility such as ZappTek's $18 iPresent It, which creates and manages iPod photo-compatible slide shows from Keynote and PowerPoint.
Create iPod FlipBooks
While you probably wouldn't want to watch a three-hour epic on a two-inch screen, it would be fun to play short video clips on the iPod photo—for example, to show off your child's first belly flop or Uncle Joe's dramatic interpretation of the chicken dance at last year's family reunion.
Despite the iPod's lack of video support, you can create your own thumb-powered movies by breaking video into a series of individual frames and then quickly scrolling through them on your iPod. Remember those paper flipbooks from your childhood? Think of this as a digital version. Here's how to create one of your own:
Step 1 Find a video clip you'd like to use. You can use any video format that QuickTime Pro supports (go to Apple's QuickTime page for a list). However, this project works best with movies that don't require sound—though it's possible to sync your scrolling speed to an exported sound file, it's no easy task.
Open the movie file in QuickTime Pro ($30) and choose File: Export. Under the Export options, choose Movie To Image Sequence. Then click on the Options button and select an appropriate frame rate (I recommend 15 fps). Set the Image Format to JPEG, and then save the images to a new folder.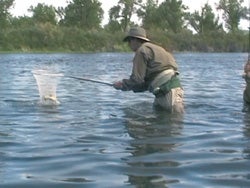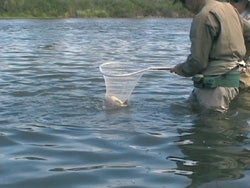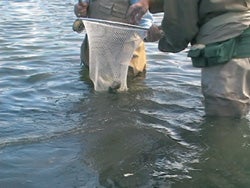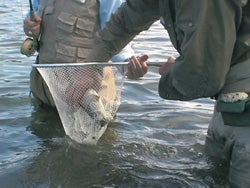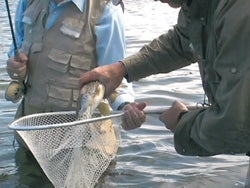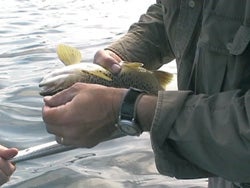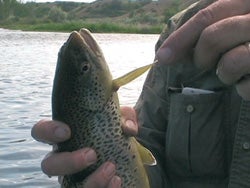 Step 2 Although the iPod can import images from any folder on your hard drive, you'll get better results by first importing the images into iPhoto. (The Finder tends to sort files incorrectly—a disastrous move for this project.)
Drag the newly saved images into a new album in iPhoto. Once the import process is complete, go through the album to make sure that the images appear in the right order.
Step 3 Open iTunes and use the iPod preferences to copy the new album to your iPod photo.
Unfortunately, the iPod's fastest slide-show playback speed is a mere 2 seconds per image, which is far too slow to produce smooth video. So you'll have to control the playback manually. Select the photo album that contains your video frames, and then click on the first image to display it in full-screen mode. Use the iPod's Click Wheel to fast-forward through the images (by scrolling clockwise) at whatever speed you like.
[ Contributing Editor CHRISTOPHER BREEN answers readers' questions in the monthly Mac 911 column. He is also the editor in chief of Playlistmag.com. Senior Writer DAN FRAKES is the reviews editor for Playlistmag.com. ]
Serious Photo Viewers
Despite its new photographic talents, the iPod photo is first and foremost a music player. It's great for taking some of your favorite photos wherever you go, but it can't handle serious photo tasks. Even if you use a device such as Belkin's Digital Camera Link to transfer photos from a digital camera to your iPod, you can't view these photos once they're on your iPod. You also can't zoom in on photos, delete unwanted photos, or organize your photos in separate albums while on-the-go.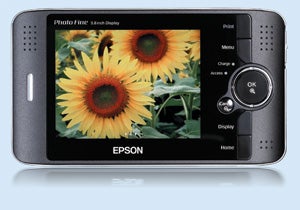 If photography is your main interest, you may be happier with a dedicated photo viewer, such as the $500 Epson P-2000 (see " Macworld' s 20th Annual Editors' Choice Awards," ) or the $470, 40GB SmartDisk FlashTrax. Although bigger than the iPod, these compact devices are packed with photographer-friendly features such as large LCDs (the P-2000 has one of the most attractive screens we've seen), photo-management tools, 40GB or larger hard drives, and the ability to download directly from a CompactFlash card. They can also play video and music files—and they cost the same as (or less than) a 40GB iPod photo.—KELLY LUNSFORD