Run Presentations from Your iPod
Do you wish you could give a Microsoft PowerPoint presentation without having to lug around your laptop? If you have an iPod photo and a projector with composite or S-Video inputs, you can.
Step 1 Open your presentation in PowerPoint. Choose File: Save As, and set the Format to TIFF. (Since iTunes compresses the file when you import it into your iPod, you should use the highest-quality image possible.) Then save your presentation slides to a new folder on your desktop.
Step 2 Open iPhoto and create a new album for your presentation slides. Drag the folder of presentation images from the desktop to this new album. After iPhoto finishes importing the images, open the new album and make sure all the slides are in the correct order.
Step 3 Copy the new album to your iPod photo by selecting it in the Photos section of your iPod preferences.
Step 4 When it's time to give your presentation, connect your iPod photo to the projector. Go to the iPod's Slideshow Settings menu and set Time Per Slide to Manual—so you can decide when to advance to the next slide rather than having a set timer—and then set TV Out to On. You should also set Music to Off. Then open the album that contains your PowerPoint presentation and begin the slide show. You won't get the variety of fancy slide transitions that you would with a live presentation—the iPod offers only wipe transitions—but you will be able to fit your hardware in the palm of your hand.
For Keynote Users Apple's Keynote presentation software doesn't let you save slides as images. If you want to play your Keynote presentations from an iPod photo, you'll need to either export the presentation to PowerPoint or use a utility such as ZappTek's $18 iPresent It, which creates and manages iPod photo-compatible slide shows from Keynote and PowerPoint.
Create iPod FlipBooks
While you probably wouldn't want to watch a three-hour epic on a two-inch screen, it would be fun to play short video clips on the iPod photo—for example, to show off your child's first belly flop or Uncle Joe's dramatic interpretation of the chicken dance at last year's family reunion.
Despite the iPod's lack of video support, you can create your own thumb-powered movies by breaking video into a series of individual frames and then quickly scrolling through them on your iPod. Remember those paper flipbooks from your childhood? Think of this as a digital version. Here's how to create one of your own:
Step 1 Find a video clip you'd like to use. You can use any video format that QuickTime Pro supports (go to Apple's QuickTime page for a list). However, this project works best with movies that don't require sound—though it's possible to sync your scrolling speed to an exported sound file, it's no easy task.
Open the movie file in QuickTime Pro ($30) and choose File: Export. Under the Export options, choose Movie To Image Sequence. Then click on the Options button and select an appropriate frame rate (I recommend 15 fps). Set the Image Format to JPEG, and then save the images to a new folder.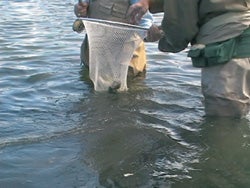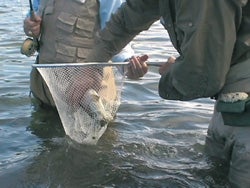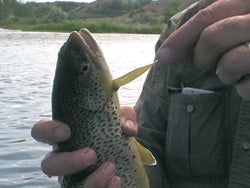 Step 2 Although the iPod can import images from any folder on your hard drive, you'll get better results by first importing the images into iPhoto. (The Finder tends to sort files incorrectly—a disastrous move for this project.)
Drag the newly saved images into a new album in iPhoto. Once the import process is complete, go through the album to make sure that the images appear in the right order.
Step 3 Open iTunes and use the iPod preferences to copy the new album to your iPod photo.
Unfortunately, the iPod's fastest slide-show playback speed is a mere 2 seconds per image, which is far too slow to produce smooth video. So you'll have to control the playback manually. Select the photo album that contains your video frames, and then click on the first image to display it in full-screen mode. Use the iPod's Click Wheel to fast-forward through the images (by scrolling clockwise) at whatever speed you like.
[ Contributing Editor CHRISTOPHER BREEN answers readers' questions in the monthly Mac 911 column. He is also the editor in chief of Playlistmag.com. Senior Writer DAN FRAKES is the reviews editor for Playlistmag.com. ]
Serious Photo Viewers
Despite its new photographic talents, the iPod photo is first and foremost a music player. It's great for taking some of your favorite photos wherever you go, but it can't handle serious photo tasks. Even if you use a device such as Belkin's Digital Camera Link to transfer photos from a digital camera to your iPod, you can't view these photos once they're on your iPod. You also can't zoom in on photos, delete unwanted photos, or organize your photos in separate albums while on-the-go.
Note: When you purchase something after clicking links in our articles, we may earn a small commission. Read our affiliate link policy for more details.