Increasingly iPods are finding their way into automobiles. Currently there are three ways to play those iPods through your car's sound system—via a direct cable connection, through a cassette adapter, and from the iPod to the FM radio via an FM transmitter (a device that acts as a short-range radio station that broadcasts an iPod's audio to an FM radio band). Of these, FM transmitters are popular for their general ease of use and lack of cable clutter.
XtremeMac has recently entered the increasingly crowded iPod FM transmitter market with its $40 AirPlay, a small, easy-to-use transmitter that fits all iPod models that bear a remote control connector (third- and fourth-generation iPods, iPod mini, iPod photo, and iPod Special Edition: U2). New-kid-on-the-block though it may be, the AirPlay gets enough features right that it finds itself among the best transmitters on the market.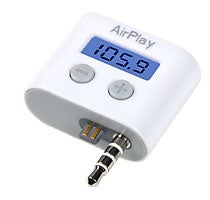 Tiny Treasure
Unlike Griffin Technology's $35 iTrip, which comes in two sizes—one for the iPod mini and another for larger iPods—the AirPlay is approximately half the width of a fourth-generation iPod and doesn't cover the Hold switch on either a full-sized iPod or iPod mini. Like the iTrip, it's powered by the iPod's battery so, unlike with early iPod transmitters, you needn't worry about leaving the transmitter on and draining its battery.
The AirPlay supports FM frequencies from 88.1 to 107.9. Like the iTrip it offers only odd-numbered point frequencies—.1, .3, .5, and .7, for example (the iTrip can tune as low as 87.7). Sonnet Technology's $100 PodFreq transmitter includes odd and even numbered point frequencies, which can be helpful when you want to tune "in the cracks" in areas where the FM band is crowded with radio stations.
The AirPlay offers range similar to what you get from the iTrip. In my tests it performed reasonably well in an area that's crowded but not packed with powerful FM radio stations (the San Francisco Bay Area is my test area). (I found that my iPod was a bit louder broadcasting from the iTrip than it was using the AirPlay.) Neither device offers the kind of extended range you get from the PodFreq—a more-expensive-by-$50 device that some might describe as bulky as it encases the entire iPod in plastic and holds a telescoping antenna.
Where the AirPlay and iTrip part company is in their interfaces. Search the iTrip and you'll find no control for changing the FM frequency or a readout that tells you what frequency the device is tuned to. The iTrip is tuned from the iPod itself using an ingenious system where the iPod plays tones into the iTrip that tell it which frequency to broadcast. The problem is that this system requires enough of your attention that trying to change frequencies while driving (a not uncommon occurrence with these devices) could be a very dangerous undertaking.
While tuning the AirPlay also requires taking your eyes off the road, it can be tuned far more easily than the iTrip thanks to the device's two tuning buttons and small, backlit LCD. Just hit Plus to move up the band and Minus to move down and view the current frequency on the display.
The Lowdown
While the AirPlay won't replace my PodFreq as the device to carry when I need maximum range from an FM transmitter, its small size, reasonable range, and intuitive interface have earned it a favored spot in my car's glove compartment. If you need a small, affordable, and easy-to-operate FM transmitter, the AirPlay is for you.
Note: When you purchase something after clicking links in our articles, we may earn a small commission. Read our affiliate link policy for more details.