At times, previous releases of Apple's digital photo management program iPhoto came across as catch-up efforts—catching up to the features found in third party applications that came before it; catching up to the incredible pace that people were shooting and storing digital pictures; and catching up to the potential of being mature Mac OS X applications that aren't hobbled by the halting performance and feature compromises that have been the hallmark of Apple's 1.0 applications of late.
In many ways, iPhoto 5 feels like it's finally caught up. Some elements are organized a bit differently than before, but in a way that suggests the designers took a closer look at how people are actually using it.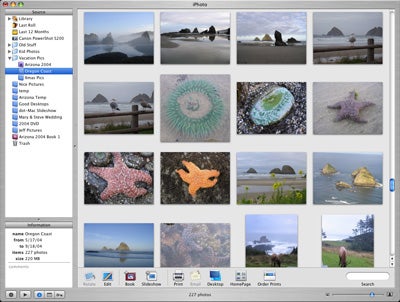 For example, gone are the tabs indicating whether you're in Share or Edit mode. Instead, buttons for common actions such as rotating or printing photos appear in a toolbar below the main library; you can choose which actions appear as buttons by going to the Share menu (which itself is a little odd—sharing/export functions traditionally appear under the File menu in most Macintosh applications). Double-clicking a photo puts you into an improved Edit mode that includes a row of other photos in your library, so you don't have to go back to the main screen to view another picture.
Importing—Almost There
When you connect a digital camera, iPhoto 5 switches to its Import mode and gives you the option of naming the roll and providing a brief description. This one step will hopefully go a long way toward helping people organize their libraries, most of which are populated by photos named "IMG_6153.JPG" or the like.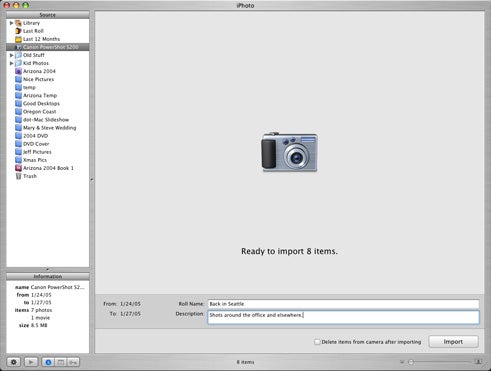 However, for some inexplicable reason iPhoto still does not let you preview the contents of your camera's memory card to pick and choose the ones you want to import. This feature has been available for years in the Image Capture utility included with Mac OS X. Instead, you have to import everything and then delete the photos you don't want.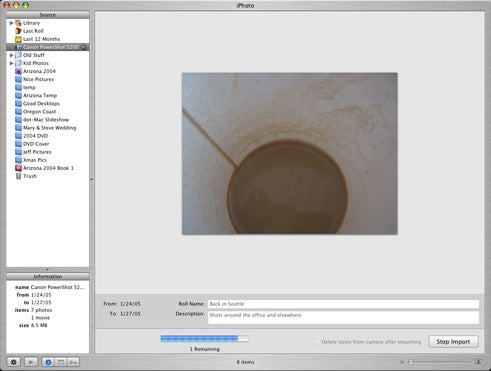 Importing has improved in other welcome ways. iPhoto can now bring in RAW formatted images, which will make professional and semi-pro photographers happy if they use iPhoto as the gateway between their camera and Adobe Photoshop. The program can also import the short movies, usually in .avi format, created by many modern digital still cameras. Double-clicking them launches QuickTime Player for playback, but they're also made available to the other iLife applications for easy import (such as iMovie HD ).
Finding Photos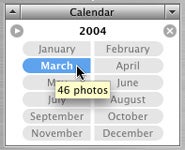 One advantage of digital photography is that you can take as many shots as will fit onto your memory cards and hard disk, but that's also a disadvantage when the time comes to pull specific photos out of the digital haystack. A Search field looks for text matches in the photo titles, roll titles, album titles, and comments, and keywords—if you've named them, that is.
I particularly like the new Calendar pane, which marks months in bold to indicate photos time-stamped with those dates.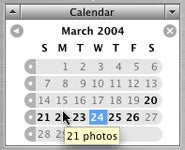 Click the month to view those photos, or just hover your mouse pointer over the name to view a tooltip telling you how many photos are available. Double-clicking the month name displays a monthly calendar with bolded days. Using this method, it's easy to drill down to the picture you're looking for without endlessly scrolling through the full library (or taking the time to build a Smart Album that would unearth it).
More Adjustments
iPhoto will never match the power of Photoshop in terms of correcting the colors, tones, and other visual aspects of photos, but iPhoto 5 takes a decent leap forward with the new Adjust palette. This semi-transparent set of controls (shown on the right) provides a welcome Levels slider for lightening and darkening photos (it's often the only adjustment I need to make on pictures), as well as other controls for color temperature and sharpening. But my favorite new adjustment by far is the Straighten slider, which overlays a yellow grid to help you incrementally rotate the picture to level out skewed horizons and other inescapable photographic goofs. (I would love to see this feature turn into an iMovie effect!)
Let 'Em Slide
If you're fond of bringing out the family album when company comes over, you'll be happy with the improvements made to iPhoto's slideshow capabilities. First, a slideshow now appears in the Source column as its own object, like an album or folder. This enables you to save photo-specific settings such as the type of transition to use and the duration the slide appears onscreen.
Also new to iPhoto is the Ken Burns Effect, the pan and zoom effect borrowed from iMovie. You can set up specific Start and End states for a photo, letting iPhoto calculate the animation between the two. Or, if you like the effect but don't want to configure every slide manually, an option in the slideshow settings turns on an automatic Ken Burns Effect for the entire show.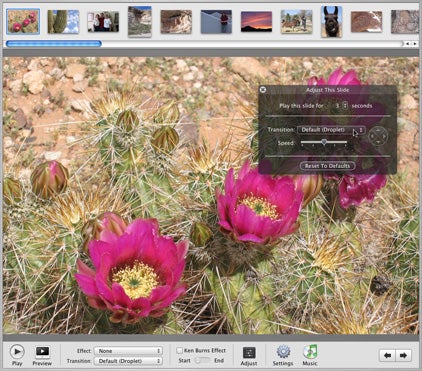 Better Books
iPhoto 5 improved upon its capability to assemble photos in a book layout that can be ordered as a physical book. Like slideshows, books appear in the Source column as independent objects that can be edited over time. More templates have been added, including ones that offer full-bleed printing (where the image reaches the edge of the page without a border).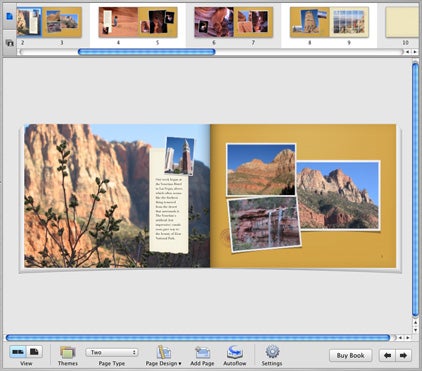 In addition to the hardbound book option introduced in iPhoto 4 (which now featues double-sided printing), you can purchase softcover versions in Large (8 1/2 x 11 inches), Medium (8 x 6 inches), and Small (3 1/2 x 2 5/8 inches) formats.
Final Impressions
Performance seems snappier in general, and refinements such as working with books and slideshows as saved objects just make more sense. However, before upgrading to iPhoto 5, be sure to make a backup copy of your photo library and rename your existing iPhoto application to prevent it from being overwritten by the installer: although I had no problems moving up to iLife '05, one colleague of mine has been unable to get iPhoto to work reliably on one machine despite his best efforts. (Strangely enough, it works fine on another Mac he owns).
Some people on Apple's iPhoto 5 discussion forums are having similar problems. Although iPhoto has done quite a bit of catching up, there's always room for improvement.