Never Lose Another Book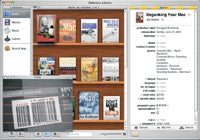 Do you have an Excel spreadsheet on your hard drive that catalogs all your books, music, and movies? Or do you wish you had one every time you waste time looking for something you lent out long ago? Then check out Delicious Monster's new $40 (competitive upgrade, $30) Delicious Library. Scan a bar code with your iSight or bar-code reader, and the program adds the item to your digital shelves. To save typing time, it downloads data from the Internet, including the author, the release date, a description, and a picture of the cover. (It will even recommend similar items and help you buy them from Amazon.com.) Best of all, the program helps you keep track of items lent to friends or colleagues; it uses Address Book and iCal to remind you when it's time to get them back.
Note: When you purchase something after clicking links in our articles, we may earn a small commission. Read our affiliate link policy for more details.