Bose's QuietComfort 2 noise-canceling headphones are among the most popular travel headphones on the market, despite their $300 price tag—it's hard to take a flight without seeing at least a few of them molded to the heads of fellow passengers. Although they've been around for a couple years, we get regular requests for opinions on them, so we did the only reasonable thing: We gave them the full review treatment.
The Quiet Part
Bose's QuietComfort 2 (QC2) headphones belong to a group of headphones we call "travel" or "noise-isolation" headphones—models designed to reduce the amount of external noise you hear, letting you relax and enjoy your music while in noisy environments like planes, trains, busy city streets, or even buzzing offices. Passive noise-isolation headphones aim to physically block external noise from reaching your eardrums by either sealing in your ear canals like earplugs (these models are often called canalphones ) or by enclosing your ears completely. Active noise-isolation models take a different approach: They use special "noise-canceling" (NC) circuitry that listens for external noise via microphones on the headphones and then produce an audio signal that represents the inverse of that external noise, effectively canceling it. What you're left with is the music—and usually a slight "hiss." (The intensity of the latter depends on the quality of the noise-canceling circuitry.)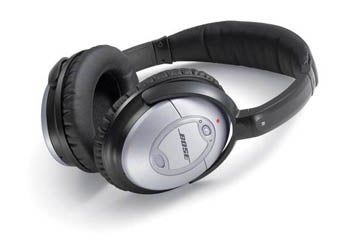 Each of these two approaches has its advantages. For example, good canalphones like Etymotic's $250 ER-4P and Shure's $170 E3c will block out a good deal more external noise than noise-cancelation headphones, and offer absolute sound quality that is significantly better. However, some people find canalphones to be uncomfortable, and, because they block nearly all external noise, they can be too isolating—you can't hear what's going on around you. Noise canceling headphones, on the other hand, tend to be more comfortable and allow you to still hear the world outside, including voices and conversations. Their drawbacks are generally inferior sound quality—much of the cost of the headphones goes into the active-noise-cancelation circuitry rather than the audio components—and less sound isolation. In addition, noise-cancelation circuitry works best with constant sounds such as a jet engine or train rumbling, so intermittent sounds, such as crying babies and construction noise, aren't blocked. The technology is also limited to a certain range of frequencies—very low or high frequencies are not affected.
The QuietComfort 2, the newest of Bose's well known travel headphones, use a combination of these approaches. Their large, padded earpieces completely surround all but the largest of ears, effectively blocking some degree of external noise. But they also feature Bose's own noise canceling circuitry, which is among the best we've tested. Once you place the QC2 on your head and turn them on, much of the outside world goes silent—almost eerily so. You still hear intermittent sounds, nearby people talking, and the like, but the sounds of passing cars, airplane engines, and even a good deal of "crowd noise" in a busy public place are largely eliminated. (One of my favorite uses for the QC2? Silencing the fan noise emanating from the five computers in my office.) Between their noise-canceling circuitry and their tight seal, the QC2 provide the best overall noise isolation of any non-canalphone we've tested.
Many noise-canceling headphones use standard headphone designs with the NC circuitry and batteries housed in a "pod" somewhere along the headphone cable. The QC2, in contrast, integrate the noise-canceling circuitry into the earpieces themselves. We would normally prefer the pod approach, as it keeps the actual headphones light, but the QC2 are surprisingly lightweight. Using this approach also allows the QC2 to provide an additional convenience feature: You can completely detach the headphone cable, allowing you to use the QC2 strictly as a noise-canceling headset—i.e., no audio—without an annoying cable dangling around. This makes them great for use when you just want to relax in silence on a plane or in the office.
The Comfort Part
One thing that sets the QC2 headphones apart from many other noise-canceling models—and many headphones in general, for that matter—is their comfort. The QC2's earpads and headband pad are covered in the softest leather I've seen on a pair of headphones, and the entire system, with battery, weighs a scant 7 ounces. (That's not lightweight by "portable" headphone standards, but for full-size headphones it's fairly impressive.) A single-sided cord helps avoid tangles when you're working on your laptop in a tiny airline seat.
The only aspect of the QC2's fit that I found mildly irritating is that in order to form a solid seal around your ears to block noise, the earpieces press firmly against your head. Most people will find this to be an acceptable, and even expected, tradeoff—in my testing, with occasional adjustments, the QC2 were comfortable even after hours of wear. The same can't be said for many headphones.
When you're not wearing the QC2, the earpieces fold flat for storage in your carry-on or backpack or for placement in the included hard case.
Quiet and Comfortable—What About the Sound?
As I mentioned above, noise-canceling headphones will never offer sound quality comparable to a good pair of canalphones. Whereas a $300 set of good canalphones such as Etymotic's ER-4P will give you $300 worth of sound quality (given high-bitrate or lossless music files), the $300 QC2 won't—too much of their cost has been used to provide good noise-canceling circuitry (not to mention the soft leather pads).
That being said, in the environments in which the QC2 will most frequently be used, absolute sound quality is likely not a priority, taking a back seat to noise isolation and comfort. And the truth is that the the QC2 are among the best sounding noise-canceling models I've heard, rivaled only by the $150 Sennheiser PXC250. Unlike many noise-canceling headphones, when putting the QC2 on and playing your music, your first reaction won't be to cringe. Upper bass is punchy (giving the QC2 some good "kick" as compared to many portable headphones), the upper midrange is clear, and there's little hiss compared to many other NC headphones.
On the other hand, audiophiles will find that compared to more accurate headphones, the QC2's frequency response emphasizes the upper bass and midrange. The treble can seem recessed, true bass extension is lacking, and the QC2's midrange can sound a bit hollow, as if music is being played in a large box.
These are, however, nitpicks given the expected usage of these headphones—for travel and in noisy surroundings. Overall, even picky listeners should be able to enjoy the QC2 as an effective way to shut out a bit of the outside world and enjoy their music.
On an audio-related note, the QC2 have one adjustable setting, oddly hidden. When you remove the cable from the left earpiece, the plug has a Hi/Lo switch that affects the sensitivity of the headphones. Bose says the "Hi" setting is for battery-powered devices that don't provide a lot of power to their headphone jacks, whereas "Lo" is for AC-powered devices. In my experience, the Hi setting is preferred for most portable use, but the Lo setting comes in handy on airplanes, where the headphone jacks are often ear-splittingly loud. (Note that neither setting affects noise-cancelation.)
In the Box
In addition to the headphones themselves, when you buy the QuietComfort 2 you get a nice accessory package. The most significant accessory, noted above, is a hard-shell carrying case, measuring approximately 8.5 x 7.5 x 2 inches, that accommodates the QC2 (when folded flat) and all included accessories; a shoulder strap is included to let you carry the case by itself, or you can clip the case to your carry-on via the small D-rings used by the shoulder strap. Also included are a 5-foot extension cable, a 1/8″-to-1/4" inch plug adapter to allow you to use the QC2 with home audio equipment (the stock cable is terminated in a 1/8" miniplug for use with portable audio players and computers), a two-prong airline headphone adapter (less necessary than it used to be, but a nice "just in case" touch), and an AA battery. Bose estimates battery life at 35 hours; the battery indicator flashes when approximately 5 hours are remaining.
Any Problems?
In addition to my previous comments about the QC2's sound quality, I do have a couple of gripes. On a minor note, I found the stock headphone cable to be a bit too long; despite the single-sided design, at 6 feet, the cable often gets tangled around my chair or airline seat armrest. I would have preferred a 3-foot cable, especially considering that the package includes a 5-foot extension. (This "short cable with included extension" approach is the one used by Sony with most of its non-U.S. headphones, and I wish more portable headphone vendors would follow Sony's lead.)
A more significant complaint is that unlike almost every other noise-canceling headphone I've tested, the QC2 cannot be used without the noise-canceling circuitry active. With many other models, if you're not in a noisy environment you can switch off the noise-canceling circuitry and use the headphones as standard headphones. (The advantages to doing this are battery savings and a break from the "hiss" emitted by most NC models.) But with the QC2, when you turn off the circuitry you turn off the headphones. Period. And you can't get around this limitation by removing the battery—doing so also cuts off all audio. (I learned this the hard way—after my battery ran out before a flight, I removed it, foolishly thinking it would lighten my load a bit until I could buy a new one on my trip. I was pretty disappointed when I discovered I couldn't listen to anything during the flight.)
The Competition
Given the pros and cons described above, the biggest question is, "How do these headphones stack up against other noise-canceling models?" The answer is: Very well, overall. Whether or not they're worth $300 to you is a different matter. To put the QC2 in perspective, I compared them to our other favorite NC headphones, the $150 Sennheiser PXC250.
The most obvious advantage of the PXC250 is that they're half the price of the QC2. They're also significantly lighter, more compact (they fold into an eyeglasses-sized space), and—assuming you can get a good fit—offer an overall more accurate and balanced sound. They also allow you to listen to music with the NC circuitry disabled.
However, the fit issue is a significant drawback to the Sennheiser NC headphones: Instead of the large earpieces of the QC2, the PXC250 use smaller earpieces that rest on each ear, rather than surrounding the ears. Because of this, it's more difficult to get a good seal to block external noise. If you get a good seal, the sound is excellent; if you don't, the sound quality is significantly worse, as is the noise isolation. With the QC2 there are no such challenges.
The PXC250 have a couple of other drawbacks compared to the QC2: First, their NC circuitry isn't quite as powerful as that of the Bose headphones, and second, although their sound is more accurate overall, they don't have the same bass kick provided by the QC2. (They also have a separate pod for the noise canceling circuitry, which individual users may or may not like.)
The Lowdown
The Bose QuietComfort 2 headphones definitely live up to their name—they effectively block noise while being extremely comfortable. And as noise-canceling headphones go, they sound pretty good (although you'll definitely get better sound quality and absolute isolation—in a much more portable package—via canalphones from Etymotic and Shure). Assuming you want to go the noise-canceling route, you'll have to decide for yourself if the $300 QC2 are worth their substantial price premium over the $150 Sennheiser PXC-250, our favorite bang-for-the-buck model. If you want the best sound isolation and an easy fit, and you're willing to pay more, go for the Bose. If you want a smaller package and the ability to listen without noise-canceling circuitry engaged, you'll save some money by considering the Sennheiser package.