Altec Lansing XT1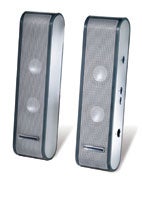 Altec Lansing's new $130 XT1 speaker system (see Best Current Price ) provides portable sound that's far superior to what your laptop can normally pump out—it's a welcome accessory for people (me, for instance) who don't like to go anywhere without tunes. Its USB cable gets both power and audio from your computer, an auxiliary input jack lets you connect an iPod or another audio source, and the whole system packs into the included hard-shell case for travel.—DAN FRAKES
Transit
If your Mac is the center of your entertainment world, M-Audio's $100 Transit (see Best Current Price ) can make that world rock a bit more. Transit is a portable 24-bit, 96kHz audio interface for connecting your DAT or Minidisc player to your Mac, routing DVD Player's sound to 5.1-channel multimedia speaker systems, and listening to music through speakers or headphones with better quality than you'd get from connecting either piece of hardware directly to your computer.—JONATHAN SEFF
Photoshop Elements 3.0's Improved Red-Eye Tool
Demonic possession aside, that red gleam in your photo subject's eyes is likely the result of your camera's flash. The $90 Adobe Photoshop Elements 3.0 (see Best Current Price ) makes red-eye removal very easy. Just click anywhere near the offending color, and the program replaces glowing red—and only red—with natural black. The previous version made you painstakingly paint over the red while trying to avoid stripping color from the other parts of the eye—so you can see why Ilike this big improvement.—KELLY LUNSFORD
The Cult of Mac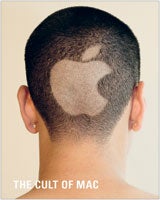 In his $40 book The Cult of Mac ( No Starch Press, 2004) (see Best Current Price ), Leander Kahney shows the best—and the most-frightening—aspects of our devotion to the computer Apple has offered us since 1984. Homemade Dock window stickers, MacQuariums, wild hardware hacks, jack-o'-lanterns of Steve Jobs and switcher Ellen Feiss, Apple-inspired tattoos, and the iBong—it's all here.—JONATHAN SEFF
OS X Named Most Secure
We all know it in our hearts, but now it's slightly more official. London-based mi2g recently released a report that says Mac OS X and BSD Unix are the "world's safest and most secure 24-7 online computing environments." Linux offers the worst track record, the report says, with Windows coming in second. While tested Linux systems accounted for more than 65 percent of successful break-ins, OS X- and BSD-based computer break-in attempts were successful less than 5 percent of the time.—PETER COHEN
What's Hot
Brought to You by John Moltz of the Crazy Apple Rumors site.
1. Apple ships iPod Socks. In related news, the company has discontinued its open-bar policy at product-design meetings.
2. Firefox 1.0 is released, featuring live bookmarks and customizable searching. In response, Microsoft announced a huge update to Internet Explorer for the Mac… nah, I'm just kidding. They didn't do anything.
3. Creative Technology CEO declares a marketing "war" against the iPod. Authorities became suspicious when the company kicked UN inspectors out of its Singapore and Milpitas, California, compounds.
4. Apple's stock climbs to $67 a share. For those of you keeping score at home, the company is now worth 5.46 billion iPod Socks.