It used to be that listening to music at home happened mainly in one place—the room where all your CDs or, for us old-timers, LPs and cassettes were stored. A few houses had cheezy intercom-based speakers spread throughout the house, but these ugly wall consoles generally sat there, unused, a remnant of 1970s experiments in "cutting edge" technology. Upper-income-bracket audio geeks were able to install better whole-house audio systems, but these were rare.
That was then. Over the past few years, two technological trends have taken hold that promise to significantly change the face of home music listening. The first is the popularity of digital music. And by that I don't mean CDs, but rather the storage and playback of music data files: MP3s, AACs, AIFFs, WAVs, etc. More and more people are storing their entire music collection on computers, iPods, and other high-capacity media.
The second trend is the increasing pervasiveness of wireless data networks in the home. Nowadays, most people either have a wireless home network or know someone who does. It's safe to say that in the not-too-distant future, wireless home networks will be as common as wired telephones.
I bring up these two trends because of their inevitable convergence. It's only a matter of time before your average consumer realizes that if they have all their music stored in a format that can be sent over a wireless network, they should be able to listen to any of their music anywhere in their home at any time.
Several companies have attempted to bring this convergence to the masses, including Apple via its AirPort Express with AirTunes, Slim Devices with its Squeezebox, and Roku with its SoundBridge units. But each of these systems has significant flaws—an AirPort Express system can only play to a single room and has no screen; the Roku units can't sync across multiple rooms; and the Squeezebox, which probably does the most right, still doesn't make it easy to navigate large music collections. The market is ripe for a product that does the whole-house-music thing right.
Into this market Sonos has released its new Digital Music System. Billed as "All your digital music. All over your house," the Digital Music System aims to do just that by creating a mesh wireless network with access points—called ZonePlayers—in as many or as few rooms as you prefer. (A mesh network means that each access point is both a receiver and transmitter/repeater, so removing any one device won't affect the rest of the network.) Each ZonePlayer can be controlled independently of the others, or you can sync all of them up for full-house entertainment. The result? The music you want in whatever rooms you want it. The whole-house-music thing done right.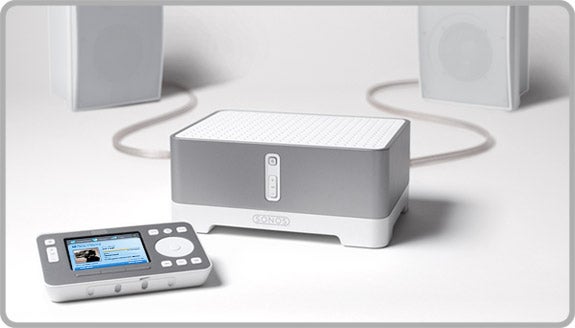 But I'm getting ahead of myself here. First, let's talk about the hardware of the Digital Music System, which consists of two types of components: ZonePlayers (each officially called a ZonePlayer ZP100) and Controllers (each formally known as a Sonos Controller CR100).
The Sonos Digital Music System in Detail: ZonePlayers
Each aluminum and white ZonePlayer is only 10.2" x 8.2" x 4.4" and weighs just 10 pounds but includes an impressive bundle of technology: a 50-Watt integrated amplifier, wireless and wired connectivity (via built-in wireless support and a 4-port 10/100 switch), and digital-to-analog and analog-to-digital audio converters. Think of each unit as a sort of digital stereo, but with an important twist: Thanks to the Digital Music System's network functionality, any music or audio source accessible to one ZonePlayer becomes accessible to all others and you can control all ZonePlayers from a single location. (More on that in a bit.)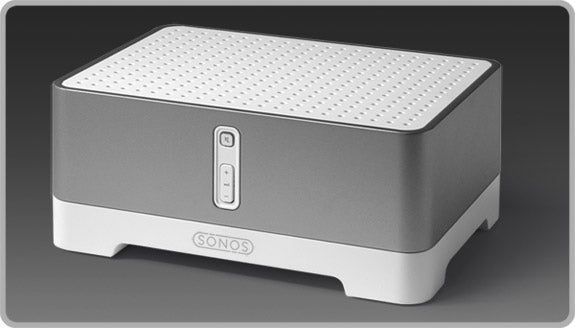 The ZonePlayer's built-in Class D integrated amplifier (provided by Tripath ) is rated at 50 Watts into 8 Ohms, providing enough power to drive a pair of high-quality stereo speakers; you connect your speakers via high-quality, cylinder-spring binding posts. (I used various speaker systems—a $300 pair from PSB, a $1500 sub/sat combo from NHT, and even a $400 home theater setup from Logitech—for my review; Sonos plans to offer their own line of bookshelf-sized speakers for $150/pair.) Each ZonePlayer also has left/right RCA outputs for integrating the ZonePlayer into an existing stereo system (the jacks are variable level, not line-level, although Sonos may make this a switchable setting in a future software update) and an RCA sub-out jack with 80Hz automatic crossover for adding a powered subwoofer. Finally, each ZonePlayer has left/right RCA line-level inputs—a nice bonus that means you can connect your CD player, TV, or other stereo audio source to a ZonePlayer and then listen to that source through the connected speakers, saving you from having to buy a separate amplifier. (See "Secret Weapon," below, for another reason this is a killer feature.)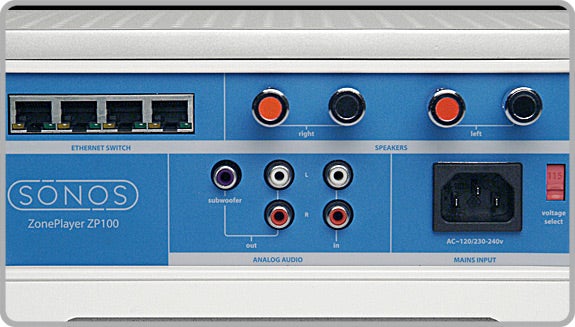 Although most audio functions are performed via the Sonos Controller (see below), each ZonePlayer provides mute, volume up, and volume down buttons on its face; I appreciated the ability to turn the volume in the current "zone" up or down—or mute it completely—if the Controller was elsewhere in the house.
If your home has a wired network, you can connect ZonePlayers together via Ethernet. However, if it doesn't—I suspect most houses won't—the built-in wireless functionality will automatically link all ZonePlayers up using a simple setup process (described below). The only requirement is that one ZonePlayer must be connected via Ethernet either to your existing network or to the computer/storage device holding your music files.
The ZonePlayer's digital-to-analog converter supports non-DRM (unencrypted) MP3, WMA, AAC/MPEG4, and WAV audio files. Unfortunately, DRM-protected files, like those purchased from Apple's iTunes Music Store or any Windows Media music service (such as MusicMatch, SonyConnect and MTV), are not currently supported—a major drawback for people who have a significant number of audio tracks purchased online. (Sonos notes that ZonePlayers have upgradeable firmware, which should let them add support for additional formats in the future; for example, support for Real's Rhapsody subscription service is expected in March 2005.)
If you get tired of your own music, as long as one of your ZonePlayers is connected to the Internet—through an Internet router or via an Ethernet connection to a computer sharing it's Internet connection—you can also listen to Internet radio stations using the streaming MP3 format. Over 70 stations are pre-programmed, and you can add more easily. (Internet access also allows your ZonePlayers to check for software updates.)
As the above description makes pretty clear, the ZonePlayer is an impressive piece of hardware; it also looks attractive and feels solid. However, the piece of the system that you'll spend the most time with—and wow your friends with—is the Sonos Controller.
The Sonos Digital Music System in Detail: Controllers
The heart of the Sonos Digital Music System is the wireless, handheld Sonos Controller. Looking like a cross between an iPod and portable video game system, the Controller is a chunky 6.5" x 3.8" x .95″, weighs 12.5 ounces, and contains a 3.5″, 240 x 320-pixel backlit LCD display. (I use "chunky" in a good way here—the Controller feels substantial in your hands and its size makes it easier to use than remotes that try to fit 50 buttons in a tiny space.) It uses the same wireless technology found in the ZonePlayer, so it can communicate with the entire Music System as long as it's in range of any ZonePlayer. A single Controller can be used to orchestrate your entire system, or you can purchase multiple Controllers so you don't have to carry one around the house.
The iPod-like part of the Controller is found on the right-hand side: a scroll wheel approximately the same size as the one found on an iPod mini, complete with center Enter/OK button. (I'm surprised Apple's normally-aggressive legal team hasn't been all over Sonos for this obviously-iPod-inspired scroll wheel. But I'm glad Sonos is using it, because it makes the Controller, like the iPod, extremely easy to use.) The rest of the Controller face holds the screen, 9 backlit buttons—mute, volume up/down, zones, music, return (similar to the iPod's Menu button), skip back, skip forward, play/pause—and three contextual "selector" buttons just below the screen whose function changes depending on what you're doing.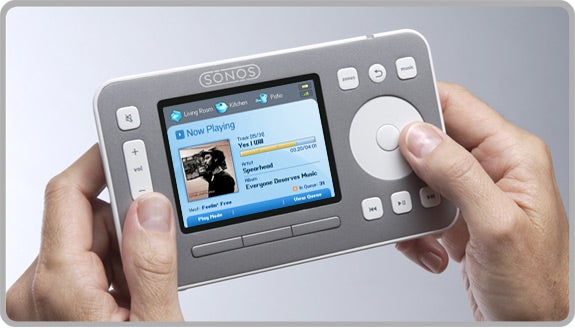 The Controller's simple layout and large screen work together to accomplish a rare feat in consumer electronics: simultaneously providing an intuitive interface and significant functionality. The basic feature set—choosing and playing songs, adjusting volume, etc.—is very easy to use, but once you get comfortable with the way the Sonos system works, you can take advantage of more advanced options.
After setting up your Digital Music System, as described below, playing music involves two simple steps: choosing a zone and choosing music. You choose a zone by pressing the Zone button and then selecting a zone from the list of ZonePlayers using the scroll wheel; until you return to the Zone menu, everything you do will affect only that zone. You then choose the music to be played by pressing the Music button, which brings up a Music Menu that looks and operates almost exactly like an iPod's menu system—if you've ever used an iPod, you'll feel right at home. If this process doesn't sound simple, it's only because it's hard to describe in text; to put it in perspective, on several occasions I handed the Controller to someone who'd never seen it before, and they were able to quickly figure these steps out without any assistance.
Like an iPod, you can browse your Music Library by artist, album, genre, track (song title), or playlist, but you can also browse by composer or folder—the latter should please non-iTunes/iPod users who are used to navigating their hard drive to locate and play music. When a track is playing, its song information is shown on the display, along with its album art, if present. (If your songs are missing art—I was disappointed how much of my music, ripped from my own CDs, was—you can add it using any of a number of free software titles. For example, Windows users can try iTunes Art Importer or Windows Media 10; Mac users should check out Fetch Art. Sonos also notes that you can put an album art image called folder.gif (or .jpg or .png) in the same directory on your drive as the album; the Controller will then display that image as the album art.) Once you've chosen the music for a zone, you can switch to another zone and queue up music for that one, and so on. The Controller's scroll wheel doesn't quite "feel" as good as the iPod's—mainly in terms of acceleration when scrolling through large track lists—but it's still head and shoulders better than the navigation system on any other MP3 player or digital music system we've tried.
The functionality I've described so far is likely what you'd expect from a system like this, but where the Sonos system truly shines is in its zone management. Using the Zone Menu, you can easily combine zones into linked zones that play the same music in sync. The easiest link is "Party Mode," which combines all zones into a single uber-zone, but you can also create smaller, independent linked zones. For example, you can combine the living room and kitchen into a linked zone that plays together while the bedroom does its own thing. Or you can enable Party Mode but drop one zone for a "quiet" room—the system automatically synchronizes all linked zones so that they play together perfectly, without any stutters or echoes. How cool is that? So cool that this is the first system I've seen that can actually do it. The possible zone combinations are limited only by the number of ZonePlayers you have.
The Controller is also used for simple tasks such as adjusting volume, muting, and controlling playback, and enabling shuffle and repeat modes, but you can perform those tasks for any individual ZonePlayer or any linked zone. And in yet another thoughtful feature, you can adjust the relative volumes of individual zones within a linked zone. In other words, if the bedroom and living room are linked, you can make the bedroom volume lower than the living room; when you increase the master volume, both rooms get louder but the bedroom volume remains lower than the living room. The Controller also provides zone-specific balance, bass, treble, and loudness controls.
The only real drawback to the controller is that some text is quite small; I didn't have any trouble with it, but I know more than a few people who would likely find it a strain to read. A "large type" option would be a nice addition.
The Controller is powered by a Lithium-Ion Polymer rechargeable battery that charges fully using the provided AC adapter in about 2 hours. (Sonos has a charging cradle in development; the Controller already has the charging contacts for such a setup.) In my testing, I used the Controller for nearly a week—under heavy use, with the screen on much more often than it would likely be under normal use (see the next paragraph)—without needing to recharge. When I finally did charge it, it topped off in less than 2 hours, as promised.
To preserve battery power, the Controller has two sleep modes. The first is deep sleep, which turns the controller off completely, requiring you to press a button to wake it up. This mode is much like sleep mode on a laptop and happens, by default, after four hours of inactivity. The second mode, light sleep, is like the screen dimming feature of most computers—after five minutes of inactivity the screen goes dark but the controller is still on. Like deep sleep, pressing any button wakes the Controller from light sleep, but in one of the coolest features I've seen on a consumer electronics device, the Controller also has a built-in motion detector that automatically wakes it from light sleep when you pick it up or otherwise move it. Sweet.
The Controller also has a couple other nice touches. The first is a sturdy rubber base that not only makes it easier to hold, but also lets you set it on a counter or table without it sliding around. The second is that the Controller is splash-resistant. Not water-resistant (or waterproof), but protected enough that you can use it in the kitchen without having to worry about every little drop of water.
How much is it gonna cost me?
Alas, all this technology isn't cheap. ZonePlayers retail for $499 each, with Controllers at $399 each; a "starter" set of two ZonePlayers and a single Controller is $1199. Although these prices may seem high to many consumers, it's important to keep in mind that each ZonePlayer is, as mentioned above, an integrated amplifier, wireless base station, and digital-to-analog converter in one small unit; $499 doesn't seem so steep when you consider how much it would cost to buy similar components separately. It's also helpful to put the Digital Music System in context—it's designed to replace multi-room, built-in audio systems that often cost upwards of $10,000 for multiple rooms. For a budget of $2600 plus speakers, you can provide custom audio to four rooms with two Controllers.
Another way to look at the value of the Digital Music System is to consider what you would need to purchase to get similar functionality using other products. For example, you could purchase several of Apple's AirPort Express units at $129 each to deliver audio to different rooms. But you'd also need to purchase stereo systems for each room, you couldn't listen to music in more than one room at once, and you wouldn't be able to view and control the music being played without purchasing a laptop. Slim Devices' Squeezebox units provide a small screen and remote control, as well as a "synchronized play" option, but you're still talking $280 for each Sqeezebox, plus you'd again need to buy a stereo for each room at a few hundred bucks (at least) a pop. That's about the same price as the Sonos with many of the other limitations of the AirPort Express system.
In other words, you get what you pay for, and you get a lot with the Sonos Digital Music System. And once you spend some time setting it up and using it, you'll surely appreciate it even more.
Simple Setup
When talking about a system as full-featured as this, the biggest concern on many consumers' minds is likely to be the setup process. Fortunately, Sonos has also put a good deal of effort into making that process simple. For most home networks—those with an Internet router using DHCP—the process is as simple as:
Plug speakers into the first ZonePlayer.
Connect the power cable to the ZonePlayer and plug it in.
Connect an Ethernet cable between the ZonePlayer and the router/hub/switch. (If your home network is completely wireless, you'll need to connect the cable between the ZonePlayer and the computer on which you'll install the setup software, and then turn on Internet Sharing [Mac OS X] or Network Bridge [Windows XP].)
Install the setup software and follow the setup process. If you've got a Mac, this step will involve the Sonos Setup Assistant; on a Windows PC, you'll use the Sonos Setup Wizard. In either case, the software walks you through the process of adding the first zone: After pressing the Mute and Volume Up buttons on the ZonePlayer, it's detected by the software, you give it a name (Office, Family Room, Kitchen, etc.), and it's available for use.
Tell the ZonePlayer where your music is located. The Sonos system can access music stored on a Mac running Mac OS X with Windows Sharing enabled or a PC running Windows XP or 2000 with Sharing enabled—these can be the computer on which you're running the Setup software or another computer on the network—or any SMB/CIFS-compatible NAS (network attached storage) device. (The advantage of using a NAS is that you can turn your computers off and still provide music access to your ZonePlayers; otherwise, the computer hosting your music must be turned on whenever you want to listen.) If you're running Windows XP or Mac OS X and store your music in your Music folder, the ZonePlayer will automatically find it and index its contents. (In my case, my music is stored on an external FireWire hard drive connected to a Mac running OS X 10.3. After setting the drive up under OS X as an SMB share, using the excellent SharePoints, I simply had to enter the URL to the share in the Setup Assistant.
A handy feature of the Digital Music System is that you don't need to store all your music on a single computer or network storage device—if there's music on your computer, your spouse's or roommate's computer, and even a laptop, you can add each music collection to your Sonos Music Library. You can even add the music collections from multiple user accounts on the same computer. The system supports up to 30,000 tracks stored on up to 16 computers and network storage devices. (This isn't counting any music you access via streaming Internet radio.)
You can also use the Sonos system with a Linux computer, although you'll have to perform the entire setup process from the Controller; the included User Guide provides more information. (This ability to do anything using the Controller, including entering text, is actually a nice feature no matter what platform you use; on a couple occasions I added additional music folders to my Sonos Music Library while sitting on the porch.)
Adding additional ZonePlayers is even simpler than adding the first; you simply access the System Settings screen on the Controller and then choose "Add a Zone Player." (Alternatively, you can use the Setup Assistant on a Mac or the Desktop Controller's Zone -> Zone Setup menu item on a Windows PC.) After pressing the Mute and Volume buttons on the new ZonePlayer, it's automatically added to the system and is immediately available for use, "inheriting" the already-indexed Music Library from any existing ZonePlayers. The Sonos system supports an impressive 32 zones—for those watching at home, that's $16,000 in ZonePlayers, not counting speakers and Controllers!
Audio Fun
It's hard to complain about your job when you review products for a living, but the truth is that some products are less enjoyable to review than others. The Sonos Digital Music System, on the other hand, is one of those rare products that made me wish I had an excuse to spend more time with it. Reviewing the system was just, well, fun . For the most part, it did exactly what it claimed to do and did it in a way that made the system exciting to use. I often found myself wanting to pick up the Controller and change stuff… just because I could. I'd pipe Led Zeppelin into the family room from the other side of the house and pump up the volume… just because I could. I'd play Carmina Burana on all zones, letting the melodramatic chorus wash over the entire house… just because I could. You get the picture.
I found the sound quality of the ZonePlayers to be as good as the music files I fed them and the speakers I paired with them. 128kbps MP3s revealed their flaws, whereas uncompressed WAV files sounded as good as the original CDs played through an NAD CD player connected to the ZonePlayer's auxiliary-in. Similarly, a pair of $100 speakers sounded OK, but a $1500 NHT speaker system sounded great. These observations may sound obvious, but you'd be surprised how many consumer electronics products sound the same regardless of the quality of the sound source or the connected equipment. If a system can demonstrate differences in sources and components, it's doing something right. The ZonePlayer design won't outperform higher-end standalone components, but it sounded quite good for its price range.
In terms of wireless performance, in our test house with three ZonePlayers, each separated by approximately 20 to 40 feet and two walls, I didn't experience a single dropout over a week of use, even when using uncompressed WAV files. (Sonos claims range of up to 100 feet—as long as each ZonePlayer is within 100 feet of at least one other ZonePlayer, all ZonePlayers and Controllers should be able to communicate.)
As I noted above, overall the Controller is intuitive and easy to use. So much so that houseguests who had never used the system before were able to pick it up and play music throughout the house. The only real criticism I had was that for those used to iTunes and iPods, the Sonos approach to playback takes some getting used to. In iTunes, when you play a song in a playlist—or browse to a particular artist, album, genre, etc., and then play a song within that group—it's like pressing play on a CD—all of the tracks in that group will be played. If you later navigate to another group of tracks, you can play those instead; the first group of songs are "forgotten." The Sonos system, on the other hand, is based on queues —you can't play a song with out adding it to the current queue. So when you navigate to a track/album/artist/playlist/etc., you can't just play the selected tracks; you have to add them to the queue. When you later navigate to another group of songs, the queue is not cleared—if you add the second group, you'll end up with a queue containing both sets of songs. What this means is that if you don't want to keep items in your queue when you change to a different track/artist/genre/etc., you have to manually clear the queue. Being an iTunes fan, I found this to be an inconvenience. It also makes you miss out on what Apple says is the most popular way for people to listen to their music: library-wide shuffle. You can create a queue that includes all your music and then play with shuffle mode enabled, but it's not as easy as simply choosing "Shuffle" from the iPod's main menu.
That being said, people who are used to one of the non-iTunes music management software titles for Windows, or who have an MP3 player other than an iPod, will likely be intimately familiar with this queue-based approach. And I have to admit that after using the Sonos system for a week I was less bothered by it than I was initially.
If you've created a queue that you especially like, you can save it as a Sonos Playlist. This makes it accessible in the future as a separate playlist in your Music Library. The User Guide also claims that the Digital Music System "can access playlists created using iTunes and Windows Media Player. In addition, any playlist saved in M3U, WPL and PLS formats are also supported." Although I would have appreciated the ability to export my iTunes playlists in order to access them from the Sonos controller, I unfortunately wasn't able to get this feature to work. I've asked Sonos for clarification on this feature and will update this review accordingly.
The only other minor music-related inconvenience is that if you add music to your computer's music library, your Digital Music System's music library is not automatically updated to reflect the new additions. You need to manually update your Music Library index via the Controller's System Settings -> Music Library Management menu.
Computer Control
Although Sonos' handheld Controller provides comprehensive control over your Digital Music System, the company has also created an application for Windows computers, Sonos Desktop Controller, that provides the same functionality, via a similarly intuitive and attractive interface, on your computer screen. (A Mac version should be available later this year.) It's not necessary to use this software—all of its functions are available on the Controller—but it does offer one significant advantage: If you frequently create your own queues and playlists, the larger screen real estate makes it much easier to do. Although my music is stored on a Mac, on more than a few occasions I found myself using my Windows PC just to set up a new playlist.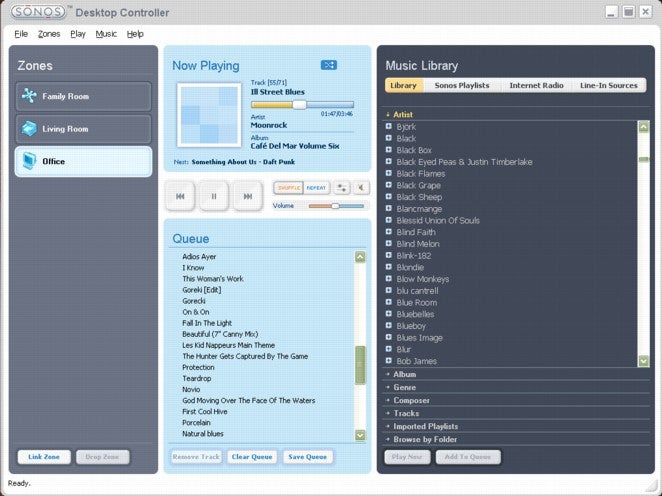 Secret Weapon: Line-In
One feature that Sonos only briefly mentions on their website and in the system's documentation is the Line-In connection on each ZonePlayer. Which is unfortunate, because this is a feature that adds significant functionality and flexibility to the system. Any external audio source—a CD player, DVD player, TV, iPod, or even the audio output from a computer—connected to the Line-In ports on a ZonePlayer can be played through that player's speaker. What's more, that source's audio can be streamed to any ZonePlayer(s) in your house. In other words, you can listen to not only your digital music anywhere in your house, but to any audio. And this feature isn't limited to a single ZonePlayer—you can hook up a different audio source to each ZonePlayer and all of those sources will be available to any ZonePlayer.
When using the Line-In feature, the connected ZonePlayer automatically encodes the audio source using either WAV or WMA format; you choose this setting in the Controller's System Settings -> Advanced Settings screen. If you're looking for the best sound quality, choose WAV. If you find that audio breaks up using the WAV setting, WMA requires less bandwidth and so may offer more reliable sound (although with inferior overall sound quality).
In my testing, this feature added a good deal of value to the Digital Music System as I was able to listen to new CDs throughout the house before I had the chance to rip them to my music library. I was also able to listen to the audio of the SuperBowl broadcast on the patio while cooking on the grill.
The Lowdown
I've noted the Sonos Digital Music System's few flaws: an over-reliance on queues; the need to manually update your Music Library after adding new songs or creating/updating playlists on your computer; and a lack of support for DRM-protected music files from online music stores. While I'm at it, I should add to my wishlist support for other music formats, such as the popular Ogg Vorbis and FLAC encoders. I'm also anxious to see a Mac version of the Desktop Controller software.
However, even with those criticisms, it should be obvious that I'm very impressed by the Sonos system. I simply haven't seen a system that so effectively combines digital music, high-quality audio, wireless convenience, ease of use, and, well, fun . It turns your entire home—or as much of it as you're willing to pay for—into a system that can play any of your music, anywhere, at a moment's notice. And the fact that it scales so well—you can spend $100 on an inexpensive pair of speakers or hook a ZonePlayer up to a $50,000 high-end system, and listen to everything from low-bitrate MP3s to uncompressed audio—makes it an attractive system for nearly any level of musical appreciation and enjoyment. It's obvious that the folks at Sonos put a lot of thought into their Digital Music System, from the ZonePlayer's construction, to the Controller's interface, to the system's audio quality and ease of use. Little touches like the Controller's motion sensor and the ZonePlayer's audio-in connectors make an otherwise good system a great one.
The Sonos Controller's scroll wheel screams "iPod." But so do its ease of use, sound and build quality, and impressive performance. If you've got the cash, it's worth a look.