Every year, Mac users gather in San Francisco to see Steve Jobs unveil the Next Big Thing at Macworld Conference & Expo. This year was no different except that there were two Big Things—new products that are big because they're so small.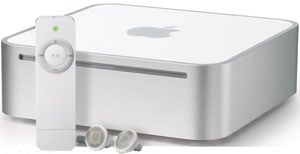 First, there's the Mac mini—the tiniest desktop Mac ever, at three pounds, and the Mac with the lowest price tag, at $499 (see Best Current Price ). Then there's the $99 (see Best Current Price )iPod shuffle, which weighs in at just a hair under one ounce.
With both of these products, Apple attacks its competitors on new fronts. The company not only continues to innovate in terms of design and usability, but also now leads the way when it comes to size and price.
Here's the scoop on the new tiny Mac and the tinier iPod, based on conversations with Apple and our exciting first days with these new products.