If you already use an aluminum PowerBook—any 12- or 17-inch model, or a 15-inch unit that's less than 18 months old—you're probably not going to get very excited about the latest updates to Apple's pro laptop line. After all, the rumored G5 models that generated so much hype on the Mac rumor sites before January's San Francisco Macworld Expo proved—again—to be a pipe dream. Though the new G4 models offer performance improvements across the board, plus a couple of neat new tricks, their design and core features are identical to those of their predecessors.
But my main Mac is an iBook, one that's just a few months short of its fourth birthday, and I'm starting to wonder when to spring for something better. I've mostly been thinking about a current iBook, but I'll confess that I've always been a little susceptible to the PowerBook mystique. And since Apple has again brought PowerBook prices down another notch—standard configurations now range from just $1,499 to $2,699—they no longer strike me as the luxury items they used to.
That's why I jumped at the chance to take a couple of the new models—the $1,699 12-inch version with a 1.5GHz G4 processor and SuperDrive and the $2,299 15-inch model with a 1.67GHz G4 processor and SuperDrive, both equipped with Mac OS X 10.3 (Panther) and the new iLife '05 suite—out for a spin over last weekend.
Speed Bump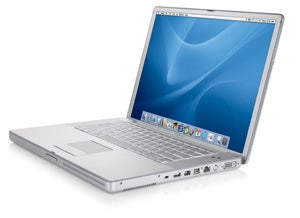 On the whole, I wasn't disappointed. Even if their outer designs aren't new, the PowerBooks' sheer elegance is undiminished. Compared not only to my ancient iBook but also to previous PowerBooks I've tried, both systems felt nice and snappy in routine operations like launching applications and saving files—a result, most likely, of Apple's move from 4,200- to 5,400-rpm hard drives across the line. (You can see the quantitative numbers out of the Macworld Lab.) With 8x SuperDrives, up from 4x in the previous generation, even DVD burning is faster, though burn times are by no means cut in half. Another welcome improvement: the drives now support DVD+ as well as the DVD- formats—I burned both +R and +RW media without a bit of hassle.
As to advanced technologies, these machines, even without major innovations since 2003, are still pretty much state-of-the-art. That's particularly true of the 15-inch models, which, like their 17-inch sibling, feature Gigabit Ethernet, FireWire 800 as well as 400 ports, and one of my favorite Apple touches, the backlit keyboard, which automatically lights up when a sensor detects darkness. The backlighting seems brighter than in previous generations, and it now comes in all 15-inch models as well as the 17-inch unit; previously, it was standard only in the 15-inch SuperDrive configuration.
The 12-inch model still lacks the backlighting feature; its FireWire port is of the 400 variety; and its Ethernet port tops out at 100Mbps. As in the previous PowerBook generation, however, AirPort Extreme and Bluetooth are both standard in all PowerBook models. In fact, they now all include the very latest in wireless technology, an updated standard called Bluetooth 2.0+Enhanced Data Rate (EDR). It's supposed to triple data throughput, and, in the process, save battery life and smooth out glitches in multi-device setups, but I couldn't evaluate those claims—since Apple is the first vendor to support the new technology, there aren't yet any peripherals to test it with. (Not to worry, though: it's backward-compatible with Bluetooth 1.x.)
More New Goodies
One highly touted feature was a little too tricky to test: a patented feature called Sudden Motion Sensor, which is supposed to protect your hard drive and the data it contains by instantaneously parking the drive's read-write heads if you drop your machine. I would have loved to give this feature a try, but my editors firmly instructed me not to—the technology probably works, but having paid for the machines, they didn't want to run the risk.
The other new feature in all of the latest PowerBooks is what Apple calls the scrolling trackpad. If you drag two fingers instead of one across the pad, either horizontally or vertically, your document is supposed to scroll automatically. I can't say I was thrilled with the results. It doesn't automatically work in the front-most window—evidently the cursor has to be within the window for it to work. In Microsoft Word, vertical scrolling worked, but not horizontal scrolling (both work in Excel). In general, I found it a little awkward to control, but maybe I'll get used to it. (Owners of older Apple laptops can get add similar capabilities to their system with SideTrack, a $15 shareware driver by Alex Harper.)
Picking and Choosing
Though I no longer travel very much, I still tend to go for compact laptops, so I figured that if either of these new PowerBooks could really clinch the deal, it would probably be the 12-inch model.
As it turned out, I was wrong. Working on a 12-inch PowerBook just didn't feel all that different from using an iBook, and while the PowerBook is a little lighter and has a few features the iBook lacks (notably audio in and out ports and support for extended desktop mode on external displays), the iBooks remain appreciably less expensive (especially if you don't need a SuperDrive).
The 15-inch PowerBook, on the other hand, is qualitatively different from any iBook. Gigabit Ethernet and FireWire 800 are nice to have—I don't need them now, but I may someday soon—and the backlit keyboard is just plain cool. But the real difference, of course, is in the screens: The 15-inch widescreen, with a native resolution of 1,280-by-854 pixels, can display almost 40 percent more information than the 1,024-by-768-pixel displays of the 12-inch PowerBook and both the 12- and 14-inch iBooks. After a few days' use, I really began to appreciate the difference: on the 15-inch system, it's actually possible to keep an eye on your mail, for example, while you browse the Web or work in an office application—something that involves considerably more hassle on a 1,024-by-768-pixel system.
Whether the extra pixels are worth the extra cash and heft to me, I'm still not sure. But for me, the choice is now between an iBook and a 15-inch PowerBook. Attractive as the 12-inch PowerBook is, I'm afraid I can't see much of a case for it.
Either way, I'm not going to wait for a G5 laptop. For me—and, I think, most users—the new PowerBooks and even the current iBooks deliver more than adequate performance, plus a terrific set of features. On the other hand, I just might wait until Apple lets OS X Tiger off its leash.