You've got something to say. You've got a voice made for radio. You've got much better tastes than a ClearChannel programmer. What you don't have is your own radio show or network to get your message out.
That's where podcasting comes in. As I explained in Podcasting: Hear What the Buzz is About, a podcast is an audio-based blog that you post on the Web and as an attachment to an RSS feed. Listeners then use an RSS aggregator such as iPodder or iPodderX to subscribe to your show. When you post a new file, the aggregator downloads it and can automatically sync it with a portable player, making your show ready to take on the road.
Being a consumer of podcasts is all well and good, but why sit in the audience when you can be on stage? Becoming a podcaster requires only a few simple tools: You''ll need a computer and Internet connection, a microphone and some software to capture and edit your audio, a way to compress the file, and server space to host the file. Here's how to put them all to good use.
The Concept
To start, you need an idea—something you want to communicate. There are all kinds of podcasts available today: shows on technology such as the Wizards of Technology; shows on music like Brian Ibbott's Coverville; and a seemingly endless supply of shows about nothing at all. In other words, originality is not a requirement (but it helps).
iPodderX creator and podcaster August Trometer recommends creating an outline of the show before you begin. Sketch out the topics you want to discuss or songs you'll play. Assemble all the pieces you'll need and then practice the show before you record it.
Adding music to your podcast can turn an average show into something that stands out. However, if you plan to broadcast music on your show, make sure you don't violate copyright laws. If you intend to use commercial music, you'll need to pay licensing fees to such organizations as BMI and ASCAP. To avoid licensing hassles, seek a source of royalty-free music like Shockwave-Sound.com and Looperman. You can also check out songs available at Opsound, a site that hosts music files licensed under the CreativeCommons music sharing license—you're free to replay this music without paying for it. And don't forget that the music loops included with programs like Sony's Acid and Apple's GarageBand are also royalty free.
Your Own Private Studio
Just like the radio pros, you'll need a recording studio to create your podcast. But your studio doesn't have to be in a soundproof room, or even indoors. It's the hardware and software that create the studio.
The core of your recording studio will be your computer. Working with audio takes some processing power and RAM—the more, the better. Most podcasters I spoke with use G4 or G5 Macs, but recent PCs work, too.
You also need a microphone. Although many computers include microphones—either bundled with the computer or built into it—they don't produce great sounding audio. Nor do recording devices that plug into the iPod—the iPod can record at only "voice quality" (16-bit, 8kHz) and while this is fine for recording meetings and lectures, it's not good enough for broadcast.
For your podcast to sound its best you should look at a higher quality microphone. But don't go overboard. You don't want to drop nearly a thousand dollars on a high-end AKG 414 microphone and realize podcasting isn't your thing after all. Bill Douthett of Wizards of Technology recommends Shure's classic SM-58, which runs about $100.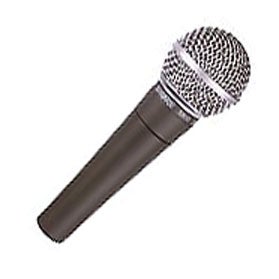 Shure SM-58
You also need a pair of headphones. You'll want to monitor the sound of your show while you're recording and feedback could result if you use speakers. Headphones take care of that problem.
You can get a lot more sophisticated—something you may want to do if you'd like to mix multiple audio inputs at the same time. Douthett uses a Behringer Eurorack UB1204 Pro, a separate 8-channel audio mixing board, to get the sound quality he demands—he found his computer lacks the horsepower to handle all the audio inputs and crunching he wanted. Another good choice is Mackie's ultra-clean 1202 VLZ Pro mixer, which costs around $370 and offers 12 line inputs.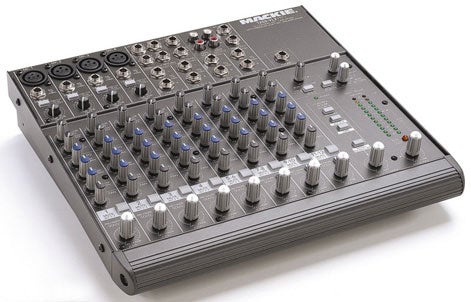 Mackie 1202 VLZ Pro mixing board
Capture the Moment
To capture audio with your computer, you need software designed for the task. You'll find a variety of free and inexpensive applications that can get the job done.
Mac users with iLife '04 or '05 have a tool built-in: GarageBand. This program can be used for more than composing songs. You can create a "real instrument" track that records input from your mic. It's a quick-and-dirty way to create a podcast but its audio editing functionality is limited.
If you need to edit your audio—delete any "ums," "ers," or painfully dull stories of your childhood, for example—you'll need a dedicated audio editing application. Audacity is a free audio editing application available in versions for both the Mac and Windows PC. The program lets you create multiple tracks in one file, which is useful when you want to create a music bed and talk over it.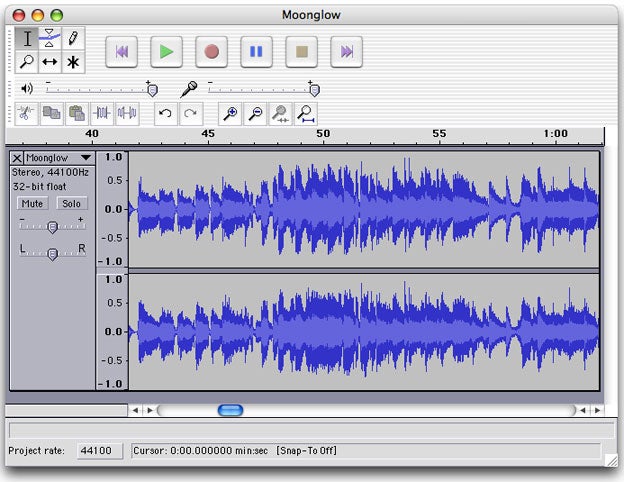 Audacity
Tools such as Rogue Amoeba's $16 Audio Hijack (Mac), Ambrosia Software's $19 WireTap Pro (Mac), 1st Benison Software's $30 All Recorder (Windows), and Fogware Publishing's $40 Internet Radio Recorder (Windows) can record any sound that your computer plays—music, soundtracks from DVDs, even audio chats on iChat AV, AIM, or Skype. (Tip: Audio chats are a great way to get an interview into your podcast.)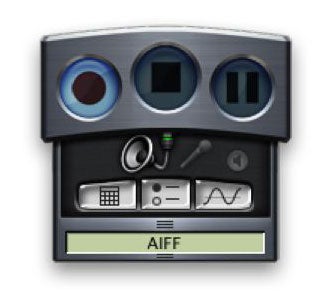 Ambrosia Software's WireTap Pro
For Windows users, there's an all-in-one solution on the horizon. Mixcast Live promises to bring all the software you need to create a podcast into one convenient application. It's available as a pre-release now.
Convert to MP3
Audio capture tools create uncompressed audio files—generally AIFF files on Mac and WAV files on Windows. Uncompressed audio takes up a lot of disk space (10MB per minute of 16-bit, 44.1kHz stereo audio), making it unwieldy to download and transfer to a portable player. You can compress your podcast to a more manageable size with iTunes or a similar audio application that supports MP3 encoding. While you can encode your podcast into any compressed format, like WMA or AAC, most podcasts are created as MP3 files because all portable players can play this format.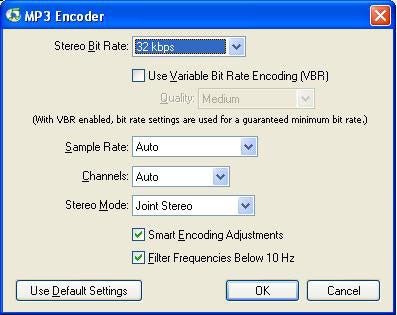 Convert large files to MP3 in iTunes
When you convert to MP3, pick a bitrate that creates the smallest file without compromising sound quality. If you're creating your podcast in a bar, you don't have to worry too much about sound quality, so you could encode at 32 kbps. Music podcasts, on the other hand, should be encoded at 128 kbps or better for acceptable sound quality.
Remember to enter ID3 tag information such as artist and song name for your file—it's how listeners will find your show on their portable player. Use your name or your podcast's name as the artist and make sure you add a date to the song name to help listeners keep up with the latest version of your show.
Post It
Once you've got your podcast file ready, you have to upload it to a Web server so that the masses can access it. If you run your own Web server, check what your bandwidth costs will be. Depending on how large your file is, you could end up with a steep bill if your show becomes popular and hundreds of people (or more) download it. If you find that thousands of people are downloading each of your podcasts, it may be time to seek sponsorship.
If you don't have your own Web server, you can rent space from services such as the1host.com for a monthly fee. Here too you need to be aware of transfer limits—once you exceed your monthly quota, your site will likely be shut down until the beginning of the next month or you will face additional charges.
You'll need to create an RSS feed to allow listeners to subscribe to your show. An RSS feed is an XML file that describes your Web content. The key piece of RSS that makes podcasting possible is the enclosure tag, which lets the aggregator automatically download a new file.
Creating your own RSS file is simple thanks to this RSS file generator. Just enter your information into the fields, then cut and paste the XML it creates into a text file. Make sure the enclosure feed points to your podcast file.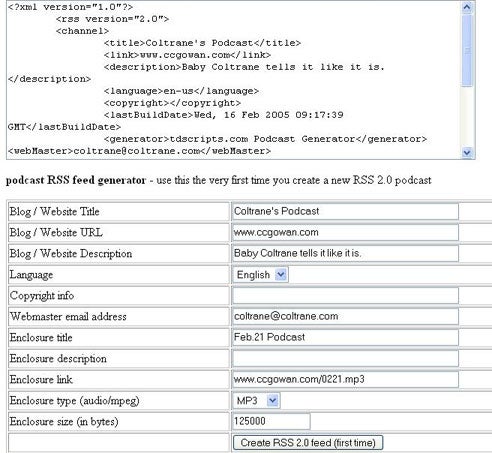 An easy-to-use RSS Generator
Going Public
While you may want to shout about your new podcast as soon as it's ready, take some advice from the experienced: Don't do it.
"Start by recording a few shows and getting your RSS feeds working properly," Brian Ibbot, creator of Coverville, advises. "You want to start promoting it once you've got your rhythm down and honed the content of your show."
When you're ready, word of mouth is the best way to get people to find you. Send messages to the people who create podcasts you enjoy. If they like what you've done, they'll mention it on their show (you may have to wait awhile for the coveted Adam Curry plug on Curry's popular Daily Source Code ). You can also get your show listed on podcast directories like Podcast Alley and submit it for review on the Podcast Bunker.
Finally, if you want to create a following, you must post regularly. If there's nothing new, listeners will move on to greener (and more regularly updated) pastures.
Sign Off
With the right planning, gear, and software you can create a podcast. And that's the easy part. What separates the successful podcast from the merely dreary is content worth listening to.