Now that Apple has thrown down the technology gauntlet and proclaimed that 2005 is the "Year of HD [high-definition] Video," I assume that you've already purchased your $3,700 HD digital camcorder and are now ready to stand at the forefront of the new digital cinema.
Wait, I'm sorry—what's that you say? That camera is too pricey for your budget? And there aren't any movies available on HD-DVD because a standard hasn't yet emerged? Well, yes, that's all true—but HD is so cool!
HD Trojan Horse
Adding HD support to the latest version of Apple's entry-level video editor seems an odd choice, since most iMovie HD users—at least initially—won't be shooting in the HDV format (see "An HD Primer" ). In time, though, prices of HD gear will no doubt come down, and more people will then start buying big, beautiful HD televisions that take advantage of HD's higher resolution.
But in addition to HD bragging rights (take that, Windows Movie Maker), iMovie has made impressive gains. The HD version can import 16:9 (wide-screen) DV video without hassle, and it imports MPEG-4 (produced by some new tapeless camcorders) and iSight footage without transcoding it into iMovie's traditional DV Stream format. More impressive, iMovie HD allows each format to coexist, without much fuss, in the same iMovie project.
I imported some HD footage, and working with these files revealed a surprise: once the video is in iMovie HD, you edit and manipulate it just as you would DV footage. It's still digital video, despite the increased resolution.
But working with the higher resolution demands at least a 1GHz G4 processor. Editing and playback were a breeze on a dual-2.5GHz Power Mac G5 and only occasionally stuttered on a 1.25GHz PowerBook G4 (working with HD was difficult but not impossible on my old 400MHz Titanium PowerBook G4). HD also requires much more disk space; depending on your footage, you should budget at least four times the amount of storage you'd need for a DV project. (The good news here is that iMovie HD doesn't limit incoming clips to 2GB in size.)
Improvements and Lingering Problems
For the rest of us DV-editing mortals, iMovie HD represents a significant leap toward, well, stability. iMovie 4 ( ; May 2004 ), seemed to have more pep and felt smoother on my 1.25GHz PowerBook G4 than iMovie 3—but "more pep" really meant that it didn't stutter or crash nearly as much as before. With iMovie HD, Apple's engineers have ironed out many of the performance issues that plagued the previous two releases.
Aside from HD capability, iMovie HD's feature set is mostly the same as version 4's, with a few exceptions. Chief among them is the ability to rearrange clips by dragging them around in the Timeline Viewer, not just the Clip Viewer. iMovie HD also boasts unlimited undos; and a Magic iMovie feature automatically imports footage from your camcorder, adds transitions and music, and optionally sends the movie off to iDVD for burning.
iMovie HD isn't perfect, of course. The Ken Burns Effect, while not as flaky as before, is still rudimentary and could benefit from more control (such as timing the movements at the start and end of a clip). I also encountered a few random buzzing and popping noises around a few transitions, an issue I've seen reported online by other users. That doesn't seem to have been fixed with the release of iMovie 5.0.1
Macworld's Buying Advice
Unless you're running an older Mac, iMovie HD's performance improvements alone make iLife '05 worth its price. If you're on the cutting edge of HD and have the gear, the program provides a good first step into that world. Although a few outstanding audio and compatibility issues remain, and although I'd like to see Ken Burns (the effect, not the filmmaker) get a makeover, this is the version that loyal iMovie users have been waiting for.
The new Magic iMovie feature does most of the work for you. You give your movie a title, choose a type of transition, and pick some music, and iMovie HD rewinds the tape in your camcorder, imports the footage, applies transitions, and includes a soundtrack.
An HD Primer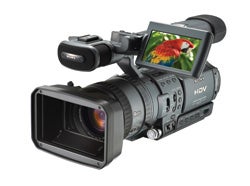 iMovie HD actually supports a comparatively low-end variety of high-definition video called HDV, which is high-definition footage with MPEG-2 compression applied to it. HDV comes in two varieties, both of which iMovie HD supports: 1080i provides 1,920-by-1,080-pixel interlaced resolution, while 720p offers 1,280-by-720-pixel progressive-scan resolution. (The Sony Handycam HDR-FX1 camcorder on the right is a 1080i model.) Although it's highly compressed, HDV currently offers more than enough image detail and sharpness for most nonprofessional editors.