At a Glance
Expert's Rating
Pros
Easy to use
Protects physical access to your Mac
Cons
Can be confusing on Macs with multiple user accounts
Not infallible
Works only with OS X 10.3 or later
Our Verdict
You have a key to your house—so why not a key to your Mac? That's the idea behind Griffin Technologies' $130 SecuriKey Professional Edition. It combines a software password with a USB key—or token —that hangs on your key ring.
When you start up your Mac after installing the SecuriKey software, you must enter your password and insert the key. Without the key, no one can access your files, even with the correct password.
Locking Up Shop The SecuriKey is easy to use once it's configured correctly. It works only with OS X 10.3 and later. Just insert the key into an available USB port, and then enter your password when prompted. Whenever you need to leave your Mac unattended, just remove the key, and your Mac switches automatically to the login window.
Setup, however, can be confusing if there are multiple user accounts. I found that I could no longer access any accounts on my Mac other than the one I had set to work with the SecuriKey. (The manual neglects to mention that you can configure these via a SecuriKey preference pane.) Also, any accounts that have blank passwords become inaccessible after installing the SecuriKey software.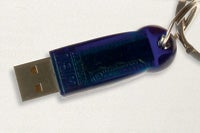 Hello, Locksmith? If you're the forgetful type, be aware that if you lose the key (and your backup), you're out of luck. You can get a replacement from Griffin Technologies for a fee, but you'll have to wait until it arrives in the mail.
Security's Limits The SecuriKey provides excellent physical access protection for a Mac in a public location and an extra level of protection for laptops. But it's not infallible. Unless you also encrypt your data with OS X's FileVault or another encryption program, thieves could access your files if they remove your Mac's hard disk. It's much like if people break into your house: they can easily rifle through all your important papers—unless they're tucked in a safe.
Macworld's Buying Advice
The SecuriKey adds another layer of protection that's particularly useful for publicly accessible Macs or for people who take their PowerBooks or iBooks on the road.
Even if someone finds out your password, he or she won't be able to access your files if you use the SecuriKey. But if you need mission-critical security for a group of Macs, look into server-based security systems, such as CryptoCard.