Each day we receive cool iPod gadgets to evaluate, but a while back I received one of the more interesting products I've seen: a T-shirt with a zippered pocket on the front designed to hold portable devices such as cell phones, PDAs, or music players. I thought it was an interesting idea, but the thought of an iPod (or even an iPod mini) tugging down at the front of my shirt put me off a bit. I set the shirt aside, meaning to eventually give it a thorough evaluation, and promptly forgot about it.
Then one day in early January I was wearing my new iPod shuffle at the gym, facing a bit of a dilemma: I had no pockets, so I was forced to wear the shuffle on its lanyard. I didn't want to hang it outside of my shirt, both because the precious dangling object might get caught on something metal and heavy, and because the shuffle was new enough that people would probably think I was trying to look trendy-cool. At the same time, I didn't want to put the shuffle inside my shirt because, well, I was at the gym. People—including me—tend to sweat at the gym.
What to do?
I found myself wishing I had one of those circa-1990 Gap "pocket T" shirts—the ones with the pocket on the chest. Then I remembered the T-shirt. The one with the zipper in the middle.
When I got back to the office, I dug out the Koyono BlackCoat T. It looked like any other black T-shirt except for the 5" red zipper down the middle of the chest. It fit just like a standard T-shirt except that the cotton was clearly of a better grade than most of the T-shirts in my closet. But that zipper was the key—unzip it and you've got a storage area for, and quick access to, your smaller gear.
Looks Can Be Deceiving
Contrary to my assumption, the BlackCoat T doesn't feature a simple pocket in the middle of your chest. Stick your hand inside and you discover a pocket system that stretches across the front of the shirt and down each side. You can place small items—like an iPod shuffle, for example—in the middle, just behind the zipper, but the actual "pockets" are located on the sides of the shirt just below chest level. These pockets are much preferred for most gear; instead of a bulging bump of gadget in the middle of your chest, you get a more subtle lump on your side—easier to hide under a shirt or coat, and much more comfortable.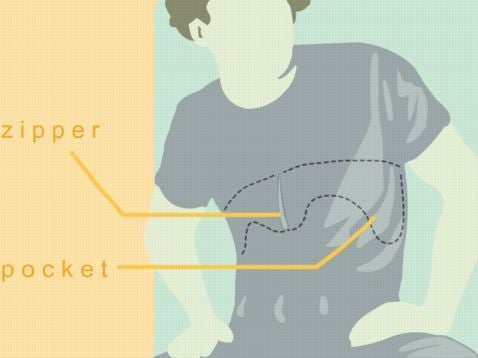 This pocket system makes the BlackCoat T a perfect way to carry your iPod shuffle—just stick it in one of the side pockets and then run your headphone cable out the zipper. The shuffle is so thin and light that during my testing I often forgot I had the shuffle with me. It was only after looking down to see my headphone cable oddly emerging from my chest area that I remembered I had an iPod in there.
But this design also makes the BlackCoat T the ultimate shirt for exercising with your iPod shuffle. The location of the main pockets—on the sides of your body, just forward of where your arms and torso brush against one another—places your iPod shuffle in the ideal location for working out: No matter what exercise you're doing, on which machines, the shuffle remains elusive to bumps and crushing. On your stomach? The iPod's off to the side. On your back? Ditto. Doing curls with your arms at your sides? It's just forward enough not to get in the way. And your shuffle's not going to fall out or dangle loosely when you're bending over. I plan on buying a few BlackCoat T's just for working out—they're that great.
(It appears that I'm not the only one enamored of the BlackCoat T for exercising. During my testing at the gym, I was using a black version with a red zipper—which made it obvious that I had some sort of pocket there—and several people approached me to ask me where to get one. On the other hand, the design creates new opportunities for disaster—more than once I almost threw my iPod shuffle in the washing machine.)
On Beyond Shuffle
Of course, the BlackCoat T isn't just for iPod shuffles. The company promotes their unique apparel for carrying many other items, including full-size iPods, mobile phones, and small items like cash/cards/ID. Although I found a full-size iPod to be a bit too heavy, an iPod mini wasn't too bad when the shirt was worn under a jacket. I imagine the white version of the shirt would be useful for storing small items under a dress shirt or suit jacket. (The pocket's central zipper is easily accessible when wearing a button-down shirt.)
The BlackCoat T is available in black with a black zipper, black with a red zipper, white with a white zipper, and white with a red zipper. The only thing keeping me from replacing all my T-shirts with BlackCoat T's is the price: Solid colors are $29 each, with red zipper models going for $34. But the functionality of the Koyono product, along with the high-quality, combed cotton material, makes it worth the price premium over a regular T-shirt—at least for a couple shirts. And for a better deal, you can buy a pack of five for $99.
(A note about sizing: In my testing, the BlackCoat T runs a bit small for a given size. This isn't necessarily a bad thing—if you're storing gadgets inside, a smaller shirt will help prevent bulky bumps and bunching. But if you're used to a size large meaning "swim around inside," you'll probably want to order an XL.)
If you're a fan of long-sleeve shirts, the BlackCoat T LS (for "long sleeve") is also available for $32 each or five for $110. The company also makes a number of pocket-ful jackets and vests.
The Lowdown
I never thought I'd get excited about a T-shirt, but after a couple afternoons at the gym with the BlackCoat T, I was convinced. Oddly enough, that experience convinced me to wear the T under "normal" clothes for an evening, where I became even more of a fan. If the functionality I've described here sounds like it would be useful to you, the BlackCoat T is highly recommended.