Apple on Wednesday refreshed its line of iPod mini and iPod photo digital music players, offering new 6GB iPod minis and a new 30GB iPod photo. The company also reordered prices. What makes this particularly interesting is that Apple now has iPod products spanning the price range from US$99 to $349, in $50 increments.
The iPod shuffle is available in 512MB and 1GB models for $99 and $149 respectively. With Wednesday's iPod mini announcements, you can now buy a 4GB or 6GB iPod mini for $199 or $249 respectively. Pay another $50, and you can get Apple's only remaining black and white full-sized iPod—a 20GB model priced at $299. And for just $50 more, you can say hello to a color screen and 50 percent more capacity with the 30GB iPod photo. The 60GB iPod is the only model now in the iPod line that blows the curve—it's $100 more than the next step down, at $449. Still, it's a lot more affordable than it was before this announcement—Apple cut the price of the high-end iPod photo by $150.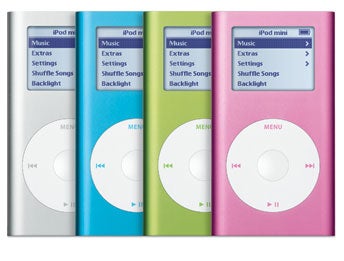 Gold is gone: The new iPod mini family.
FireWire extinguished
To make this price adjustment, Apple has also adjusted some of the features of the iPod line. Neither the iPod mini nor the iPod photo ship with FireWire cables. Instead, you have to pay Apple $19 for the privilege.
FireWire is still standard issue on the 20GB iPod and iPod U2 Special Edition, but it's an optional accessory everywhere else. Except on the iPod shuffle, that is—that tiny player integrates a USB connector.
Apple's decision to give FireWire short shrift might stick in the craws of users of older Macs that lack USB 2.0, but the high-speed USB interface is now standard issue across Apple's Macintosh product line. And it certainly has more traction in the Windows world than FireWire.
Also gone from the iPod photo is the standard Dock. That amenity likewise went from standard equipment to a $39 option on the black and white iPod in a price alignment some time ago.
Will black and white fade away?
The 40GB drive hasn't been dropped just from the iPod photo line—Apple has also cut the 40GB model from the black and white iPod line. The $299 20GB 4G and iPod Special Edition: U2 model remain your only choices if you want a full-sized iPod without photo capabilities.
It's certainly too soon to declare the iPod black and white model dead. The presence of a $299 20GB model in Apple's iPod product matrix makes for some nice symmetry, and the black and white model is likely to appeal to consumers who want the added storage capacity but don't really get into digital photography.
Still, the writing is on the wall. It's only a matter of time before manufacturing and materials costs are low enough on the iPod photo that it becomes the standard full-sized iPod and the iPod mini adopts a color screen. And then, just like with television, black and white iPod screens will become a fading memory.