Are you constantly tethered to the headphone jack of your Mac or iPod—even when you're home alone? The problem may be that you don't have the right speakers. Whether you're lounging around the house or relaxing on a tropical beach, we'll help you cut the cord and find a set of speakers that can do justice to your favorite tunes.
2.1 Speaker Systems
If you have desk space to spare, you'll get the best sound from a 2.1 speaker system, which includes a subwoofer and two satellite speakers. These systems take up more room than all-in-one designs and are much less portable, but they also give you the full audio range of your music. Just plug them into your computer (or your iPod) and an AC jack, and then sit back and enjoy.
Budget Buy: X-230
Price: $50 (see Best Current Price ) Contact: Logitech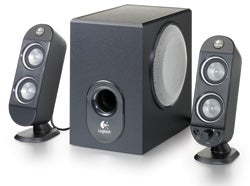 Why We Like It: For $50, you used to get tiny beige battery-powered speakers that sounded about as good as a couple of tin cans. Today, for the same price, you can get the attractive X-230, which includes a 20-watt powered subwoofer. It can't deliver the deep bass and the overall sound quality we found in some of the more expensive setups, but with this price, we can't complain.
Stylish Sound: Creature II
Price: $100 (see Best Current Price ) Contact: JBL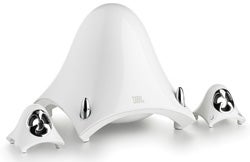 Why We Like It: Although its subwoofer and tiny satellites look more like ghouls than gear, the Creature II is oddly stylish: its glossy white and chrome tones match many Apple products. But even more impressive is the sound quality—people are frequently shocked by the audio this relatively small system produces. Treble and bass controls on the subwoofer let you fine-tune the sound, and nifty touch-sensitive buttons on the right satellite let you adjust the volume.
Block-Rockin' Beats: ProMedia GMX A-2.1
Price: $150 (see Best Current Price ) Contact: Klipsch Audio Technologies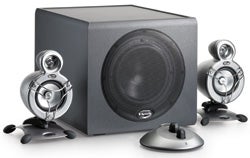 Why We Like It: If bass is your thing, you'll be hard-pressed to find a system that puts out more boom than these Klipsch speakers—especially at this price. The ProMedia GMX A-2.1's 75-watt built-in amplifier and sizable subwoofer produce some serious beats. The futuristic satellites look and sound good, and they sit on adjustable stands for optimal positioning. A handy desktop controller lets you adjust volume and bass levels, and it offers connections for two different audio sources—so you can attach your computer and an iPod.
Big Sound, Small Package: MegaWorks 210D
Price: $250 (see Best Current Price ) Contact: Cambridge SoundWorks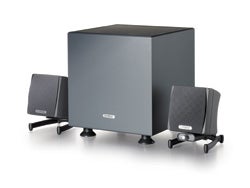 Why We Like It: With a 150-watt subwoofer, the MegaWorks 210D is one of the few systems with a stronger bass kick than the ProMedia GMX A-2.1. But it takes up less space. Its diminutive subwoofer provides an additional 130 watts to the satellites and includes separate bass and treble controls. By the way, the D stands for "digital"—so if you have a sound card with coaxial-digital output (as opposed to the optical-digital output offered by G5s), you can attach it directly to the MegaWorks 210D's digital input for superior sound.
Splurgeworthy: FX6021
Price: $300 (see Best Current Price ) Contact: Altec Lansing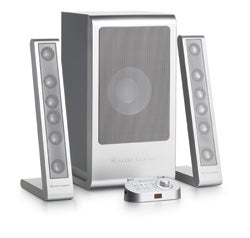 Why We Like It: The FX6021 is one of the best speaker systems we've heard, and its G5-inspired design is very easy on the eyes. The multifunction controller lets you adjust volume, bass, and treble—as well as connect headphones and a second audio input without having to fiddle behind the subwoofer. You even get a wireless remote that provides the same options as the controller unit. The thin, six-driver satellites sit on weighted bases or mount flat on a wall.
Compact and Portable Speakers
If you want to take your tunes with you—or if you want a system that doesn't clutter your room with cables—a traditional speaker system just won't do. Here are six self-contained speakers that are small enough to fit on a dresser or a counter—or to slip into a suitcase for a long trip. These systems don't provide the same sound quality as comparably priced 2.1 systems, but they make up for this in convenience.
Budget Buy: TravelSound 200
Price $50 Contact: Creative Technology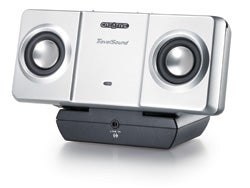 Why We Like It: It's tough to find good inexpensive portable speakers, so the TravelSound 200 impressed us. You won't get a lot of bass or volume, but you will get good stereo sound in a compact—if some-what chunky—package. The system connects to any iPod or laptop.
Battery Life: up to 25 hours on four AA batteries Weight: 10 ounces
Compact Companions: inMotion iM3 and inMotion iMmini
Price: iMmini, $130; iM3, $180 Contact: Altec Lansing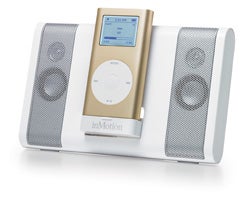 Why We Like It: The iM3 and iMmini (pictured here) both provide good sound in a package that folds up to about the size of a paperback book. The iMmini's dock base accommodates only the iPod mini, while the iM3 can hold most dockable iPods. (The company should have an adapter for the iPod photo by the time you read this.) You can connect nondocking iPods or other audio sources to either model using a standard audio minijack cable. Both models will charge a docked iPod when connected to AC power and can sync a docked iPod with your Mac via Apple's dock cable. The iM3 also includes a nifty remote that lets you control playback from across the room.
Battery Life: up to 20 hours on four AA batteries Weight: iMmini, 15 ounces; iM3, 1 pound, 2 ounces
Stylish Setting: On Stage
Price: $200 Contact: JBL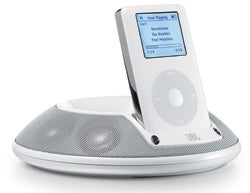 Why We Like It: The On Stage places four speakers in a cool, doughnut-shaped design. You won't get a lot of bass, but the sound is otherwise impressive—especially the treble detail. The On Stage fits all dockable iPods except the iPod photo and can even serve as a replacement dock. (You can connect older iPods, the iPod photo, and other audio sources via a standard 1/8 audio cable.) We just wish it had a remote.
Battery Life: AC only Weight: 1 pound
Splurgeworthy: SoundDock
Price: $299 Contact: Bose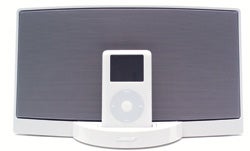 Why We Like It: Bose's SoundDock won't easily fit into your suitcase, but it will give you quick access to your music from any room in the house. Thanks to its larger speaker drivers and AC-only power, the SoundDock produces more bass and louder output than more-compact models. (It's compatible only with dockable iPod models.) It also comes with a well-designed wireless remote.
Battery Life: AC only Weight: 4 pounds, 10 ounces
Radio Lover: iPAL
Price: $130 Contact: Tivoli Audio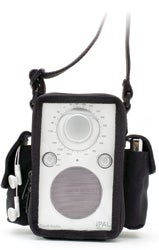 Why We Like It: The iPAL's weather-resistant enclosure is perfect for listening to an iPod or laptop at the beach or in the backyard. And in case you get tired of listening to MP3s, the iPAL has one of the best AM/FM radios on the market. Despite its single speaker, we actually preferred the iPAL's full-bodied sound to that of many other portable speakers we auditioned. An optional $30 carrying case makes it easy to tote your iPAL along with an iPod, earbuds, and cables.
Battery Life: up to 20 hours on an internal rechargeable battery Weight: 2 pounds
Surround-Sound Systems
If your computer doubles as the center of a home theater setup—or if you want to play games that offer full surround-sound effects—you may want to consider a multichannel system. These systems use five satellite speakers (for front, center, and rear audio) along with a subwoofer. The result is a blissful envelope of directional audio.
To use these systems, you need a Mac that provides multichannel audio output—via an optical- or coaxial-digital jack. All G5s offer optical-digital output. You can add multichannel output to a Power Mac G4 by installing a third-party PCI sound card, such as the $100 M-Audio Revolution 5.1 ( ; The Game Room, January 2005 ). Here are a couple of our favorites.
Budget Buy: ProMedia GMX D-5.1
Price: $150 Contact: Klipsch Audio Technologies
Why We Like It: The GMX D-5.1 offers the same futuristic satellites and great bass as the GMX A-2.1, but adds a 100-watt amplifier, center- and rear-channel speakers, and support for Dolby Digital and Dolby Pro Logic II. It produces five-channel stereo via coaxial- and optical-digital inputs.
Home-Theater Replacement: Z-5500 Digital
Price: $400 Contact: Logitech
Why We Like It: The Z-5500 Digital is a monster system, with 500 watts of THX-certified power and a room-shaking subwoofer. Its support for DTS, Dolby Digital, and Dolby Pro Logic makes it perfect for home-theater use. And its multiple digital and analog inputs, wireless remote, and impressive sound quality make it a legitimate choice for a main stereo system.
[ Senior Writer Dan Frakes is the reviews editor at Playlistmag.com and the author of Mac OS X Power Tools , second edition (Sybex, 2004). ]