Not terribly long ago, making an iPod buying decision boiled down to exactly one factor: Whether you had the money to pay for it. Now that Apple offers four versions of its diminutive music player—iPod shuffle, iPod mini, fourth-generation iPod (including the iPod Special Edition: U2 and the HP-branded models), and the iPod photo—at prices ranging from $99 to $450, there's far more to consider than budget.
Will you be better served by a maxi rather than mini iPod? Is there an advantage to owning Apple's iPod rather than one branded with the HP logo? We've had our hands on every iPod made and are in a unique position to offer advice about which iPod might be the best fit for you.
iPod shuffle
Capacity and price: 512MB, approximately 120 songs ($99); 1GB, approximately 240 songs ($149)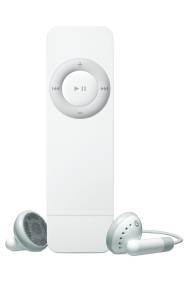 Apple's least expensive iPod offers a host of advantages: It's inexpensive enough to be an impulse buy, sounds as good as any other iPod, never skips (because music is stored on a chip rather than a moving hard drive), is highly portable, and holds more than enough music to get you through a long drive or a short marathon.
It doesn't, however, include a screen for navigating to specific songs. And its capacity is limited enough that only those with very small music collections will be able to store their entire music library on the shuffle.
Ideal usage and user: The shuffle's non-skip nature and small size make it the perfect companion while exercising. And it's cheap enough that it can easily become your second, "just kickin' around" iPod. It's also a good choice for kids who tend to misplace their valuables. (Losing a $99 shuffle is a lot easier to take than misplacing a $450 iPod photo.)
iPod mini (Second Generation)
Capacity and price: 4GB, approximately 1,000 songs ($199), 6GB, approximately 1,500 songs ($249)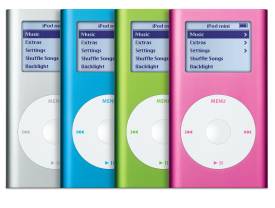 When first released, the iPod mini was positioned as a competitor to other manufacturers' high-end flash-memory based music players. It didn't take long before people forgot all about how the iPod mini fared against the competition and simply thought of it as a great way to shove a thousand tunes into the coolest looking music player on the market.
The iPod mini has nearly the same functionality as its larger sibling, the fourth-generation iPod. Its screen is smaller and so doesn't display as much information as the larger iPods (the mini's Now Playing screen, for example, doesn't display the title of the currently playing album). Additionally, voice recording and media storage via third-party peripherals isn't supported on these iPods.
When you consider price per megabyte of storage, the mini isn't as good a deal as the fourth-generation iPod. Cost per megabyte for the $199 4GB iPod mini is around $.05 per megabyte. And a megabyte on a $249 6GB mini costs about $.044 cents. Compare this to the $.016 per megabyte price of a $299 20GB fourth-generation iPod, and you see that those desiring the greatest bang for their buck may pass on the mini's cool exterior and handy size in favor of the higher-capacity fourth-generation iPod.
Those who intend to put a lot of hours on their iPod will find the mini's play time capabilities very attractive. Though Apple suggests that the second-generation mini can play for up to 18 hours, we've been able to play non-stop music on a 6GB mini for over 26 hours on a single charge. The best we've done with a fourth-generation iPod is the 12 hours of play time Apple suggests is possible.
Ideal usage and user: The mini, with its vibrant green, blue, pink, or silver case is Apple's most fashionable iPod. Those with a sense of style who also want to store a goodly number of songs on a small portable music player will find the mini hard to resist.
Fourth-generation iPod
Capacity and price: 20GB, approximately 5,000 songs ($299); iPod Special Edition: U2, 20GB, approximately 5,000 songs ($349); iPod+HP 20GB, approximately 5,000 songs ($300); iPod+HP 40GB, approximately 10,000 songs ($400)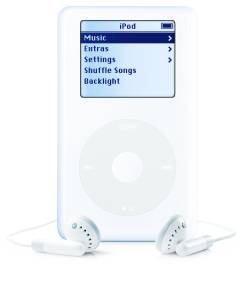 Although Apple currently sells only one official fourth-generation iPod, there are actually four different models available—two sold by Apple and two offered by HP. Apple's white 20GB model is the only one termed simply "iPod" at the Apple Store. The other Apple fourth-generation iPod is the iPod Special Edition: U2—an iPod with the exact same capabilities and capacity as the standard 20GB white iPod, but offered in a black and red color scheme with the members of the band U2's signatures etched on the back.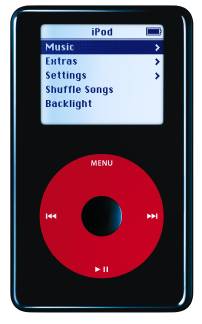 HP sells two fourth-generation iPods—one in a 20GB capacity and another that includes a 40GB hard drive (Apple has discontinued its 40GB fourth-generation iPod). Like the iPod Special Edition: U2, these iPods perform the same tricks as Apple's 20GB iPod. Other than the fact that you can still get the higher-capacity iPod from HP, the only major difference between its iPods versus Apple's is warranty support.
Apple provides a one-year warranty but only 90 days of free phone support; those terms are further restricted in that all repairs after the first six months require a $30 shipping and handling fee, and the free phone support applies to only a single incident within the first 90 days after purchase. HP, on the other hand, provides a full year of both hardware warranty and phone support, with toll-free technical support available 24 hours a day, 7 days a week. HP also provides out-of-warranty support via email. Note that HP will provide support only for iPods formatted for Windows.
These fourth-generation iPods have all music and storage features switched on—unlike with the mini and shuffle, you can record voice memos on a fourth-generation iPod with a third-party voice recorder such as Griffin Technology's $40 iTalk and Belkin's $35 Voice Recorder for iPod w/ Dock Connector as well as store digital pictures on it (though not view them) with devices such as Belkin's $60 Media Reader for iPod w/ Dock Connector and $50 Digital Camera Link for iPod w/ Dock Connector. At 12 hours of play time, this iPod should get you through a long travel day without running out of juice and its capacity is great enough to hold a good-sized music collection and leave room left over for lots of data. Unlike the iPod mini, the fourth-generation iPods include a FireWire to Dock Connector cable and power adapter.
Ideal usage and user: If you want a "real" iPod—one that holds a lot of music and supports oodles of accessories—but don't need photo-viewing capabilities, this is it. Windows users looking for better support and greater capacity than offered by Apple's 20GB iPod may wish to look at HP's 40GB offering. And if you're nuts about U2 (or at least nuts enough to drop an extra $50 on a black and red iPod emblazoned with the band's name), show your devotion by purchasing the iPod Special Edition: U2.
iPod photo
Capacity and price: 30GB, approximately 7,500 songs ($349); 60GB, approximately 15,000 songs ($449)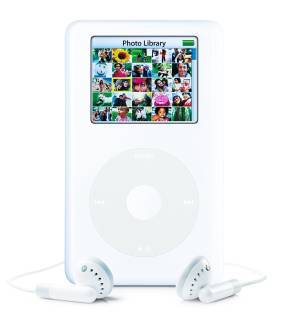 The iPod photo, with its colorful interface and ability to display pictures and project slideshows to attached televisions and projectors, may be the future of all iPods. For the time being, however, it's the top-of-the line iPod, distinguished by the highest prices of any iPods and the greatest storage capacity.
As its name implies, other than price and expansiveness of the hard drive, the only current difference between the iPod photo and the fourth-generation iPod is its color interface and picture-projecting capabilities. However, when Apple releases its $30 iPod Camera Connector accessory, you'll be able to not only load pictures from a digital camera onto this iPod, but display them as well without having to first process them in iTunes. (If you lack such an accessory, you must first load your pictures onto your Mac or PC, where iTunes processes them for iPod-compatibility, and then sync the computer with the iPod to download the pictures to the iPod.) The fourth-generation iPod only stores pictures. (Note that the Apple iPod photo AV Cable—a cable bundled with the first generation of iPod photos that allows you to connect the iPod to a television or projector—is now a $19 accessory.)
Those without a need for this iPod's photo features shouldn't dismiss it too quickly. Even though its "photo" appendage boasts of its most glamorous feature, everything about the iPod's interface is improved by color. Calendar events are far easier to discern in color, Solitaire is finally playable (because, in color, you can more easily tell one suit from another), and color album art is just cool no matter how you cut it.
In addition to offering more storage than a fourth-generation iPod, the iPod photo can play longer on a single battery charge than its sibling. Apple rates the iPod photo at 15 hours of continuous play, but if you press Play and leave the iPod alone, it can play continuously for a little over 17 hours.
Ideal usage and user: If you're looking for the ultimate in an iPod—a color display, the ability to view and project pictures, decent play time, and enough storage for a very large music library—you and the iPod photo were meant for each other.