Are you constantly tethered to the headphone jack of your Mac or iPod—even when you're home alone? The problem may be that you don't have the right speakers. Whether you're lounging around the house or relaxing on a tropical beach, we'll help you cut the cord and find a set of speakers that can do justice to your favorite tunes.
2.1 Speaker Systems
If you have desk space to spare, you'll get the best sound from a 2.1 speaker system, which includes a subwoofer and two satellite speakers. These systems take up more room than all-in-one designs and are much less portable, but they also give you the full audio range of your music. Just plug them into your computer (or your iPod) and an AC jack, and then sit back and enjoy.
Budget Buy: X-230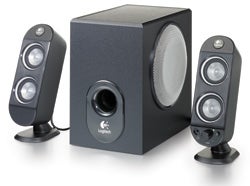 Why We Like It: For $50, you used to get tiny beige battery-powered speakers that sounded about as good as a couple of tin cans. Today, for the same price, you can get the attractive X-230, which includes a 20-watt powered subwoofer. It can't deliver the deep bass and the overall sound quality we found in some of the more expensive setups, but with this price, we can't complain.
Stylish Sound: Creature II
Why We Like It: Although its subwoofer and tiny satellites look more like ghouls than gear, the Creature II is oddly stylish: its glossy white and chrome tones match many Apple products. But even more impressive is the sound quality—people are frequently shocked by the audio this relatively small system produces. Treble and bass controls on the subwoofer let you fine-tune the sound, and nifty touch-sensitive buttons on the right satellite let you adjust the volume.
Block-Rockin' Beats: ProMedia GMX A-2.1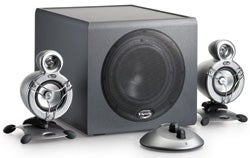 Why We Like It: If bass is your thing, you'll be hard-pressed to find a system that puts out more boom than these Klipsch speakers—especially at this price. The ProMedia GMX A-2.1's 75-watt built-in amplifier and sizable subwoofer produce some serious beats. The futuristic satellites look and sound good, and they sit on adjustable stands for optimal positioning. A handy desktop controller lets you adjust volume and bass levels, and it offers connections for two different audio sources—so you can attach your computer and an iPod.
Big Sound, Small Package: MegaWorks 210D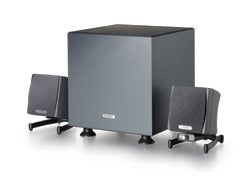 Why We Like It: With a 150-watt subwoofer, the MegaWorks 210D is one of the few systems with a stronger bass kick than the ProMedia GMX A-2.1. But it takes up less space. Its diminutive subwoofer provides an additional 130 watts to the satellites and includes separate bass and treble controls. By the way, the D stands for "digital"—so if you have a sound card with coaxial-digital output (as opposed to the optical-digital output offered by G5s), you can attach it directly to the MegaWorks 210D's digital input for superior sound.
Splurgeworthy: FX6021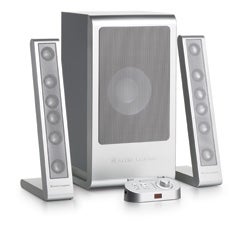 Why We Like It: The FX6021 is one of the best speaker systems we've heard, and its G5-inspired design is very easy on the eyes. The multifunction controller lets you adjust volume, bass, and treble—as well as connect headphones and a second audio input without having to fiddle behind the subwoofer. You even get a wireless remote that provides the same options as the controller unit. The thin, six-driver satellites sit on weighted bases or mount flat on a wall.
Note: When you purchase something after clicking links in our articles, we may earn a small commission. Read our affiliate link policy for more details.