I had a marginally clever idea last week: a project to do everything possible to upgrade a poor little Mac mini. Max RAM! Max hard drive! Max, um, whatever else I could think of!
Unfortunately, there just aren't that many things to max out on a Mac mini without the use of a soldering iron and (most likely) bitter tears and recriminations.
However, I did set myself two tasks: to upgrade its RAM using one of those shiny new 2GB memory modules that I've heard so much about, and to replace its hard drive with a 100GB model.
The Bad News. My shiny new 2GB memory module failed miserably. The Mac mini spat it out with the same annoying monotone beep usually reserved for attempts to boot it without any RAM installed. So much for that idea.
The Good News. My attempts to install a new hard drive met with much better luck. I bought a Seagate Momentus 2.5-inch 100GB drive, pried open my Mac mini's case, and set to work. The initial disassembly I've done a half-dozen times before — if you look closely at the latest issue of Macworld magazine you'll see my hand holding a putty knife at a jaunty angle — but this time was different. This time, I also removed the screws holding the mini's fan into place.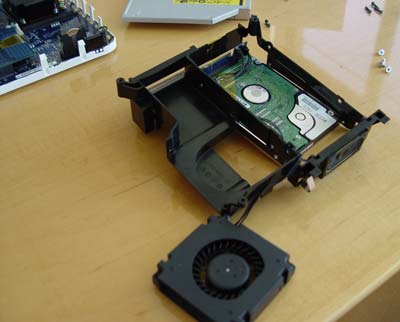 The black plastic chassis with fan unscrewed.
Once it popped out, I was able to unscrew the stock hard drive from the black plastic chassis and gently pull it away from the interconnect board that connects the Mac mini's hard drive, optical drive, fan, and speaker to the Mac mini's motherboard.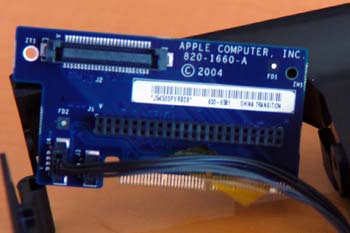 The naked interconnect board.
Connecting the new drive was a snap — but I blew it the first time. I hadn't pushed the hard drive snugly against the interconnect board, and when I reassembled the mini, the hard drive was dead. A quick disassembly and a forceful (but gentle) push later, the drive was firmly attached to the interconnect board.
Reassembly was a breeze. The fan easily returns to its place with the turn of a few screws, and the hardest thing about reattaching the black chassis is that you've got to properly thread the AirPort antenna through the notch in the board, while keeping the Bluetooth antenna out of that notch.
Once I had popped the Mac mini's top back on, it was time to boot off of a system disc, format my virgin 100GB hard drive, and install Mac OS X. Okay, so this mini doesn't have 2GB of RAM — but it has a 100GB hard drive, and that's still pretty darned cool.
Now if anyone will ever make a laptop-sized slot-loading dual-layer DVD burner, I can really max this sucker out. ( Update: Reader Michael assures me that such products already exist. I sense another purchase coming on…)