Are you constantly tethered to the headphone jack of your computer or iPod—even when you're home alone? You clearly need a good set of speakers. Whether you're lounging around the house or relaxing at the beach, we'll help you cut the headphone cord and find a set that can do your tunes justice. We've provided recommended systems at a number of different price points, so you're sure to find something appropriate for your tastes and budget. (You can find longer reviews of many of these systems in our Product Guide.)
Home/Full-Size Speaker Systems
If you have desk space to spare, you'll get the best sound from a 2.1 speaker system, which includes a subwoofer and two satellite speakers. These systems take up more room than all-in-one designs, and are much less portable, but they also give you the full audio range of your music. Just plug them into your computer or iPod, and an AC jack, and then sit back and enjoy.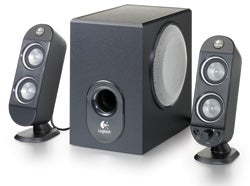 Budget Buy: Logitech X-230 ($50). For $50, you used to get tiny beige battery-powered speakers that sounded about as good as a couple of tin cans. Today, for the same price, you can get the attractive X-230, which includes a 20-watt powered subwoofer. It can't deliver the deep bass and the overall sound quality we found in some of the more expensive setups, but with this price, we can't complain.
A Step Up: Logitech Z-3i ($80). For a few bucks more than the X-230, Logitech offers the Z-3i, which not only sounds better but also adds Apple-like styling: white sides with brushed aluminum fronts and cast metal stands. The svelte sub provides impressive bass for its size, and the handy controller—also white and silver—puts a volume knob and headphone jack in easy reach.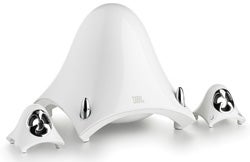 Ghoulishly Good: JBL Creature II ($100). The first thing you'll notice about the Creature II is its iPod-matching white and chrome surfaces. But you'll soon forget the speakers' skin tones as you become captivated by their shape: The appropriately named Creature II system is oddly stylish, with a subwoofer and tiny satellites that look more like ghouls than gear. Even more impressive is the sound quality—people are frequently shocked by the audio put out by this relatively small system. Treble and bass controls let you fine-tune the sound, and nifty touch-sensitive buttons on the right satellite let you adjust the volume.
Stylish and Sub-less: Klipsch ProMedia Ultra 2.0 ($100). If you're cramped for space, or if you just want to easily move your audio system around the house, the ProMedia Ultra 2.0 are just the ticket—the "2.0" means no subwoofer, leaving you with just 10.5-inch-tall left and right speakers. This 30-Watt system's 1-inch tweeters and dual 2.5-inch drivers produce clear highs, solid midrange, and loads of volume, while still providing good bass despite the lack of a subwoofer. Dual inputs (one on the front of the right speaker and one on the back) let you connect the ProMedia Ultra 2.0 to both your computer and your iPod, and bass and volume controls on the right speaker let you adjust levels to your taste.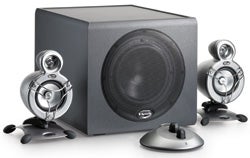 Block-Rockin' Beats: Klipsch Audio Technologies ProMedia GMX A-2.1 ($150). If bass is your thing, step up to the ProMedia Ultra 2.0's big brother, the GMX A-2.1—you'll be hard-pressed to find a system that puts out more boom for your room, especially at this price. The ProMedia GMX A-2.1's 75-watt built-in amplifier and sizable subwoofer produce some serious beats, while the futuristic satellites, which sit on adjustable stands for optimal positioning, both look and sound good. A convenient desktop controller lets you adjust volume and bass levels, and it offers connections for two different audio sources—so you can attach your computer and an iPod.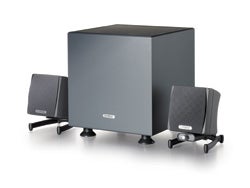 Big Sound, Small Package: Cambridge SoundWorks MegaWorks 210D ($250). With a 150-watt subwoofer, the MegaWorks 210D is one of the few systems with a stronger bass kick than the ProMedia GMX A-2.1, but it actually takes up less space. The diminutive (11″x10″x10″) subwoofer provides an additional 130 watts to the satellites and includes separate bass and treble controls. By the way, the D stands for "digital"—so if you have a sound card with coaxial-digital output, you can attach it directly to the MegaWorks 210D's digital input for superior sound.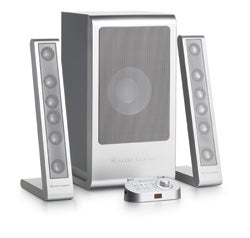 Splurgeworthy: Altec Lansing FX6021 ($300). The FX6021 is one of the best speaker systems we've heard, and its Power Mac G5-inspired design is easy on the eyes. The multifunction controller lets you adjust volume, bass, and treble—as well as connect headphones and a second audio input without having to fiddle behind the subwoofer. You even get a wireless remote that provides the same options as the controller unit. The thin, six-driver satellites sit on weighted bases or mount flat on a wall.
Portable and Compact Speakers
If you want to take your tunes with you—or if you want a system that doesn't clutter your room with cables—a traditional speaker system just won't do. Here are a few of our favorite speakers that are small enough to fit on a dresser, desk, or kitchen counter—or to slip into a suitcase for a long trip. These systems don't provide the same sound quality as comparably priced "full-size" systems, but they make up for this limitation in convenience.
Budget Buy: Pacific Rim Technologies Cube Travel Speakers ($35). It's tough to find quality, inexpensive portable speakers, but the Cube Travel Speakers are impressive for both their size and price. Don't expect a lot of bass or volume, but this chunky system provides good sound in a package small enough to fit in your laptop bag. The system connects to any iPod or laptop via a captive 1/8″ miniplug cable. Battery Life: over 12 hours on four AA batteries Weight: 8.5 ounces
2.1 To Go: Logic3 i-Station (~$100). If you've had your eye on the Altec Lansing inMotion iM3 (below), but wouldn't mind saving a few bucks, Logic3's i-Station provides a similar folding design with not-quite-as-good sound quality for about half the price. It also offers both FireWire and USB docking connectivity, a "3D" sound processor, some blue ambient lighting, and a "subwoofer" in the rear. (The sub really doesn't offer any additional bass over the inMotion models, but it's a clever construction that also acts as a stand.) Your iPod charges when the i-Station is powered by the included AC adapter. Battery Life: TBD, uses 4 AA batteries Weight: 1 pound, 2 ounces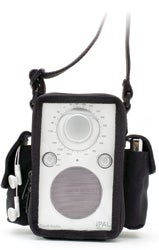 Radio Lover: Tivoli Audio iPAL ($130). The iPAL's weather-resistant enclosure is perfect for listening to an iPod or laptop at the beach or in the backyard. And in case you get tired of listening to MP3s, the iPAL has one of the best AM/FM radios on the market. Despite its single speaker, we actually prefer the iPAL's full-bodied sound to that of many other portable speakers we've auditioned. An optional $30 carrying case makes it easy to tote your iPAL along with an iPod, earbuds, and cables. Battery Life: up to 20 hours on an internal rechargeable battery Weight: 2 pounds
Boom Box Reborn: Digital Lifestyle Outfitters iBoom ($150). If you've got fond memories of your old cassette boombox, the iBoom is for you. Offering compatibility with all dockable iPods except the iPod photo, the iBoom is a durable solution for picnics at the park or playing by the pool. Although the sound isn't quite as refined as some of the other speakers here, the 20 Watts per channel pump out impressive portable volume, and the FM radio lets you take a break from your own tunes. An optional ($30) BoomBag carrying case provides padded protection, storage pockets, and a shoulder strap. Battery Life: TBD, uses 6 D batteries Weight: 5 pounds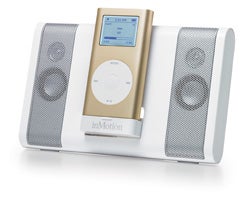 Compact Companions: Altec Lansing inMotion iM3 and inMotion iMmini (iM3, $180; iMmini, $130). The iM3 and iMmini (pictured here) both provide good sound in a package that folds up to about the size of a paperback book. The iMmini's dock base accommodates only the iPod mini, while the iM3 can hold most dockable iPods. (The company should have an adapter for the iPod photo by the time you read this.) You can connect non-dockable iPods or other audio sources to either model using a standard audio minijack cable. Both models will charge a docked iPod when connected to AC power and can sync a docked iPod with your computer via Apple's dock cable. The iM3 also includes a handy remote that lets you control playback from across the room. Battery Life: up to 20 hours on four AA batteries Weight: iMmini, 15 ounces; iM3, 1 pound, 2 ounces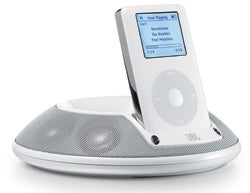 Circle of Sound: JBL On Stage ($160). The On Stage places four speakers in an attractive, doughnut-shaped design. You won't get a lot of bass, but the sound is otherwise impressive—especially the treble detail. The On Stage fits all dockable iPods except the iPod photo and can even serve as a syncing dock base. (You can connect older iPods, the iPod photo, and other audio sources via a standard 1/8″ audio cable.) We just wish it had a remote. Battery Life: AC only Weight: 1 pound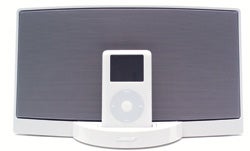 Small Wall of Sound: Bose SoundDock ($299). Bose's SoundDock won't easily fit into your suitcase, but it will give you quick access to your music from any room in the house. Thanks to its larger speaker drivers and AC-only power, the SoundDock produces more bass and louder output than more-compact models. It also comes with a well-designed wireless remote. Unfortunately, it's compatible only with dockable iPod models. Battery Life: AC only Weight: 4 pounds, 10 ounces
Audiophile Luggage: Cambridge SoundWorks Model Twelve ($400). If you insist on top-notch sound wherever you go, and you're willing to use the term "portable" loosely, the Cambridge SoundWorks Model Twelve provides a complete stereo system—integrated amplifier, stereo speakers, and subwoofer—in a "luggable" case. (The case, which is about the size of a small carry-on suitcase, also serves as the subwoofer.) The sound quality and volume level are head and shoulders above any of the other portable systems we've tested, and thanks to four inputs and a tape-out, the Model Twelve can even be used as a good home stereo. It can be powered off AC, DC, or optional battery pack, and the impressively sturdy case also has room for your iPod, battery, and cables. Alas, all this quality and flexibility comes at a hefty (no pun intended) price: The Model Twelve weighs about 30 pounds. Battery Life: 8 to 12 hours from optional ($50) 12V battery Weight: 26 pounds (not including battery)