The success of the iPod has created an entire industry: companies both large and small are producing an amazing array of add-ons for the portable music player. In fact, so many products have been released in the past few months that we can fill several pages with cool new iPod gear. So we asked Playlistmag.com's reviews editor, Dan Frakes, to showcase the latest iPod accessories. Plus, we brought in Playlistmag.com's editor in chief, Christopher Breen, for some tips on using the iPod shuffle and iTunes.
FM Transmitter
In-Ear Headphones

I've long been a fan of Shure's in-ear headphones, which include the $99 E2c, the $179 E3c, and the $499 E5c. Until recently, the best value in the line has been the E3c—but the E4c could change that. Thanks to its high-definition drivers and Tuned-Port technology, the E4c provides better treble detail and bass than the E3c, and it does so with only one driver per ear (so it costs less than the two-driver E5c). Clad in white, gray, and brushed metal, with white cables, the E4c was designed with iPod users in mind ($299).
Portable Speakers
Solar-Powered Charger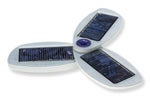 Thanks to Better Energy Systems, your iPod will keep on trucking as long as the sun shines. The company's Solio powers the iPod (and other electronic devices) with solar energy, and its foldout design turns its small size into a large reception area. You can either charge electronic devices directly—using available adapters for dockable iPods, PDAs, and mobile phones—or charge the Solio's internal battery for later use. (In case you need a charge at midnight, the Solio also includes an AC wall adapter.) The Solio will charge your iPod's battery at the same rate as Apple's AC adapter, or provide as much as 9 hours of additional iPod battery life with its 1,600mAh rechargeable lithium-ion battery ($120).
Case
Casauri's new Citra Collection iPod cases come in a number of colors and designs—Balmy Orange, Sky Blue, Sun Stripes, and more—that match Casauri's Citra Collection laptop cases and handbags. These cases have a clear, thin front that lets you see your iPod's full face and use your iPod without removing it ($20).
Headphone Amplifier
Note: When you purchase something after clicking links in our articles, we may earn a small commission. Read our affiliate link policy for more details.