The success of the iPod has created an entire industry: companies both large and small are producing an amazing array of add-ons for the portable music player. In fact, so many products have been released in the past few months that we can fill several pages with cool new iPod gear. So we asked Playlistmag.com's reviews editor, Dan Frakes, to showcase the latest iPod accessories. Plus, we brought in Playlistmag.com's editor in chief, Christopher Breen, for some tips on using the iPod shuffle and iTunes.
FM Transmitter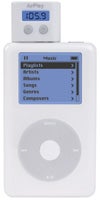 XtremeMac —one of the first companies to provide accessories for the iPod—has released another winner: the AirPlay, a tiny FM transmitter that plugs directly into the headphone and remote jacks of third- and fourth-generation iPods, the iPod mini, and iPod photos. The AirPlay lets you trans-mit your iPod's music to any FM radio frequency, particularly useful for listening to music in your car. Like Griffin Technology's comparable iTrip, the AirPlay runs off the iPod's battery. But unlike the iTrip, the AirPlay lets you choose from FM broadcast frequencies—88.1 to 107.9—with up and down buttons and an illuminated LCD built into the device. It's also the smallest FM transmitter I've seen ($40).
In-Ear Headphones

I've long been a fan of Shure's in-ear headphones, which include the $99 E2c, the $179 E3c, and the $499 E5c. Until recently, the best value in the line has been the E3c—but the E4c could change that. Thanks to its high-definition drivers and Tuned-Port technology, the E4c provides better treble detail and bass than the E3c, and it does so with only one driver per ear (so it costs less than the two-driver E5c). Clad in white, gray, and brushed metal, with white cables, the E4c was designed with iPod users in mind ($299).
Portable Speakers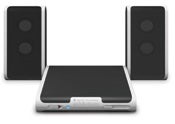 Like the rest of the popular inMotion family, Altec Lansing's inMotion iM4 is a folding portable speaker system. The iM4 uses the same speaker drivers and has the same battery life and overall shape as the iM3, but its design doesn't limit its use to dockable iPods—you can use the iM4 with any portable music player. Clad in dark gray and white, the iM4 features a foldout, nonskid base and can accommodate hard-drive-, flash-, and CD-based music players via a standard 1/8-inch mini-jack cable ($130).
Solar-Powered Charger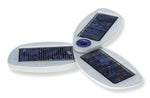 Thanks to Better Energy Systems, your iPod will keep on trucking as long as the sun shines. The company's Solio powers the iPod (and other electronic devices) with solar energy, and its foldout design turns its small size into a large reception area. You can either charge electronic devices directly—using available adapters for dockable iPods, PDAs, and mobile phones—or charge the Solio's internal battery for later use. (In case you need a charge at midnight, the Solio also includes an AC wall adapter.) The Solio will charge your iPod's battery at the same rate as Apple's AC adapter, or provide as much as 9 hours of additional iPod battery life with its 1,600mAh rechargeable lithium-ion battery ($120).
Case
Casauri's new Citra Collection iPod cases come in a number of colors and designs—Balmy Orange, Sky Blue, Sun Stripes, and more—that match Casauri's Citra Collection laptop cases and handbags. These cases have a clear, thin front that lets you see your iPod's full face and use your iPod without removing it ($20).
Headphone Amplifier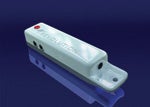 If you're a fan of the surround-sound button on your home stereo, Upbeat Audio's Boostaroo Revolution may be for you. It turns traditional two-channel audio into three-channel surround sound, and it has enough power to drive two sets of headphones—including high-impedance models that don't otherwise work with the iPod and other portable audio sources ($80).
Protective Covers
Power Support is one of Japan's largest vendors of iPod accessories, but it has only recently begun selling its products in the United States. The iPod-accessory market is much the better for it—Power Support makes some very cool products. The Crystal Film is among the most protective iPod screen covers I've seen, and it doesn't seem to be as susceptible to air bubbles as other screen protectors. And the 3D Wheel Film is a unique Click Wheel protector; it has a raised bubble that covers the center button (Crystal Film two-pack, $11; 3D Wheel Film two-pack, $12).
Car Adapter
Like all cassette adapters, Griffin Technology's SmartDeck lets you play your iPod through your car's cassette deck. What makes the SmartDeck supercool is that it lets you use the cassette deck's controls to operate your iPod. The SmartDeck actually plugs into the remote and headphone jacks on third-generation and later iPods; you can then use your car stereo's controls to play, pause, and skip forward and back ($25).
Controller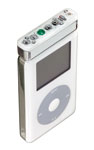 Previously known for its gaming peripherals, Nyko has recently introduced an entire line of iPod accessories. Perhaps the coolest is the iTop Button Relocator, which does something that no one seems to have considered before. Plugging the iTop into the remote and headphone jacks of a third-generation or later iPod (excluding the iPod shuffle) gives you volume and track controls (as well as a headphone jack and a hold switch) along the top of the iPod, so you can control it when it's in a case, a pocket, or a bag— without Apple's messy corded remote ($30).
Remote Control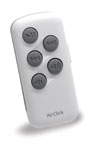 Griffin Technology's AirClick remote-control systems include a simple five-button remote that provides play, pause, forward, back, and volume controls. The iPod and iPod mini versions include a receiver shaped much like the company's iTrip FM transmitters; it lets you control your iPod's playback—through your stereo or iPod speakers—from across the room. The computer version, the AirClickUSB, includes a USB transmitter that's about the size of a flash drive and can control iTunes even when the app is in the background. Griffin also plans to offer a combined system that includes a remote along with one USB and one iPod receiver ($40; combined system, $50).
Speakers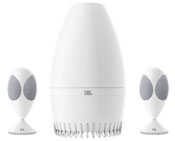 Like its popular Creature II, JBL's Encounter 2.1 is a left, right, and subwoofer speaker system that has an unusual design and works with digital music players, CD players, and computers. But its two alien-looking 13-watt satellite speakers and 34-watt subwoofer are larger and more powerful ($200).
Protective Case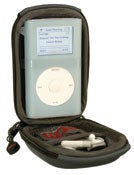 As its name implies, Standard Technical Merchandise's iPod mini cocoon provides a semirigid envelope of protection around your iPod mini. (Fortunately, your iPod won't metamorphose inside and then fly away when it emerges.) Like the standard iPod cocoon, the mini version is a hard, belt-clip-equipped case that holds an iPod mini and earbuds and has room left over for some cash and a driver's license. The mini version also includes a silicone skin, with a lanyard, that's nice enough to use alone. The mini cocoon is available in gray and lilac ($40).
Protective Case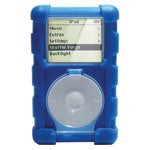 Speck Products' new ToughSkin protects your iPod from scratches—just like the company's standard iPod skins. But the ToughSkin's thicker skin and rubberized bumpers provide extra protection. The case also includes a clear plastic cover for the screen and the Click Wheel, and a detachable belt clip. The ToughSkin is available in blue, red, black, orange, and clear, and it works with all fourth-generation iPods and iPod photos, with the help of an included adjustable plastic spacer ($35).
Cloth Cases
You know that you really should protect your iPod with a heavy-duty case. But if you want to live dangerously (and look cool doing it), check out foof's foofpods. Like Apple's iPod Socks, these cases offer little in the way of features and functionality, but they're so fun (and funky) that they're worth a look. Available in 16 patterns (from spotted fur to paisley to corduroy), foofpods are handmade fabric sleeves that offer a bit more padding and a sturdier build than iPod Socks. And the unique designs are sure to make you stand out from the crowd ($12).
Cases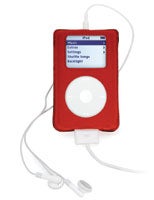 Italian bag maker Tucano brings European style to the iPod with a number of stylish and sporty cases. The Tuta models, for fourth-generation iPods, iPod photos, and the iPod mini, provide a custom-fit neoprene sleeve and a clear plastic screen protector (the Click Wheel remains exposed). The Muta models are also made of padded neoprene, but they enclose the entire front of the iPod in clear plastic, offering more protection than the Tutas while allowing you to see your iPod's face. The Muta models come with a belt clip, and Tucano sells cases bundled with an armband, or with an armband, a waistband, and a storage pouch for earbuds. All Tucano cases are available in several colors and prints—in the United States, you can find them at Mac Zone, Tower Records, and many other locations ($20-$60).
Cloth Covers
When Steve Jobs announced Apple's iPod Socks, most of us thought he was joking. As it turns out, we should have known better. Sold in a pack of six—one each of green, purple, gray, blue, orange, and pink—the iPod Socks are just what they sound like: knit socks that stretch to fit any size iPod (excluding the iPod shuffle). They don't do much other than protect your iPod from scratches, but that's all some people want. Just be careful not to lose one in the dryer ($29 for pack of six).
Bluetooth Headphone System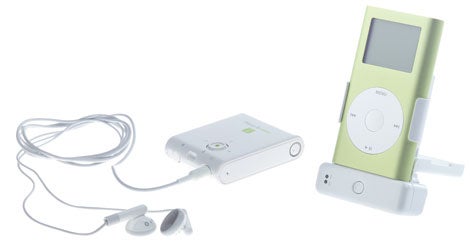 Ten Technology's naviPlay is a Bluetooth headphone system for the iPod. The naviPlay's small transmitter fits any dockable iPod and sends your tunes to a lightweight receiver and remote control; plug your favorite headphones into the receiver, and you can roam as far as 30 feet—while your iPod stays put. (The naviPlay also works well with an iPod that's buried deep in a backpack.) There's also a version bundled with HP's Bluetooth Stereo Headphones; it includes playback controls right on the headphones for a completely cord-free experience ($200; with HP headphones, $239).
Luggage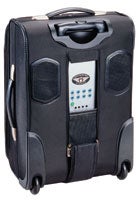 In an interesting (and perhaps the only) convergence of luggage and audio, Boom Bags has introduced a new line of audio-equipped suitcases. The company has taken standard rolling carry-on bags and equipped them with stereo speakers, a subwoofer, and a 10-watt amplifier—the audio components fit in the space between the rails of the suitcase's collapsible handle. Once you reach your destination, plug in your digital music player or computer, unzip the protective panel that hides the speaker controls, and crank up the volume. The Office on Wheels model includes a removable laptop shoulder bag, and the larger Rolling Suiter includes a removable trifold garment bag ($330 each).
Car Interface
Following in the tracks of Alpine Electronics and its KCA-420i (see the review ), Clarion hits the road with its in-dash iPod package—the VRX755VD car-stereo head unit. The 212-watt player features a 7-inch pop-up LCD with touch-screen functionality. When it's connected to an iPod, its screen provides an iPod-like interface that lets you browse artists, songs, and playlists. If you can swallow its high price, you'll enjoy how easy it makes finding and playing your music ($1,600 plus $50 for cable).
Tip: Monitor the iPod shuffle's Charging Progress
If you want to know when your iPod shuffle is fully charged, turn off the Enable Disk Use option in iTunes' iPod preference pane. When Enable Disk Use is activated, the shuffle's LED flashes amber—a warning that you shouldn't unplug it—instead of showing you the battery's status. Turning Enable Disk Use off overrides the warning.
Tip: Make Your iPod Mount
You've plugged in your iPod, but it's not showing up in iTunes—these tips can help:
1. Make sure that the iPod is plugged into a high-power USB 2.0 port or a FireWire port. The iPod won't be recognized if it's connected to a low-power USB port.
2. Make sure that the iPod is not on a chain of FireWire devices. The iPod requires just about all the power a FireWire port can deliver, and if it's on a chain of devices, it may not get the power it needs.
3. Your iPod may be locked up. Reset it by holding down the play button and the center button (for fourth-generation iPods, the iPod mini, and iPod photos) or the play button and the Menu button (for the first three generations of iPods) for about six seconds, or by switching it off, waiting five seconds, and turning it back on (for the iPod shuffle).
4. Restore your iPod using the latest iPod Software Updater. Note that this will erase all the data on it—music, contacts, calendars, and any other files.
Tip: Charge from any Mac
Unlike other iPods, the iPod shuffle is always associated with a particular computer—even if you don't use Autofill, that behavior can't be turned off. So be aware that if you configure and load the shuffle from your desktop Mac at home, iTunes will erase its contents when you plug it into your laptop at the office and agree to iTunes' request to mount it. You can, however, charge it from another computer by clicking on the No button when asked if you want to link with the current computer's library.
Tip: Rebuild Your iTunes Library
If you launch iTunes and suddenly find that there's no music in your library, the music isn't necessarily gone—you may just need to rebuild your library. Quit iTunes, and then locate the iTunes 4 Music Library file in your user folder/Music/iTunes. Change its name to
iTunes 4 Music Library (old)
or, if that file already exists,
(old1)
. Relaunch iTunes, and the app will create a new database file with your music.
If that doesn't work, you may need to remind iTunes where your music is stored (especially if it's anywhere other than the default location, the aforementioned folder). Go to iTunes' Advanced preference pane and then click either on the Reset button (if you're using the default location) or on the Change button (to navigate to where you store your music).
Tip: Trick Autofill
If you enable iTunes' Keep This iPod In The Source List option, you can select the iPod shuffle's icon when no shuffle is connected. Then you're able to click on the Autofill button to create a new playlist—and repeat the process until you find one you like. Since there's no iPod mounted, iTunes won't try to copy the files. Then highlight all those songs and choose New Playlist From Selection from iTunes' File menu. The next time you connect your shuffle, you've got a ready-made playlist to copy over to it.