People on the go carry a ton of gear these days. Juggling laptops, PDAs and iPods can get a little awkward to say the least. This installment of the Macworld Goody Bag will help you get your act together and put a fresh face on your mobile look.
Here, Kitty, Kitty
$130 ; Axio
Do you want a laptop case that isn't just another black Cordura look-alike? And do you like cats? Then we have got the bag for you: the limited-edition Mini Kitty Pack, from Axio-USA. It'll securely hold your laptop (as wide as 15 inches) and plenty of assorted gadgets—and it's very cute.— Dan Miller
Stand Up
15-inch model, $110; 17-inch model, $125; Power Support
There are many stands that can raise your PowerBook while you work at a desk. But how many are made of steel sandblasted to match your PowerBook, provide venting to keep a laptop cool, and include a second shelf for storing peripherals such as a hub? The Power Support Ergo Stand even provides a slot for the front optical drive on 15- and 17-inch PowerBooks.— Dan Frakes
Spot the Network
$50; Canary Wireless
Out and about with your laptop and need to find an unprotected wireless network for some Web surfing or e-mail sending? The Canary Wireless Digital Hotspotter finds every wireless network in range and displays each one's name, channel number, signal strength, and (most important) security status. You don't have to take your laptop out of its bag until you find an open network.— Dan Frakes
Keep It to Yourself
$79 (see Best Current Price ); Secure-It
You've done everything to make sure your wireless transmissions from the local coffee shop are secure, but have you thought about the most obvious hole in your defenses? The cappuccino-sipping cretin behind you can see everything on your laptop screen. With 3M's Privacy Computer Filter (distributed by Secure-It), you can foil him before he finishes his foam. Once you've placed the filter on your PowerBook or iBook, only someone positioned directly in front of the screen can read it.— Terri Stone
On the Move
$800; Tom Tom
The TomTom Go is the iMac of GPS units, and not just because of its shape and colors. In addition to the usual GPS features, it provides 2-D and 3-D views, a memory-card slot for easy upgrades, and a great interface—just what a Mac user appreciates.— Dan Frakes
Hands-Free, Noise-Free
$69; Etymotic Research
If you spend a lot of time on a mobile phone, you know the value of a hands-free headset. If you spend that time in noisy environments, you'll really appreciate the Ety-Com, from Etymotic Research. It combines the technology from Etymotic's noise-canceling directional microphones and its ER-4 noise-isolating earphones. The company says the Ety-Com provides the highest levels of noise isolation and cancellation available in a phone headset.— Dan Frakes
Simplify Your Stuff
$749; Sony Ericsson
PDA? Check. Phone?Check. Cameras? Check. MP3 player? Check. If you're out of pocket space, Sony-Ericsson's P910a may be for you. It gives you all these features and more in an iPod-size package. (Until Apple adds iSync support, use the instructions to sync data.)— Dan Frakes
Communicate
It's not just cell phones anymore. Today's gadgets can help you share every aspect of your life with a simple point and click.
Really Unlimited Minutes
free; Skype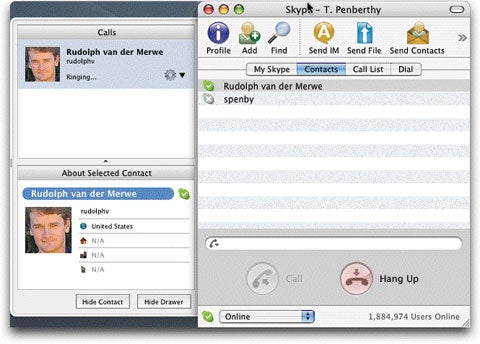 Another way to stick it to The Man, Skype 1.0 is freeware that lets you make free phone calls to anyone else who has Skype installed on Mac OS, Linux, or that other operating system. Call quality is clean and crisp across town or across the country. Skype also sports a chat client and file-transfer capability.— Tom Penberthy
I Am a DJ, I Am What I Play
$40; Rogue Amoeba (bottom screenshot)
When I was growing up, DJs occupied the highest social order in town (yes, a small town). If you were on the radio, you were cool—simple as that. Rogue Amoeba's Nicecast gives you all the glory of a DJ, letting you spin your tunes, talk over songs, and send your grooves to anyone with an MP3 player capable of streaming audio.— Tom Penberthy