Sometimes the only difference between an artist and a doodler is the right tool. Enable your inner designer with these essential items.
DIY Essentials
one volume, $100; all three volumes, $200; Hemera
As a devoted do-it-yourselfer—creating everything from invitations and CD and DVD covers to recipe books and calendars—I absolutely couldn't live without two tools: my paper cutter and my collection of Hemera Photo-Objects stock art. These attractive masked photos blend with any background, offer easy text wrapping, and add the perfect touch to any project. They're also easy to search, so you won't waste time thumbing through massive books.— Kelly Lunsford
Sniff Some Glue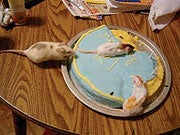 free; Craftster.org
You can be hip and ironic and still enjoy making crafts. The discussion boards on the Craftster Web site include dozens of forums where you can get and give advice on everything from whipping up last-minute baby-shower gifts to making a birthday cake look as if it had been gnawed on by rats. Now that's irony. We hope.— Terri Stone
It's Magic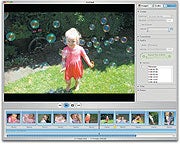 $79; Boinx FotoMagico
Slide shows in iPhoto are perfect—if you happen to have a song that's the exact length of your show, and if image transitions happen to fall at appropriate beats. OK, that never happens. Enter Boinx Software's FotoMagico. Layer in multiple songs from iTunes, and set transition points so images change in time with the music.— Tom Penberthy
Phone It In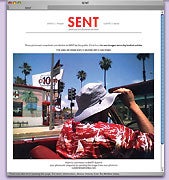 free; Sent
It started as a curated show of phone-cam art at a tony Los Angeles gallery. That show, called Sent, has morphed into a Web site that welcomes everyone's cell-phone images. It's not often that a burgeoning art movement is so accessible. Post your images now and become part of history.— Terri Stone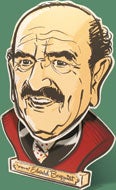 The Famous Mister Ed
$160; House Industries
You may not recognize Ed Benguiat's name, but his typefaces have shaped our culture for decades. House Industries pays homage to that legacy with the Ed Benguiat Font Collection, which includes five fonts inspired by his work, more than 50 retro illustrations, an audio interview with Ed, and a frighteningly lifelike bust of the man himself.— Terri Stone
Rhythm Method
$40; eMedia
The eMedia Rock Guitar Method CD-ROM will have you strumming faster than you can say "Hendrix rules." It includes interactive diagrams, sound samples, movies, and an overview of all the equipment you'll need to rock the house down.— Jeff Tolbert
Accessorize
The devil is in the details. You might have the hottest Mac desktop on the block, but it's nothing unless it's fully accessorized. So load up.
Small Is Beautiful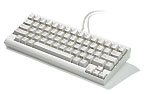 $69; PFU Systems
If you bought a Mac mini to save space, why are you still using a full-size keyboard? The PFU Happy Hacking Keyboard Lite 2's long name belies its mini-matching size: only 11.6 by 4.7 inches. Yet the keys are the same size as a standard keyboard's, and it even includes standard arrow keys. The only drawback is a slightly modified layout that places a few keys in nonstandard locations, but it doesn't take long to get used to.— Dan Frakes
More for the Mac Mini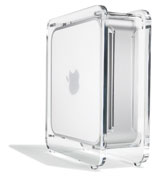 mini Tower, $45; mini Grandstand, $40; mini Skirt, $25; The Plasticsmith
It didn't take long for Plasticsmith's Mac mini- focused accessories to hit the market. The clear acrylic mini Tower lets you mount your mini on its side for an even smaller footprint. The mini Grandstand is a monitor stand just tall enough to let you store your mini underneath. And the mini Skirt—well, it just looks cool (and we love the name).— Dan Frakes
All-Around Headset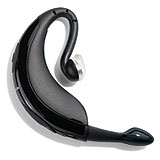 $100 (see Best Current Price ); Jabra
A Bluetooth headset is great for wireless, hands-free conversation using your mobile phone, and it's a perfect match for iChat audio and video conversations on your Bluetooth-enabled Mac. The Jabra BT250 provides good sound, a comfortable fit, and a 30-foot range.— Dan Frakes
G5 Gear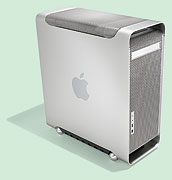 G5 Rooftop, $65; G5 Skate, $115; Power Support
Power Support's G5 Rooftop turns the top of the G5 into a flat shelf for peripherals and lets you hide low-profile peripherals (such as a USB hub or an Internet router) underneath. To make your G5 more mobile, add a G5 Skate—it's a lot easier to push around 45 pounds of computing power than to carry them.— Dan Frakes