Anything that can be carried can be dropped. So I was reminded last week when my husband's $2,000 Titanium PowerBook slid from his hands and crashed to the floor. The result was a quarter-sized dent in the hardwood and a snapped hinge.
Is one broken hinge really a big deal? Look at the picture below, and you tell me. The screen works and the case closes. But a little research showed that broken PowerBook hinges can be the slippery slope to broken LCD cables. (The tiny wires hide in the hinges.) No LCD, no PowerBook. Were we really going to hook it up to an external display to watch our nightly Netflix? Oh yeah, and it would be a problem when my husband took the PowerBook on the road for work too.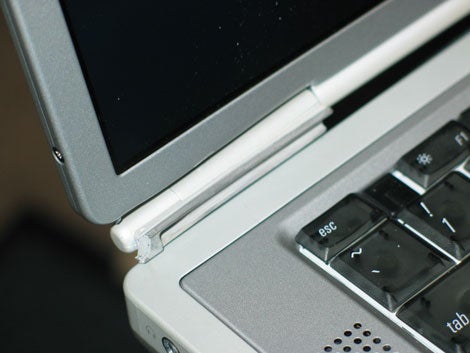 We have an extended AppleCare warranty, but AppleCare doesn't cover: "Damage to the Covered Equipment caused by accident, abuse, neglect, misuse… acts of God or other external causes." That pretty much sums up life with a 15-month old. (The PowerBook slipped as my husband lifted it up to the fireplace mantel where it stays out of reach of our son.)
We're a fairly geeky household—a Macworld editor and a Web developer for goodness sake—so my first thought was we'd fix it ourselves. I found that a new PowerBook hinge costs about $130 from most sources such as PBParts.com, or PowerBook Medic. (I even found one for $70—but out of stock—at PB FixIt.) But this doesn't look like your average repair. To replace a Titanium PowerBook hinge you must dissemble the glued-together display housing. The sites all rate this type of repair as Very Difficult or carry strong warnings against trying it at all. Hum.
Next, I turned to the pros. Estimates from Web repair shops fell within a $100 range. For example: $250 for parts and labor from DT&T Computer Services, $299 for parts, labor and overnight shipping from PowerBookRestore, $324.95 for parts and labor from PowerBook Medic; $339 for parts, labor, and overnight shipping from PowerBookResQ. Some of these companies even send a courier to pick up your computer or provide a box to ship it in—very nice.
Compared to the original cost of the PowerBook, the cost of getting a pro to repair it isn't so much, but considering the age of the computer it's a real drag. After all, $300 would buy me a lovely Peg Perego stroller, like all the Frapaccino-packing yuppie moms have, or a fancy toddler play structure to occupy my child in the months to come so I can read a magazine once in a while. I found that you can get a rider on some home insurance policies that will cover this sort of accident, but we don't have it. (Worth checking, if you're struggling with the same issue.)
So what's a cheapskate Mac user to do? My last recourse is instructions I found online written by a frustrated Icelander. His PowerBook's right hinge broke in exactly the same way that our left one did. He outlines a cheap fix—a hack, really—for constructing your own hinge out of "$10 worth of parts". The thought of cutting up aluminum and gluing it to the case sounds better than pealing apart the case itself.
Have you tried to fix your PowerBook hinge using any of these techniques? If so, let me know. Unless a Macworld reader strongly warns me against the Icelandic fix or has a better idea, I'll proceed and report back with the results.