"Efficiency" and "productivity" may not turn heads. But what about "fewer keystrokes to accomplish repetitive tasks" or "fewer nights in the office"? That's what Adobe's aiming for with the latest InDesign.
Object Styles
Say you lay out a weekly newsletter with sidebars that always have the same paragraph styles, text wraps, and drop shadow settings. Make this combination of settings an Object Style and you can apply the entire combination at once to every future sidebar. You can also use the Object Style palette to create, delete, copy, and edit the styles. Those styles can include transparency, drop shadow and feather, text frame options, text wrap, fill and stroke colors, and stroke and corner effects. You can base an object style on another object style, so when you change the original, all related styles reflect the change. If you don't want changes to the parent style to affect child styles, you can break the link between them.
Snippets
Small XML files that let you save, reuse, and share objects. You could, for example, save a highly formatted table as a snippet—just select the table (whether created in InDesign or imported) and either drag it to another location or export it (pictured below right). The resulting file will be small enough to e-mail—no need to send the whole InDesign file or to delete extraneous material and save just the table page. When you place a snippet on an InDesign page, it appears in the same relative location as on its original page, with all the metadata (including thumbnails, fonts, and color swatches) intact.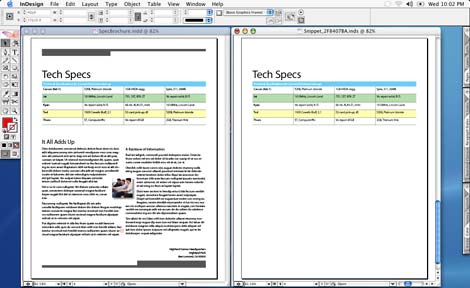 Click image to open full screenshot
Text Handling
The new InDesign lets you drag and drop text between paragraphs, frames, views, layout and Story Editor windows, and documents. You can even drag text from another application into an existing InDesign text frame. The program also automatically corrects text as you type. (You can turn off this new option.) Adobe has also refined the way it handles styles in imported Word and RTF documents: You can rename imported styles to avoid conflicts with InDesign style names, overwrite InDesign styles with Word/RTF styles, and map Word/RTF styles to existing InDesign styles.
Anchored Objects
Usually, it's best to have images, sidebars, and callouts near the point where they're referenced in the main text. But as text flows change, it can be hard to keep track of those reference locations. Now you can anchor an object to a point within a text frame. If the point in the text frame moves, the anchored object goes along for the ride.
Reveal Layers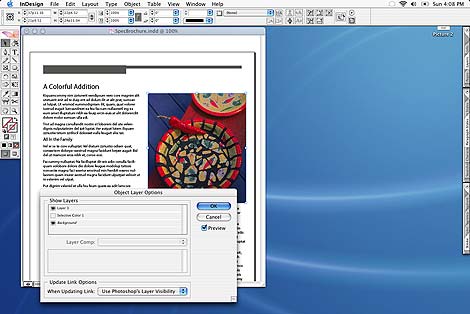 Click image to open full screenshot
You can now hide or show a .PSD file's layers and layer comps. While before you might have saved five variations of one image as separate TIFF files and placed them one-by-one in an InDesign layout, you can now keep all five versions in one .PSD file (pictured at right) and test their suitability by toggling layers on and off. (You can see and manipulate adjustment and some PSD layers in QuarkXPress 6.4, but not transparency.)* You can also display layers in an Illustrator file, though you must first save it as a PDF 1.5 or 1.6 file and check the option to include layers.
* EDITOR'S NOTE: The parenthetical sentence regarding layers in this paragraph has been corrected from a previous version.
More Noteworthy Additions
• Footnote support, including import from Microsoft Word. • Ability to export multiple pages as separate JPEGs. • Can now place all or a range of pages from multiple-page PDFs. • WYSIWYG font preview. • Better support of XML, including attribute-based mapping and linking of InDesign files to XML files.