When Photoshop CS debuted in 2003, the fleshed-out File Browser was my favorite feature. I used it to quickly scan folders full of image and PDF files (searching visually and via metadata and keywords) and to prioritize images with the Flag command. Creative Suite 2's Bridge is the File Browser writ large.
You can summon Bridge from Illustrator, InDesign, GoLive, and Photoshop. It lets you view PDF, .PSD, .AI, .INDD, and camera raw files, as well as the image formats File Browser handled so well. There are several view modes, but Filmstrip and Slideshow are especially useful when you need to zoom through a big batch of files.
Once you locate a file, you can add keywords and metadata, label it, and give it a star rating from one to five. (The latter two help manage files, as you can filter by label and star rating.) And if you choose Compact Mode, which shrinks Bridge to a floating palette, you can drag and drop any file from Bridge into a document created in CS 2. Or just double-click the thumbnail preview to open the file in the original application.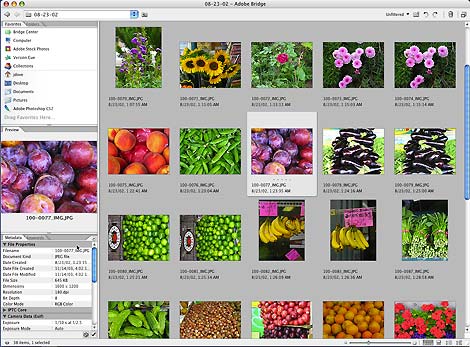 Click image to open full screenshot
Bridge is also the jumping-off place for Adobe Stock Photos, where you can browse and buy royalty-free photos from several large stock agencies, including Photodisc, Comstock, and Digital Vision.
If you install the entire CS 2 suite (and not just individual applications), you'll also get Bridge Center, Help Center, and Version Cue access. Bridge Center is where you synchronize color-management settings, so onscreen colors (including spot colors) look the same across all suite programs; it also includes an RSS news feed reader and tips for using Adobe programs. The Help Center brings information for every suite component into one location. And Version Cue lets you create new Version Cue projects and search and preview existing ones.—Terri Stone
Note: When you purchase something after clicking links in our articles, we may earn a small commission. Read our affiliate link policy for more details.