Pac 'em in
Pac Man clones have been a staple of computer gaming since the original arcade game burst on the scene in the early 1980s. angelFrogGames' variation, aquadot!red ( ), is a pretty and unique variation that sports its own maze editor, so when you tire of the built-levels you can build your own.
Gameplay is simple and, if you've ever played Pac Man in your life, immediately familiar. You maneuver a red polka-dotted ball around a maze to collect dots, and you're chased by enemy bugs. Eating "Munch" dots makes it possible for you to eat the bugs, too. But that's about where the comparisons to Pac Man end, because aquadot!red features considerably deeper gameplay.
Each different bad bug has a unique attack style, for example. The red Hunter is single-minded in her pursuit of you, her quarry. The blue Blocker wants to get in front of you, so you can reverse direction to foil her pretty easily. The purple Lone Wolf is invisible until she's almost right on top of you or exposed by one of her buggy friends. There are seven bugs in all.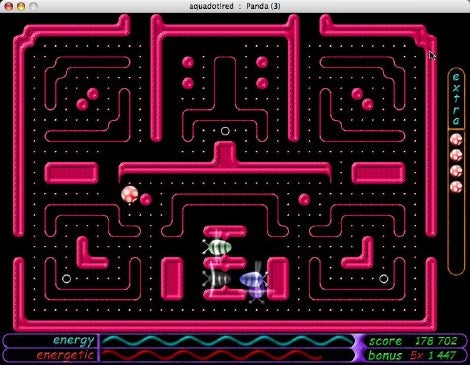 You're not totally defenseless, either — unlike the classic Pac Man game, you don't immediately wither and die if you make contact with your foes, although you lose energy quickly. Still, sometimes the best strategy is to run straight at (and through) your enemy rather than run away. Special "Yummy" dots imbue you with a special power that you can activate (like extra speed, "scary" energy that frightens away the bugs and more); the Yummies will also turn nearby normal dots into "Candy" dots that will increase your energy meter. There are occasional "Yuk" dots — frowning faces — that will actually power down your aquadot.
Aquadot!red will also randomize the selection of levels each time you play, so it's really hard to remember patterns to use to outwit your foes like the old arcade Pac Man game.
The game has a simple storyline behind it — basically, you're trapped in a dream, or nightmare, of being this poor aquadot in a maze. That goes a long way to explain the somber, somewhat haunting quality of the music that you'll hear in the game. It's perhaps not as light and humorous as a traditional Pac Man game, but it's certainly memorable. Graphics for this 2D maze game are simple and effective, and animation is smooth. The game lets you customize resolution and some graphical effects, as well. System requirements are fairly modest: Mac OS X v10.2.8 or higher and QuickTime 6.5.1 are all you need to get started.
The best part of aquadot!red is that it includes a maze editor, so you can craft your own levels once you've got the hang of how the game is played. It's quite simple to use and even comes with a sample maze (pictured here) that will help you get started.
Aquadot!red is available for download as a demo. It costs US$19.95 to register.
Bottom line: Aquadot!red is a unique variation on Pac Man; if you're looking for a version for your Mac that takes the maze game idea in a different direction, it's worth a look.