Although we focus most of our portable speaker review energy on systems specifically designed for iPods, over the past few months we've received a number of portable systems—powered by USB—intended for use mainly with laptops. These systems either can't be used with an iPod or other portable audio player, or accommodate such sources only as a secondary option; their true calling is to connect to your laptop to provide sweet relief from the crummy, tinny excuses for speakers found therein. So, since it's likely that a good number of Playlist readers listen to music—or at the very least give presentations requiring sound—on their laptops, a roundup of these systems seemed to be in order.
The products reviewed include Kensington's Pocket Speakers, Tritton Technologies' Sound Bite, Creative's TravelSound Notebook 500, and Altec Lansing's XT1. All four systems get their power directly from your laptop's USB port (all include the required USB cable) and are compatible with Windows 98SE and above and Mac OS 9 and X. In my testing, all—except for the Notebook 500, which gets only power from the USB port, as explained below—were immediately recognized by the host computer as an audio output device when plugged into an available USB port. (Note that the USB port must be powered , which means that the USB ports on keyboards and other peripherals usually won't work.) Beyond that, they differ in a number of ways, including price, feature set, size, and, of course, sound quality. (Sizes noted below are travel sizes; all systems have larger dimensions when in use.)
Note: None of these portable speakers will be able to deliver the sound quality of full-size speakers—or even many other portable speakers systems that get their power from batteries or AC adapters. And like most portable devices, you pay a premium for the ability to throw them in your travel bag—you'll get better sound for your money with a full-size speaker system. But if you're looking for portable laptop sound, all these systems sound significantly better than the built-in speakers on any laptop I've ever heard.
Kensington Pocket Speakers
The smallest of the systems I tested, Kensington's $50 Pocket Speakers (

) are only 4.5″L x 2.75″W x 1.5″D when folded for travel and weigh just 9.6 ounces. When opened up, the two (left/right) stereo speakers sit approximately 5 inches apart, so stereo separation and imaging are minimal. You connect the Pocket Speakers via an included, retractable USB Type A to Type A cable which plugs into the back of the Pocket Speakers. (Type A is the flat type of USB plug, in case you're wondering.)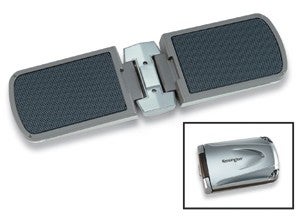 Kensington's Pocket Speakers
Although you can control system volume on your laptop, the Kensington system includes its own, independent volume wheel on the top, which means that to get the maximum volume, you need to turn up the volume on both your laptop and the system itself; I prefer the single-volume-control approach taken by Tritton and Altec Lansing. One other minor complaint: The Pocket Speakers have four blue lights—one on each corner of the unfolded system—that turn on when you plug the speakers in and can't be turned off. Although some might find these lights interesting, and I admit to being a bit entranced by them at first, after a while I wished I could turn them off, especially at night.
In terms of sound quality, the Pocket Speakers are about what you'd expect from such a lightweight, portable system: a good deal better than your laptop's built-in speakers, but fairly tinny and without a lot of volume. If your main concerns when buying laptop speakers are small size and light weight for throwing in your travel bag, and you're willing to sacrifice ultimate sound quality, the Pocket Speakers may be an acceptable compromise. However, if you've got a little extra room, you should consider the Tritton offering; more on that in a bit.
Creative TravelSound Notebook 500
Mac users will appreciate Creative's $100 TravelSound Notebook 500 (

) for its white and silver aesthetics, which match Apple's PowerBooks and iBooks nicely. It's also the most versatile of the systems I tested, although not without a few quirks.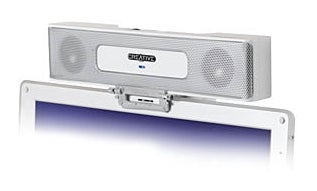 Creative's TravelSound Notebook 500
The main speaker unit is 8.25″W x 1.75″H x 1.25″D when folded and weighs 8.6 ounces. However, the Notebook 500 requires at least two cables—one for USB power and the other for audio input. Unlike the other systems, it gets only power via the USB (Type A-to-mini) connection; audio must be supplied via a second cable snaking from your laptop's headphone jack into a dedicated audio-in jack on the unit. Although I would have preferred a single cable like the other systems, Creative's approach means that you can also use the Notebook 500 with an audio source other than your laptop. And the Notebook 500 has a related advantage over all the other systems, in that it can also be powered via an optional AC adapter or an included battery pack—according to Creative, 4 AA batteries will power the unit for approximately 30 hours. Together, the separate audio cable and battery pack allow you to use the Notebook 500 to listen to your iPod without needing your laptop; the battery pack also means that you can use the Notebook 500 without draining your laptop's own battery if you're not near an AC outlet. (When powered by USB, the unit's power light glows blue; when connected to the battery pack or AC adapter, the light glows amber. I found the latter color choice to be curious, as on many electronic devices, amber means "low batteries.") Unfortunately, the separate audio input also means that, like the Kensington system, you control the volume in two places—on your laptop and on the unit itself.
When listening to the Notebook 500 without your laptop, or if you just prefer to place the unit on a desk or shelf, a stand folds out to keep the speakers upright. But this stand also servers as a clever laptop mount: When using the system with your laptop, the stand folds down 180 degrees and a nifty clip flips out to attach the unit to the top of your laptop screen (provided the screen is less than 1/2" thick). I found the Notebook 500 to fit securely on my 15" PowerBook G4 screen, although I wish the clip had rubber or foam padding on both sides, instead of just the front—I was concerned about the back of the clip scratching the back of my aluminum laptop.
The sound quality of the Notebook 500 is crisp and clear—to a fault. Although the system has the best detail of any of the speakers tested here, and decent midrange, it has virtually no bass response. (In a tacit, and a bit humorous, admission of this fact, the unit even provides a subwoofer-out jack. Not that I'm aware of any subwoofers that will fit in your laptop bag.) In terms of volume, the Notebook 500 is the loudest of the systems I tested, by a slight margin over the Altec Lansing XT1. (Creative claims output of 2 Watts/channel when operated off batteries or power adapter, 0.8 Watts/channel via USB power.) In a nice touch, when you turn on the Notebook 500, its volume ramps up to the current level smoothly—you're never blasted unexpectedly.
The Notebook 500 includes a padded, soft-side travel pouch that holds the main unit, USB and audio cables, and battery pack.
Altec Lansing XT1
At $130, Altec Lansing's XT1 system (

) is the most expensive of the systems, and in most ways it shows. Instead of an all-in-one package, the XT1 offers separate left/right speaker units, each featuring two drivers protected by a metal grill; the speaker units are connected to each other via a 3-foot cloth-covered cable with hard plastic plugs that also act as speaker stands. You connect your laptop to the XT1 (to the right speaker, to be precise) via a USB (Type A-to-mini) cable; Altec Lansing includes both a 26″ retractable version and a thicker, 36″, cloth-covered version. Also provided is a 6.5-foot stereo mini-to-mini cable—for connecting an iPod or other second audio source—and a nice hardshell case in which to carry it all. The result is a package that looks and feels like higher-end product (which it should for the money). Although this all comes at a price in terms of portability: when packed up inside its case, the system is 8.5" x 7" x 2" and approximately 1.75 pounds, making the XT1 significantly larger and heavier than the other systems reviewed here.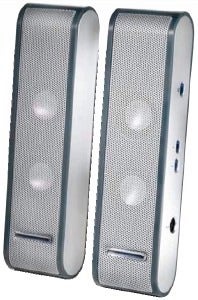 Altec Lansing's XT1
The right speaker includes a stereo minijack input for connecting a second audio source via the included cable. This makes the XT1 the only system here that supports two audio sources—your laptop and an iPod, for example—simultaneously. However, since the XT1 can be powered only via USB, you must be connected to your laptop to use the speakers, even if you're using them with a non-laptop source.
The right speaker also provides a power button and up/down volume buttons. However, unlike the Creative and Kensington systems, these buttons are linked via USB to your laptop's own volume control: Pressing the power button on the XT1 not only turns the speakers off and on; it also mutes and unmutes your laptop's audio. And pressing the volume up or down button on the XT1 actually raises or lowers your laptop's volume. This means no fiddling with two volume levels. (If your laptop doesn't have volume keys on the keyboard, the XT1's buttons also make it easier to adjust your laptop's volume.)
So from a design perspective, the XT1 is a real winner; how did it fare audio-wise? The midrange is quite good, giving the XT1 more "body" and presence, by far, than any of the other speakers. The bass response is also surprisingly good for portable speakers—much better than I expected, and probably the best of any truly portable speakers I've heard. And because the XT1 uses two separate speakers, you get much better stereo separation and imaging than the other models. Unfortunately, the XT1 suffers from the opposite fate of the Notebook 500: The treble response isn't quite up to snuff. When compared to the Notebook 500, the XT1 seem to be missing a good chunk of the treble; but even when compared to the Tritton Sound Bite (below), the XT1 is lacking at the high end, resulting in a slightly "muffled" sound. If you're not a fan of treble—and a lot of people aren't—you'll likely enjoy the XT1 a great deal. And to be fair, the XT1 are impressive, overall, for USB-powered speakers—I found them to be the best, by a significant margin, for watching DVDs on my PowerBook. However, those looking for more balanced sound may be turned off by the midrange/bass-heavy presentation and should keep this in mind when shopping; given that the XT1 are the most expensive of the bunch, a pre-purchase audition is definitely in order.
Tritton Technologies Sound Bite
The least expensive of the systems tested, Tritton Technologies' $30 Sound Bite (

) is also the most surprising. At only 4.25" in diameter x 1.75″D when folded, and weighing just 9.9 ounces, the Sound Bite isn't much bigger than Kensington's Pocket Speakers, and $20 less. So I have to admit that I didn't expect it to sound much better. Yet the Sound Bit offered probably the best balance of any of the speakers in the bunch; not necessarily the best sound, mind you, but the best balance. But first, the hardware.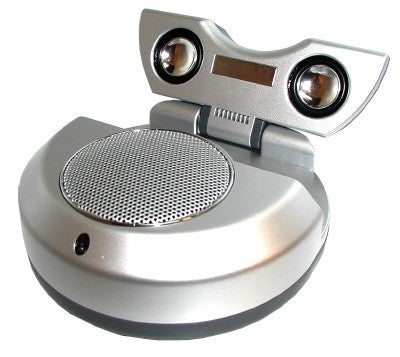 Tritton Technologies' Sound Bite
When folded for travel, the Sound Bite is shaped a bit like an oversized hockey puck with a single speaker on the top; the permanently-connected USB cable and Type A plug fit neatly into a groove on the unit's base. When you're ready to jam, a semicircular section of the top of the Sound Bite unfolds to expose two additional, smaller speakers. Yes, the Sound Bite has three speakers: two tiny (1-inch) left/right "satellites" and a single 2-inch "subwoofer." (Yes, it's funny that a 2-inch speaker is called a subwoofer, but the Sound Bite out-bassed both the $50 Kensington and $100 Creative systems.) The overall package is chunky, but small enough to throw in most laptop bags; my only complaint is that the 22" cable is fairly short, and since it's permanently connected, your only option for a longer reach is to carry a USB extension cable. Unfortunately, like the Kensington system, the Sound Bite doesn't have a separate audio input jack, so you can't use it with your iPod or another audio source.
The Sound Bite is available in two styles: a silver and gray model that matches most silver/aluminum laptops, and a white version (due in the next few months) designed to match Apple's white iBooks. Both feature the same kind of cool-at-first-but-too-bright-in-the-long-run blue power light I disliked in the Kensington system. I would have preferred a more traditional red lamp, or even just a dimmer bulb.
Like the Kensington system, you shouldn't expect a lot of stereo separation from the Sound Bite; that being said, you'll likely be surprised by what you do hear. Although I was prepared for the same sort of tinny audio I heard with Kensington's Pocket Speakers, the Sound Bite largely—although not completely—avoided it. It also doesn't have the extended treble of the Notebook 500, but it has enough to satisfy. And although it doesn't provide the bass response of the XT1, it has enough to make the sound seem well-rounded. Finally, I was also impressed by the volume level; Tritton rates the Sound Bite as having 1.2W/channel output, and it definitely played loud enough to fill an office. In other words, the Sound Bite's three-speaker combination offers a pleasing presentation that doesn't excel at anything but is decent at most everything. And considering that the Sound Bite is the least expensive system of the bunch by a significant margin—Tritton originally priced the Sound Bite at $50, then dropped the price to $30—that's quite an accomplishment. It clearly offers the best sound for your dollar. (I do have one sound-related beef: The Sound Bite's minimum volume is much louder than the minimum volume on the other systems; it's still fairly low, but if you're in a quiet room late at night, it can seem a bit loud.)
The Lowdown
So which system is right for you? In terms of sound quality, the least expensive model, the Sound Bite, surprised me by offering the best overall balance without being the best in any one area. On the other hand, if you're a treble fan, Creative's Notebook 500 is the clear winner, and if midrange, bass, and volume are your thing, Altec Lansing's XT1 is the way to go.
But before you rush out and buy based solely on sound quality, consider a few other factors. The offerings from Altec Lansing and Creative let you connect an additional sound source—such as an iPod—at the same time you're listening to your laptop's audio. And Creative's system offers the significant advantage of being able power the speakers via an included battery pack for time when you want to listen without your laptop or just preserve your laptop's battery. Finally, a disadvantage of the Kensington and Tritton products is that—because they're one-piece units—unless you place them on a shelf directly above your laptop, you'll never get true "head-on" stereo sound; it will always be coming from off to one side. The Creative Notebook 500 works around this by mounting the unit to the top of your laptop screen; the XT1 offers separate left-right speakers that can be placed on the sides of your screen. (On the other hand, if you'll mostly be listening from across the room, this won't be an issue.)
With all those factors considered, what would I buy? For the money, the $30 Tritton Sound Bite can't be beat. On the other hand, if you want more presence and volume, especially for movies, and don't mind a lack of detail, Altec Lansing's XT1 is a great system that offers good stereo separation and a nice feature set.