The Mac has plenty of tools that can make your life a whole lot easier. Today's installment of Macworld 's Goody Bag profiles eight you may not know about. And if you've got a Mac full of digital photos with no idea what to do with them, we have some Mac-friendly goodies that should be part of your digital hub.
Scribble on Your Screen
$13; Panic Software

It's called a desktop, right? So why can't we use a Mac desktop as we do a physical desktop: draw little scribbles, jot down phone numbers, circle stuff to remind us of… what was that thing I needed to do? Desktastic, from Panic Software, inserts an invisible layer between your applications and your desktop; you can write or draw on the layer. Useful? Maybe. Fun? You bet!— Tom Penberthy
Make Your Macs Share
free; Erik Lagercrantz
When you use more than one Mac, transferring the Clipboard's contents from one machine to another is no easy matter. But Erik Lagercrantz's ClipboardSharing makes it simple: copy something, choose Send My Clipboard from the menu icon, and specify the target machine. Presto, the Clipboard goes to the other Mac.— Rob Griffiths
Mouse in the Spotlight
free; Boinx Software
Lost your cursor again? Boinx Software's Mouseposé comes to the rescue. Press a hot key to spotlight the tiny black cursor instantly in its own circle of fame. It's perfect if you use your Mac to give demos, as the mouse is completely usable while you're in Mouseposé mode and your audience can easily follow what you're doing.— Rob Griffiths
Work Some Magic
free; Peter Maurer
Minimizing windows is easy: press Command-M, and off they go to the Dock. Unminimizing them? Not so easy. You have to mouse over to the dock, scroll back and forth until you find the window you want, and then click on it. Try Peter Maurer's Witch instead.
Press a hot key, and Witch shows all your minimized windows in an easy-to-use list. Witch works on unminimized windows, too.— Rob Griffiths
Beam Me Up, Scotty
free; Julien Robert
If you often use your desktop and laptop simultaneously, save yourself some chair gymnastics and use one mouse and keyboard for both Macs. Julien Robert's Teleport lets you drag the mouse off the edge of one Mac's screen and onto the other's. You can also sync the two pasteboards.— Rob Griffiths
In the Know
$50; VersionTracker.com
I just know there's an Atari 2600 emulator for the Mac, but Google's results point me in a million different directions. Enter VersionTracker.com. A quick search gets me exactly what I need, with download links and feedback from other happy gamers. The basic search is free, but for a membership fee, VersionTracker Pro can alert you whenever any app, driver, or utility you choose is updated.— Tom Penberthy
Give It a Rest
$25; publicspace.net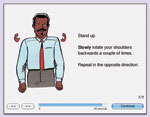 Your Mac is central to your work and play. That's great, but all that time in front of a screen can damage your body. The solution also lies in the Mac: Frank Reiff's stretching utility MacBreakz. You can customize the program's settings in many ways; my favorite feature locks the keyboard so you can't use your Mac.— Terri Stone
Tattoo You
$13; Panic Software
Ever consider your Dock's potential as a personal secretary? Stattoo gives the Dock that power.

This utility places an adjustable transparent information bar on your screen that offers a variety of useful capsules—for instance, new-mail notifications (complete with subject lines), the next three meetings you have scheduled in iCal, and current iTunes happenings.— Tom Penberthy
Snap the Shutter
From hardware that gets your photos on the big screen to Web-based services for showing off your images to friends and family across the country, Mac users bitten by the photo bug have these three goodies at their disposal.
Cut Out the Middleman
512MB version, $110; 1GB version, $150; SanDisk

When extracting images from digital cameras gives you a headache, SanDisk's new Ultra II SD Plus card drive may be just what the doctor ordered. You plug it into a camera's SD slot. When the card is full, remove it and plug it into your Mac's USB port. Because the device is also a USB 2.0 flash drive, you can throw your card reader away.— Terri Stone
My Friend Flickr
10MB photo upload a month, free; 1GB upload a month and unlimited storage, $60 annually; Flickr

There are scads of ways to share your photos with distant family and friends, but the Flickr Web site makes it easy to share photos with people who may become new friends. The elegant interface emphasizes connection: you can upload photos, post a profile, join groups of Flickr participants, and send messages to participants.— Terri Stone
View Photos on the TV
$50 (see Best Current Price ); SanDisk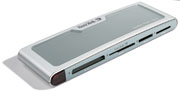 If you've got JPEG photos on a CompactFlash, Memory Stick (standard or Pro), SmartMedia, xD, SD, or MultiMediaCard card, you can use SanDisk's Photo Album to view those photos on any TV. The Photo Album also supports MPEG-1 video and MP3 audio, lets you copy files to a CF card or USB flash drive, and provides a handy wireless remote to control slide shows from across a room.— Dan Frakes